YOU'LL BE USING YOUR PHOTOGRAPHIC MEMORY
You can organize tasks in branches and sub-branches, and just follow the lines to understand how they connect to one another. Key information is marked with colors, images and symbols. In the end, you turn a long list of information into a colorful, memorable picture of your to-dos.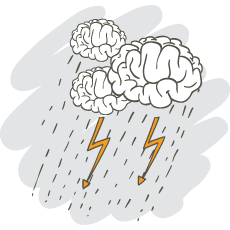 YOU'LL START PROJECTS BY BRAINSTORMING
Our mind map interface is well-suited for the brainstorming phase where you need to evaluate various ideas before setting up your tasks. You can record all your ideas as they come by, reorganize them into tasks and even break them into smaller tasks.
WE'RE NOT ANOTHER RIGID PM TOOL
Not being designed for a particular style of project management, Mindomo lets you organize content any way you want to. You can break up task lists into subtasks on and on, and still see how each task relates to the entire project.