Collaborative Concept Map Maker
When you want to graphically organize information and visualize how complex concepts are related to each other, a concept map maker is the right tool.
Mindomo is a visual workspace that blends diagramming, structuring information, imagination, and collaboration to accelerate understanding and efficiency. It's easier to comprehend and visualize knowledge in concept map formats.
How to make a concept map with Mindomo?
❶ Start with the main concept
Go on Mindomo Dashboard, click on "Create", and select "Blank concept map". Then write the concept or idea that you want to detail or organize in the central topic. This term will represent the principal notion of your diagram, the most general concept. Usually, it's one or two words, but it can be a short phrase.

❷ Identify related concepts
 The next step is to add key concepts or elements that are related to your central concept. It can be a hierarchy, or you can add connected elements or ideas. Use the top left corner buttons to add more topics and subtopics (or use shortcuts: Tab for subtopic and Enter for same level topics).
❸ Add relationships between concepts
Once you added more specific concepts related to the main idea, they were automatically connected by an arrow. Now you can add a label to each arrow where you can write a short word/phrase that defines and describes the association. You can also customize the direction of the arrow for more accuracy.
❹ Connect topics and subtopics between each other
While you continue to branch out and add more topics and subtopics, you may identify connections between them. Insert relationships between your existing concepts with arrows and descriptive labels. Click on the context menu (white triangle from the top right corner of a selected topic), click on Connection and select the topic you want to link.
❺ Customize your concept map
Drag and drop the topic to arrange them how you prefer. Change colors, fonts, shapes, arrows, and sizes. Add images, videos, audio files, icons, links, and notes to your topics. Personalize the design of your concept map exactly how you imagine it, or apply a predefined theme from Mindomo's theme editor.
❻ Present and share your concept map
Share your concept map with other users and collaborate with them in real-time. Turn it into an outline or a Gantt chart with one click, or create a presentation. Moreover, you can publish your diagram in the public Mindomo's gallery or export it into various formats, such as PDF, Microsoft Word, Microsoft PowerPoint, HTML, Microsoft Project, Microsoft Excel, Image, and many more.
Visualize and structure information easily
Create a concept map that illustrates exactly what your brain thinks. Transpose your thoughts into a concept map using Mindomo's features to personalize it as you imagine it. Customize your concept maps as you prefer:
➤ change the shapes
➤ pick the colors
➤ customize the font and size of the topics and subtopics
➤ add a background
➤ add images
➤ add icons
➤ add videos
➤ add notes
➤ add links, etc.
All the information you need is right there, organized in a comprehensive way, easy to read, understand, and memorize.
Drag and drop the topics with precision and arrange them anywhere on the map. There are no limits to your imagination or to the possibilities of building your concept map.
Establish relationships between concepts
Once you add the key concepts and ideas, create relationships between them represented by arrows. Each arrow can be edited, changing the color, weight, shape, pattern, or arrow position.
Moreover, you can write linking words on the label. It gives context and makes your concept maps easy to understand.

When you create a concept map you don't have to limit it to only one to one relationships. Therefore, add many-to-many relationships when you feel the need to connect more concepts and ideas with each other.
Unleash your creativity and let yourself think outside the box, finding new connections while you create your map.

Collaborate and share your concept map​
Mindomo allows you to work on your diagrams along with your team members. Share your work and collaborate with others in real time, editing together. Improve your efficiency and save precious time. "More heads are better than one".
You can see all the changes instantly and the ones that you shared your work with will see yours. This way, any at a distance meeting is not a problem anymore. You can work from anywhere as you would be in the same place as your team members, even if you are on a different side of the world.
"Playback history" allows you to see exactly all the changes made to your maps by the members of your team. You will be up to date all the time.
Chat directly on Mindomo, without losing time and energy focusing on multiple apps. You have all in one.
You have multiple options when you choose to share your work (concept maps). 
When you create your concept map online you can customize the sharing settings:
1. Share your concept map with specific people.
2. Make the map public.
3. Share your concept map only with people who have a link giving them rights to view it.
4. Share it only with people who have a link giving them the right to edit it.
Turn a concept map into other types of diagrams
Mindomo is more than just a regular map tool, you can also create mind maps, outlines, and Gantt charts. The best part is that you can convert any of these diagram types into another with only one click! For instance, you can start by creating a mind map and then convert it into a concept map.
Or maybe you want to create a business plan and you create a concept map with all the necessary information. After it's done you can directly turn it into a professionally designed Gantt chart. This is the perfect graphic representation for project planning.
You can also turn your diagram into a presentation directly from Mindomo, and you don't have to waste time making a presentation in a separate specialized tool like PowerPoint, Google Slides, etc.
Why use a concept map maker?
➤ Better understanding 
Concept maps are one of the best graphic representations that support a better understanding of the information.
➤ Flexible layout
A concept map has a more flexible structure compared to a mind map. Just drag and drop the topics anywhere on the map canvas.
➤ Improve memory
Visual learning is one of the most efficient ways to memorize knowledge. Especially when it is structured as a mind map or concept map. Therefore, don't forget to add images, videos, and icons.
➤ Relationships between topics
Concept maps have a propositional structure thanks to the relationship between topics. These connections between ideas make them self-explanatory.
➤ Easy to use and accessible
One of the best advantages of these diagrams is how simple to use they are. They can be used by little kids, students, or adults.
➤ Collaborative/ Live edit
Create your maps and collaborate with other users. See everything instantly. Use the chat to talk to each other and put your minds together.
➤ Platform independent
You can build your offline or online concept map anywhere and anytime. This concept map creator work on any device. All you need is a mobile phone (iOS or Android), a laptop/PC (Windows, Mac, Linux), or a tablet.
➤ Offline-online synchronization
Mindomo has an offline version of the online concept map maker. This is perfect when you don't have internet access or when you work remotely. Sync everything with one click.
➤ Templates
You can use professionally designed concept map templates or create your map from scratch starting from a blank concept map. Let your imagination do the work!
➤ Convenience
Have all your maps with you anytime anywhere. Access them whenever you need them. All the structured information is stored in the cloud.
➤ Import/Export
Import files from your computer, Google Drive, Dropbox, or OneDrive. Export your maps in a big variety of formats: PDF, DOCX, PPTX, TXT, PNG, HTML, etc.
➤ Free account
Mindomo is a high-quality freemium software. It has premium types of accounts but also a free account (not a free trial). Test it without any charges.
Concept Map Maker Integrations
When you are using a map maker the integrations will be very handy to simplify the creation process.
Concept maps are visual tools and customizing them with images and video files should be one of the main features. You can add images and videos using 2 methods: search or import them from your computer, Google Drive, OneDrive, or Dropbox.
You can sign up using your favorite identity provider, for example, Google, Facebook, Yahoo, Office 365 and more.
If you are using this map maker for education, you can also integrate it with your learning management system. For example, you can integrate it to Google Classroom, Moodle, itslearning, Blackboard, Canvas, Schoology, and more.
Concept map examples
Create your offline or online concept map from scratch or use one of the concept map templates to get some inspiration:
Copy and edit any of these concept map templates. Simply click on the green button to view it, then click on the File List Menu (the 3 lines button), and then click on "Copy and edit".
Once you make a copy, you can share your concept map, and then use the real time collaboration feature to edit the relationships, topics, and subtopics along with someone else. You can use the same structure for any kind of complex concepts.
When to use a concept map maker?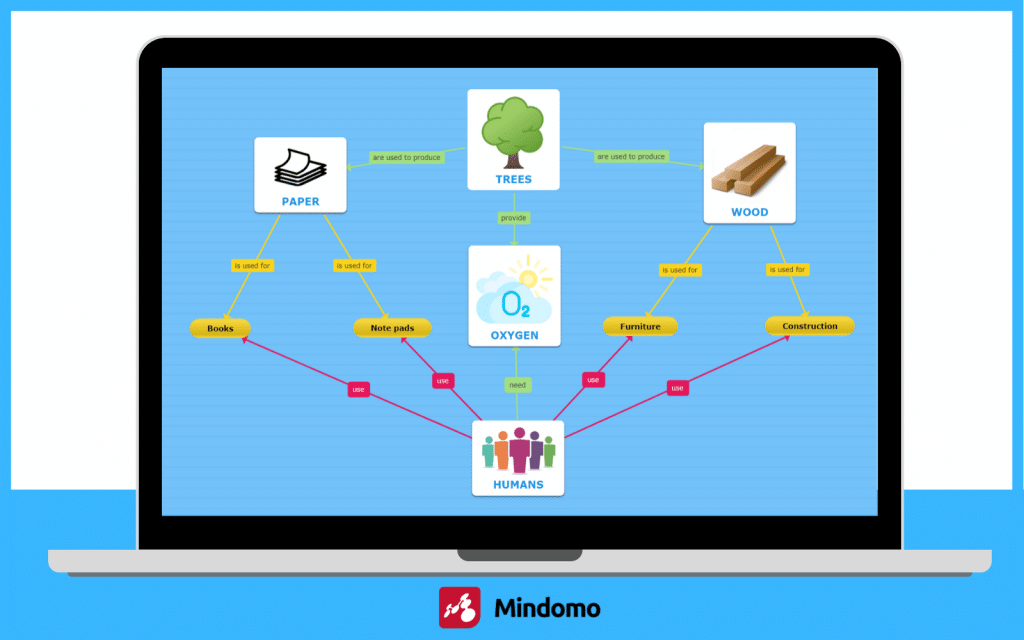 A map maker can be used in a huge variety of situations from different domains: work, education, or personal life.
Concept mapping for work​
In business, a concept map can help being intuitive, flexible, easy to use, collaborative, and a perfect tool to structure information.
For instance, you can structure a business plan, use it for analysis, brainstorming sessions, taking notes during meetings, planning business meetings. Unlike creating mind maps, the concept maps are more explanatory thanks to the connections between ideas.
Moreover, a concept mapping software comes in handy for digital to-do lists which are the most efficient. Why? You are able to attach documents, images, videos, or even audio files.
You can set priorities, add checkable tasks, and even structure them on days of the week. In addition, you can share your work with your team if you have tasks together or you go together on business trips.
Concept mapping for education​
A concept map can be a great learning and discovery tool. Little kids can start learning colors, animals, the alphabet, or anything else. Use some concept map templates to inspire and create more materials for the kids, including images, videos, and icons. Use many colors to make it attractive, so it can keep the attention and make it more interesting than a plain text or a book.
Humans learn better by doing than by reading. Let the kids create some maps, using their imagination and creativity. Moreover, students can benefit from the same advantages. Even if they have already developed their mind, understanding and learning are easier with a concept map. Besides learning, there are many other uses in education. For example, taking notes, assignments, structuring a CV or an essay, preparing presentations, and more.
Teachers can structure courses, give assignments and integrate the tool with the learning management systems.
Concept mapping for personal life
Many people use concept mapping for personal development or improving time management. It is a great tool that helps you become more organized and this way you develop new skills, which is useful in any domain. Create to-do lists, or create monthly plans. You can do all of these creating mind maps as well. However, concept maps are more suitable for complex information which requires connections between ideas.
However, if you prefer to develop yourself in a different way you can use concept mapping to create vision boards. Add images, videos, links, or notes.
Inspire yourself everyday. Moreover, you can start learning new things about what you are passionate about. Create concept maps and put all the information in one place.
Build a concept to make a list of books, movies, TV series that you want to read or see. This way you won't forget about them. Another great way to use a concept map is to create book summaries.
This way, when you want to go back to a book you love you can take a look on the map. You don't have to re-read it again. Refresh your memory by concept mapping.
Start your concept mapping journey with Mindomo. Create a free account and start creating maps from scratch or using templates, play with all the functionalities and share your work with members of your team.