Gantt Chart Maker for efficient project planning
Every project needs a plan. Choose an efficient way of doing things. A Gantt chart maker is the simplest solution for project planning. As you know, the simpler, the better.
Organize your tasks, collaborate in real-time with your team and monitor the progress with Mindomo.
Why use a Gantt chart maker?
A Gantt chart is the simplest way to create and manage your project. Why is a Gantt chart creator better than other project management software?
Firstly, Mindomo allows you to create a Gantt chart which has two parts:
the left side which has a table with tasks and details
the right side which has the project timeline and the graphical representation of the tasks that helps time tracking for each task.
Secondly, it's very easy to collaborate in real-time with your team members. It is professionally designed to improve project planning.
Plan and schedule using a Gantt chart maker
The main reason you are looking for project management software is to simplify work. When you have a complex project, the simplest way to plan it is to break it into pieces. Start by dividing the big goal into manageable tasks and subtasks and save precious time.
Turn a diagram into a Gantt chart in 2 seconds
A huge advantage of using Mindomo is that you can create a Gantt chart by creating a mind map first. Compared to a regular chart maker like MS Project, Mindomo gives you the possibility to create many types of graphic representations. Create a mind map, make a brainstorming session to gather all the information, and with one click turn it into a Gantt chart.
A Gantt chart in Excel is just a table, while Mindomo has all the visual representations that you can use: mind maps, concept maps, outlines. Turn them into Gantt charts and vice-versa.
Everything is right where you need it
Thanks to the dual structure of the Mindomo Gantt chart template you have all the necessary information in one app! On the left side, you can find a table similar to a Gantt chart in Excel.
You have all the tasks and milestones, dates, completion, priority level, and the team members who have to accomplish the assignments. Moreover, on the right side, you can see a visual representation.
Because Mindomo is not just a chart maker you have a task bar for each task and subtask. These bars show you which activity has to start, is currently ongoing or already finished, and the task dependencies.
You also have a comment section where you can attach files that give more details about the way it has to be done. Everything you need is in one place, very easy to find.
Creating your Gantt charts online is great, but when you work remotely or you don't have internet connection things change. Mindomo offers the best of both worlds: online and offline options.
Work offline and sync all the changes after. In one second you have everything synchronized and you don't have to lose precious time. Mindomo gives you all the flexibility you need to support project planning.
Share and collaborate with your team in real-time
Invite all your team members and stakeholders to collaborate and create simple Gantt charts online. Everyone can see all the updates in real-time and contribute. Moreover, the time tracking of every task is accessible due to the project timeline and the bars. You know exactly the stage of all the tasks. When someone edits the Gantt chart you can see it instantly. This way there are fewer misunderstandings and confusions.
When you open your Gantt chart template you can notice the chat icon on the bottom right corner. You can communicate in real-time with all the people you shared your project with. In addition, you can see who is connected and who isn't. Ask questions or give suggestions without involving a third-party software. This is one of the greatest advantages of creating your Gantt charts online.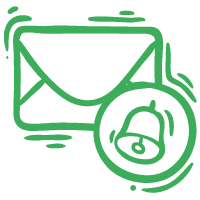 Another leverage of creating your Gantt charts online is the email notifications. It is an important feature to be up to date with everything. All the members of your team are being updated with these notifications when tasks are assigned, due, overdue or completed. Similarly, the notifications appear when there are new comments, files or any other important changes that help them stay connected and updated.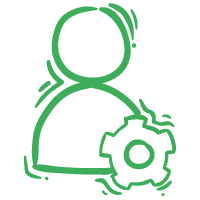 You are able to assign tasks to your coworkers and everyone knows exactly what to do. Keep everything simple and organized to ease everyone's duties. Everyone can see their own tasks separately. However, every team member can see all the task dependencies and who is responsible for each task.
Add attachments that help with the completion of tasks and milestones.
A basic Gantt chart in Excel can't show you too many details. However, Mindomo offers the great benefit of improving resource management. Because you can see exactly the project tasks and the person who is in charge of each one, you can measure and distribute the workload easily. Moreover, you can be more realistic about time tracking and understand if you need more staffing.
With Mindomo's Gantt chart template you can track the progress with ease. You have the full history of changes, so you can see what everyone did and when. Moreover, all the updates are instant. You are always keeping up to date with the evolution of your project without scheduling meetings or sending another email.
Cross-platform Gantt chart creator
Mindomo is a platform-independent chart maker. It is professionally designed to work perfectly on multiple operating systems (Windows, Mac, Linux). You have the flexibility to monitor your progress from any device you prefer. In other words, you can create a Gantt chart from a PC, laptop, or a tablet.
Features and Functionalities of Mindomo as a Gantt chart maker
Set schedule
Add the due dates to all your tasks for a better time tracking. Use the calendar and the "Duration" column will be automatically updated.
Automatic project scheduling
Unlike a Gantt chart in Excel, Mindomo has task bars which are automatically updated after you set the dates. You can view the graphic on the right side.
Set milestones
When you create a Gantt chart, it's important to set milestones. Select them with only one click and they will be graphically represented by a diamond.
Connecting tasks
Set the task dependencies. Click on a task bar. Hold the mouse on the black dot, drag and drop it to another task to create a connection between them.
Assign your tasks
Distribute the tasks. Being an efficient project planning software, Mindomo allows you to assign every task to one or more team members.
Change view
Create a Gantt chart starting from a mind map, concept map or an outline. Convert any of these into another. Make the most out of the structure flexibility.
Real-time collaboration
Work along with your team and see all the updates instantly. You can work together even when you are at a distance without any problems.
Chat
The Gantt chart template includes a chat for each project. Communicate effortlessly with all your team without using another tool. Keep everything in one app.
Email notifications
Get email notifications that keep you up to date with your project. You can set them for any important changes, comments, progress of your tasks.
Online-Offline Sync
Unlike a regular online Gantt chart software, Mindomo can be used offline and with one click you can sync all your work. Save precious time and be productive anytime.
Export
You can export your Gantt chart in mind map formats, Microsoft Excel formats or multiple other formats, for instance: PDF, DOCX, TXT, OPML, MXP or XML).
Comment panel
Add notes, reviews or guidelines in the comment panel. Have all the important information there to make it easy for you to find them.
File upload
Upload multimedia files on the comment panel from your computer, Google Drive, Dropbox or OneDrive. Add any piece of information that helps.
Ease of usage
Mindomo is professionally designed to be easy to use and as efficient as possible. It is user-friendly and with one click or drag and drop you can edit almost anything.
Time
With the Gantt chart made with Mindomo, time tracking is not a problem anymore. Improve your time management and plan your projects efficiently.
Mindomo is a freemium software. All you need to do to try it is to sign up for free. Go on the dashboard, click on Create and select Gantt Chart.
Start to plan your project and make the most out of the software's functionalities. Create simple Gantt charts in minutes and be more productive.