Collaborative Mind Map Template: Visualize and organize your thoughts!
Generate new ideas and structure them into a graphic representation using a mind map template. Let your imagination be free and unleash your creativity!
Here are 30 awesome mind map templates that you can use for free:
Top 10 Business mind map templates
Take your brainstorming sessions to the next level using this template. It's a more complex and efficient way to generate new ideas.
2. Define a business project
Define a business project following this map. This way, you can't miss any important element and you have every aspect covered. It's one of the most used map templates for business.
3. Conduct a project review
Reviewing a project was never easier than following this structure. Simple, but yet accurate, it will take you through all the aspects you need to check.
A plan for a website can be very complex. Simplify all the necessary tasks by organizing them on a map. It will be more achievable.
5. Plan a business meeting
Time management is one of the most important aspects when you want to be productive. Make the most out of your meetings by planning them ahead.
Marketing can make the difference between a successful company and one that fails. Thus, focus on your marketing action plan by breaking it into small elements.
7. Plan a business workshop
This is one of the mind map templates that help you organize an event. Workshops are supposed to add value for the participants. In order to organize a high-value workshop, plan it in advance.
This is a very simple mind map, but a very efficient one at the same time. It helps you to evaluate the risks, which are inevitable but can be anticipated. It's one of the best templates for business education. Its simplicity makes a risk to be easily analyzed.
This map is specially designed to help you evaluate your suppliers correctly. Each topic helps you rate the important aspects in order to decide if your collaboration is worth it.
10. Create strategy from SWOT analysis
Any business should use SWOT analysis. This map helps you create it along with your coworkers and keep all the information in one place. This structure also allows you to present the information easily.
Top 10 Education mind map templates
Learn everything about a subject and become a pro! Plan all the knowledge following this mind map and you'll be on the right track. You can use it for school or learn about your passions.
Writing an essay can be easier when you use this map to guide you through all the steps. Forget about the chaotic way of writing it and try to use this map.
Who said that education can't be fun? Create story summaries in a more original way than writing plain text. You will remember everything easier and you'll have fun doing it!
4. Introduction to syntax
The information structured into a visual representation is easy to understand and to remember. There are many great map templates that help you learn different subjects. This one will make you learn syntax faster.
Classify all the parts of speech into a mind map and keep all the information together. Add notes or links to your favorite resources to have complete material.
Identifying the feelings and the behavior of a character helps you contour the full image of its evolution in a literary work. Complete this map anytime you want to study a character.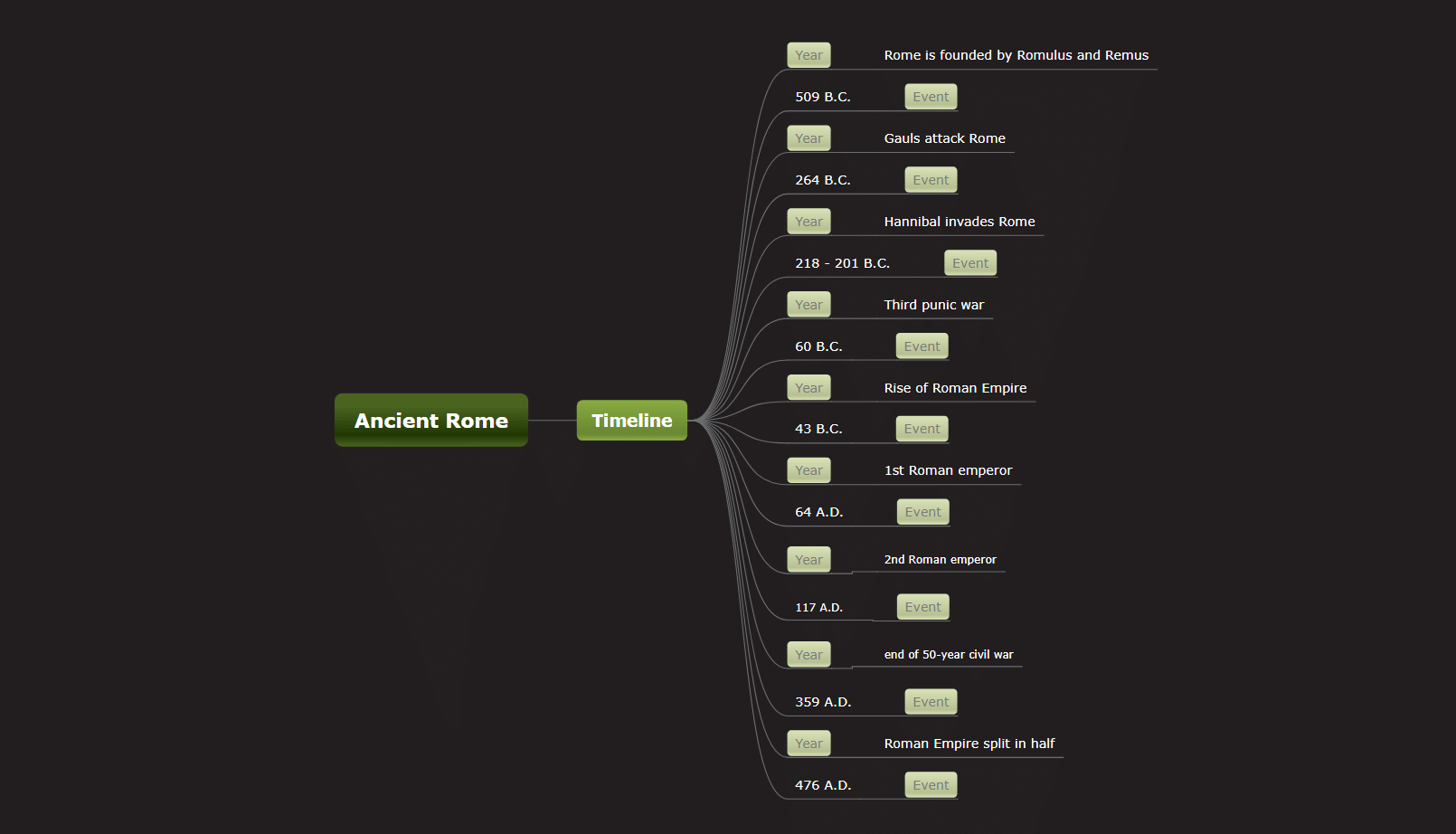 One of the easiest and funniest ways to learn about history is mind mapping. Suddenly it doesn't seem so boring, isn't it?
8. 7 Continents of the world
There are 7 continents in this world and they are so different. Learn more about each by getting through this map.
9. Personal SWOT analysis
SWOT analysis is great for business, but it is a great tool for a student too! It is important to get to know yourself and determine what is best for you and your future.
10. American English vs. British English
Illustrate the differences between American English and British English on a mind map! It's simple, fun, and educative at the same time. You will never mix up the words again.
Top 10 Personal mind map templates
There are many great books that you read over time. They seem life-changing when you read them but after some years you may forget a lot. Refresh your memory by taking a look at the summary. This way you save precious time, not reading the full book again.
Everyone wants their vacation to be perfect. In order to have your dream vacation, use this travel plan to make sure all the aspects are covered and you don't forget anything!
Create an original CV that will make you stand out from the other candidates. Prove that you are an organized person using a mind map CV.
4. Preparing for an interview
Preparing for an interview can be stressful. To make everything as simple as possible, you can use this map to gather all the necessary information.
One of the mind map templates designed to plan an event is the one for a wedding. Being one of the most important events of your life, you want it to be perfect!
6. Set SMART Goals For Next Year 
If you want to have a great and productive year you should plan it ahead. Set SMART goals and make them a reality!
The best time management tip is to have a to-do list. Use this weekly planner to increase your productivity and avoid procrastination.
When you have a problem it's hard to solve it if you're subjective. This mind map helps you think about it in an objective way. It also helps you to be oriented towards solutions.
9. New Year's Resolutions

Each year helps us grow and gather experiences. This mind map helps you set resolutions and objectives for the new year to come. Review it in a while and analyze your progress.
10. Feelings and opinions

This mind map helps you express your feelings and opinions about important aspects of your life. Those aspects are influenced by many things like books, other people, food, etc.
Mindomo Templates: create collaborative mind maps
Create a mind map easy and fast using Mindomo. It is a user-friendly mind mapping software which is very simple to use by anyone, from kids to adults. You can collaborate in real-time with other people to create mind maps together. More minds are better than one.
You can create a presentation directly from this mind map software, without using a third-party app. Mindomo allows you to transform your maps into presentations, to choose the slides and their order. You can export your maps in many formats, including the PowerPoint presentations format (pptx).
Moreover, you can turn your mind map into other graphic representations, such as concept map, Gantt chart, or even an outline. How? With only one click and minimum effort. In addition, you can do it vice-versa, transforming any diagram into a mind map. This way you have more than just a mind mapping tool.
You can try all the features by creating a free mind map. Mindomo offers the possibility to create a free account (not only a trial) that lets you test all the mind map templates.
What can you do when you edit your mind map template?
Real-time collaboration
Create a mind map collaborating in real-time with other users! They may be your team, colleagues, or collaborators. Thanks to the live edit functionality you can create together the maps and use the chat to communicate. One creative mind is great, but more are excellent!
Integrations
Mindomo is a mind mapping software that offers handy integrations to simplify your workflow. You can integrate it with many learning management systems (for instance: Moodle, Blackboard, Schoology, etc.) or apps (for example Office365, Google Classroom, G Suite, etc.)
Add images and videos
Give life to your mind map by adding images and videos. Import them from your PC or from your favorite cloud service provider. You can also search them online directly through Mindomo. Make it more visual and expressive while having more information on it.
Add icons
Your brain remembers the visual representations better than plain text. Build a creative mind map using icons that make it more suggestive. This mind map software offers a big variety of icons to choose from. Use the maximum potential of visual learning!
Add notes
When you look at the mind map templates and examples you usually see a simple structure with few words. You can include more information supporting ideas by adding a note. This way you keep a simple and easy-to-read structure, but you also have the necessary knowledge.
Add links
When you create a mind map you may want to direct the reader to external links. For example, you attach the links to the resources you use for creating an essay, or to a material that explains in detail the subject you were referring to in the topic. Add links and keep everything organized into your mind map
Cross-platform software
A creative mind may have a great idea anywhere, anytime. This is why it's important to be able to access your mind mapping software no matter where you are. You can use Mindomo from your mobile phone (Android, iOS), tablet, PC, or Laptop (Windows, Mac, Linux). Enjoy the flexibility.
Offline-online synchronization
Besides the platform-independent leverage that Mindomo offers, on the Desktop version available you can work offline. Synchronize all your work online with one click. This way working remotely or internet connection issues are not problems anymore. You can still finish your maps.
Multiple diagrams
Turn your mind maps into concept maps, Gantt charts, or outlines in one second! You can also do it vice-versa. Transform any of these visual representations into another if you feel it's more suitable for that situation. You have all the flexibility in one software!
Intuitive interface
Mindomo is an easy-to-use software, having a user-friendly interface. It is a great tool for little kids, students, and adults. Every functionality is easy to find and the app works smoothly. Enjoy your mind mapping journey using a simple and efficient tool that offers many features.
Presentation mode
Turn your creative mind map into a presentation in the same app! Choose the slides and their order. When you want to show your vision to an audience, a presentation is the best way to do it. It ensures visual support to your speech and the message is easily understandable.
Free account
Mindomo is a freemium software. In other words, you can create an account and use it for free without having a deadline (like trials have). Creating free mind maps allows you to test the tool without spending money. There is also a premium version of Mindomo and you can upgrade whenever you want.
Templates
There are many mind map templates available on Mindomo. To see the whole list, sign up and check them out on your dashboard. Depending on the type of account that you create (Business/Personal or Education) you will have more templates that interest you.
Checkable tasks
Create to-do lists using one of the dedicated mind map templates or create it from scratch and add checkable tasks. This way it is easier to track the progress of your projects and avoid procrastination. Time management is simple when you use the proper tools.
Import/Export
Import your files from PC/ Dropbox/ Google Drive/ Onedrive and export them in the format that you prefer. Mindomo offers you a big variety of formats, for example: Excel, PDF, Word, Powerpoint, Text file, HTML, Image, Microsoft Project, etc. You can also export it in mind map formats.
How to create your mind maps?
How to create a mind map with Mindomo? Sign up and log in to your account. On your dashboard, you have a button called "Create". Click on it and choose one of the awesome mind map templates or select a blank mind map or concept map and create it from scratch. Now you can let your imagination do the rest. Customize it however you prefer. It's that simple!