The technological revolution began when things like traveling, food production and medicine were becoming more and more time-consuming and harder to achieve. Now, the 21st century is fully digital, and blended learning acknowledges this and the fact that the ways we work, socialize and learn are constantly changing. We are now used to receiving a continuous stream of digital information at a fast pace and incorporating it into our daily working and social lives – so why should the classroom be any different?
In this fast-changing and continuously evolving environment blended learning fits perfectly.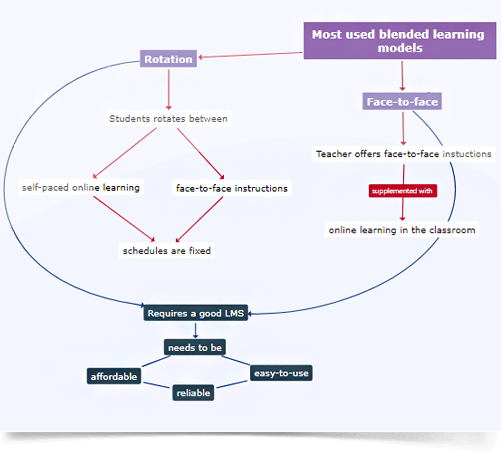 But what exactly is blended learning ? The best way to think of blended learning is to see it as an additional element to the classroom and one which supports existing teaching practices. In short, it's an instructional method which combines technology with traditional face-to-face instruction (personalized learning, social interaction and direct contact with the language).

If you never tried it before, here are some top blended learning activities you can easily introduce in the classroom:
Virtual debate
Age: middle school or late elementary school
Develops: critical thinking skills
How? You can give an "expert" view on a topic, then give time for the student to research on the subject. Finally, ask them to create a virtual debate which can be a written article, a video response or a fictional debate where a classmate plays the "expert" role.
2. Foreign language classroom
Age: middle school or late elementary school
Develops: language learning skills while students are getting involved in languages using online resources.
How? Groups your students in groups of 3, 4. Their task is to create a dialog.
To make it more fun, play a video without any sounds, and let your students use their imagination to create funny dialogs for the video.
In the end, play the video while students will dub their own dialogs. I'll assure you it will be an easy, funny way to learn a new language.
Mind Map assignments
Age: primary school and onwards
Develops: the ability to find major concepts and categorize them accordingly, plus identifying the connections between concepts and ideas.
How? Ask your students to create mind maps about a certain topic, either individually or in groups. Students will have to do some research on the topic, and you can also give them guidelines, even a guide mind map with a few details on what to focus on. You can insert links to resource pages, explanations in form of voice recordings, videos, etc. It's a known fact that every student has its own pace and capacity of learning, so this method will let you deliver a more personalized teaching.
Choosing a good blended learning method and the tool to implement it can be quite a challenge: it has to be affordable, reliable and easy-to -use. You might also want to pay attention whether the tool you chose integrates with popular learning management systems – D2L, Canvas, Moodle. This way students can have all activities and all assignments in the same platform.
One more thing before you get started: introducing blended learning should be about improving your class and enhance the way your students learn. If you need any help with the mind mapping activities, just drop us a line.
Keep it smart, simple and creative!
The Mindomo Team