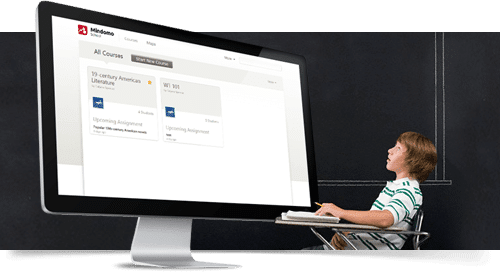 Mind mapping is growing into a teaching method that you teachers heavily rely on. That's because you have found the advantages of providing students with mind maps of their learning material: they understand the information better, and they learn it and recall it easily.
All over the world, from teaching Biology, Geography, Language Arts to Computer Science and Environmental Science, you are using Mindomo to work with your students in and outside the classroom. Moreover, your students have to create mind maps of their own to reinforce their learning and thinking skills.
Both you and your students' efforts deserve our full support, so we created a new solution to ease your work with Mindomo and mind mapping.  So, let us introduce to you Mindomo Courses and how it will help you further with mind mapping:
Easy access to Mindomo:  students will easily access Mindomo and their mind map assignments.

Easy-to-create courses: setup a course within minutes where you encourage students to mind map on the subjects you are covering.

Auto-sharing of mind maps between you and your students: once students start completing their assignments, the mind maps they will be working on will be automatically shared with you.

Easy to assist students and to assess their performance: use the course's clear overview to see how each student interacted within the course, whether he/she faced any problems with the assignment(s) and offer your guidance whenever it is needed.

Easy to provide students with learning materials: gather all the learning resources on the topic you are covering and invite students to access them as they complete their assignments.



You can give it a try as we speak. Just log into Mindomo and go to "Courses" in the top left corner of your dashboard. We will be glad to hear your impressions once you've tested it.
And since we just released this dedicated solution, we would like to offer 10 teacher subscriptions for free, for a 1-year period. One of these subscriptions can be yours, all you need to do is write a comment below and tell us how you plan to make the most of the subscription.
Keep it smart, simple, and creative!
The Mindomo Team