Personal development is where we strive to become better. It's an ongoing process of personal growth and where we develop skills. Personal development plans are not directly related to your professional development. At the same time, when you create a personal development plan, it will help you with all aspects of life. Personal growth and personal goals are more important than professional growth.
You will want your own personal development plan and make it as unique as you. You can start with a personal development plan template to get yourself started. Some people also find it useful to get a personal development coach to help guide them through their busy lives.
The benefits are numerous when you have solid personal development planning. You will have enhanced professional life, healthier relationships, and better overall well-being. Let's take a look at some of the key areas of a personal development plan and build a clear direction.
How do I write a personal development plan?
1. Set clear goals for your personal development planning
Self improvement happens with actionable goals. Is your focus on soft skills or hard skills? You want to identify these areas of improvement. At the same time, you want to have them be measurable and time-bound.
Having time-bound goals will help your development plan be actionable and have a timeline. In addition, planning for the next stage becomes easier and helps you have the full picture. A clear idea only helps show you what you want to achieve.
2. Conduct a personal growth self-assessment
Early on with your action plan, you want to conduct a self assessment. The only way to achieve your goals is to know what your strengths and weaknesses are. You can even consider using a SWOT analysis as you would in your career.
This is a time to reflect on your existing personal values and what you aspire to do. Every personal development plan will need this so you know what you're aiming for.
3. Look for areas for personal development
First, you'll want to look for the relevant resources. Are you looking for long term goals such as getting advanced education? Or do you want to focus on simply being more knowledgeable about history? Whatever your personal or professional goals are, you need to have the right resources and mentors to help.
Another way to achieve your development plan through life is to get out there and network. Collaborate with like-minded people who want to achieve the same thing you do. This will help you progress your vision to achieve your goals.
Now that you have your goals and know which new skills you want, then it's time to take action. Break down your personal development plan into smaller actionable steps. Prioritize each piece of personal development and make an action plan. You will be able to easily track your progress and see how your life is moving in the right direction.
Make sure to monitor progress and identify any issues in achieving your success. Create deadlines that make sense and adjust your personal development plan as needed.
4. Stay motivated
This is the hardest part of the plan, so make sure you build out that support network sooner than later. Changing and enhancing who you are with your personal development plan is a lot of work. While you want to keep a positive attitude with this self improvement, you want to make sure that you continue.
If it starts to feel like a burden, take a step back and review. Review your ongoing process, measure progress, and do a personal analysis. This will show you that you have been able to achieve success, even partially, and that they should be celebrated.
The Five Areas of the Personal Development Plan
Sometimes it's hard to get the full picture or a clear plan of what success looks like here. What are you planning to achieve with your personal development plan? There are many areas to consider, and it all comes down to your own pdp. Remember that your personal growth and your own plan are key here. See where your development needs are most or what new skill you want to focus on first.
1. Expanding your Communication Skills
 Working on how you effectively communicate can help with multiple areas of your life. If you want to achieve success with communication skills, you will be able to convey the message clearly. It also means mastering active listening and nonverbal communication.
2. Effective Time Management Skills
Being able to have a clear understanding of where you are in an action plan is critical. That's where time management comes into play. E
very personal development plan should have time management in there. That's because you can allocate time effectively and operate much more efficiently with planning and organizing your life. You will also minimize procrastination and develop skills to avoid distractions.
Try to create a checkable to do list that is easily editable, and you can keep track of your progress.

3. Problem-Solving and Decision Making
Another excellent area for self improvement tips is being able to look at the problem and resolve it. To develop problem solving skills is to have success in everything that comes your way as you can handle it. Part of that comes with making the right decision that will determine the best possible future outcome.
4. Confidence Building and Leadership
Success in love comes from how you interact with others. You want to create a persona of strength and confidence. When you achieve that, people will start to follow you, and that will grow your leadership skills.
Leadership skills are key not only in your professional life at work but also in your personal life. They help you realize you're in charge of your life and future.
5. Being Adaptable in your Personal Life
Life can get tricky, and being able to adapt should be the first step in a positive future. The benefits of being flexible means you can focus on what's important to you with your current resources and situation.
In the end – make your own personal development plan online
Consider using a free template from Mindomo, such as the goal-setting mind map or the how to improve yourself mindmap. These are just a sample of how to create a personal mind map about yourself with a visual representation. This is the final key to success in tracking everything online.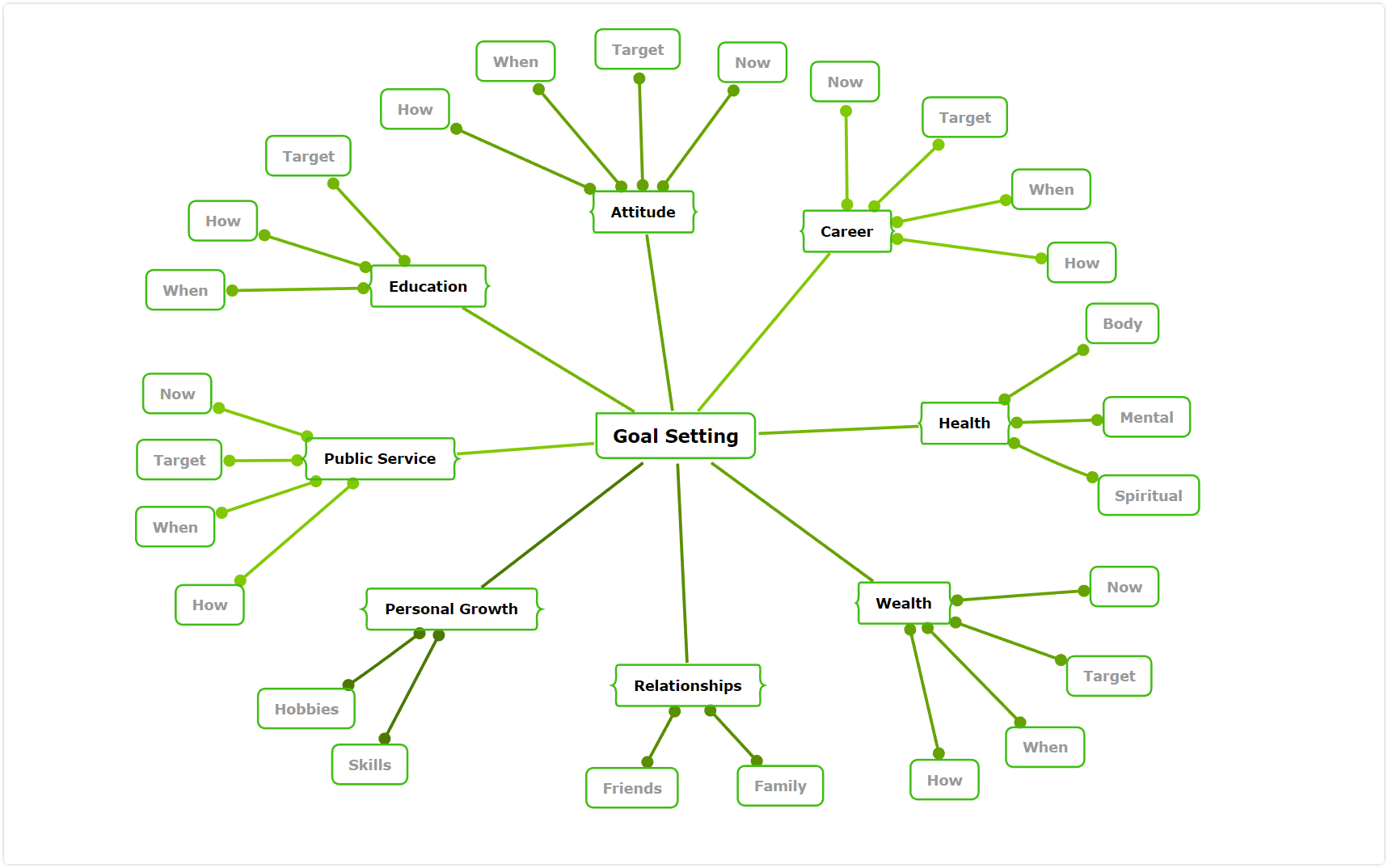 Use one of our personal development plan template options, and you will see personal growth. With a template, you can develop an effective personal development plan as needed. You can set up a process, check on progress, and set deadline-oriented goals. All of this keeps you moving forward, and your skills continue to improve.

Keep it smart, simple, and creative!
The Mindomo Team