A mind map is a brilliant way of arranging information and graphically representing an idea or thought. It is an excellent tool for establishing a connection between ideas and concepts.
A mind map is a unique and reliable method that can be used to verify ideas required for personal growth and development. It helps you to draw ahead your goals and tactics to fulfill them. It also serves as a confidence booster for some people.
Undoubtedly, every motivator needs to understand this act of mind mapping to succeed on their own. This is because the pieces of information drawn can be utilized to find the surest method to get work done.
A personal mind map allows you to understand some fundamental problems you might encounter and offers the right solution to achieve your aim and objective. The existence of online mind mapping has made it simple for people to organize and share their thoughts.
Reasons for personal mind mapping
Learning how to create a mind map is easy and very important for everyone. But, first, if you don't understand the reason why you should use a mind map generator, this is it; a personal mind map is helpful in situations where you find it hard to communicate your ideas to others.
However, suppose you are depressed or feel terrible about a circumstance and cannot comprehend your precedent. In that case, a personal mind map will help you choose what is right and become a better person. It will give you the proper knowledge to overcome your problems or personal issues.
Benefits of a personal mind maps
A personal mind map provides many benefits, including:
1. Perfect tool for visual learners
A personal mind map is a perfect method for visual learners. It helps you to organize your thoughts graphically, in order words it helps you having a visual representation of ideas. Survey shows that 65% of the world's population are visual learners, making it the best approach. Use mind mapping structure for any personal subject: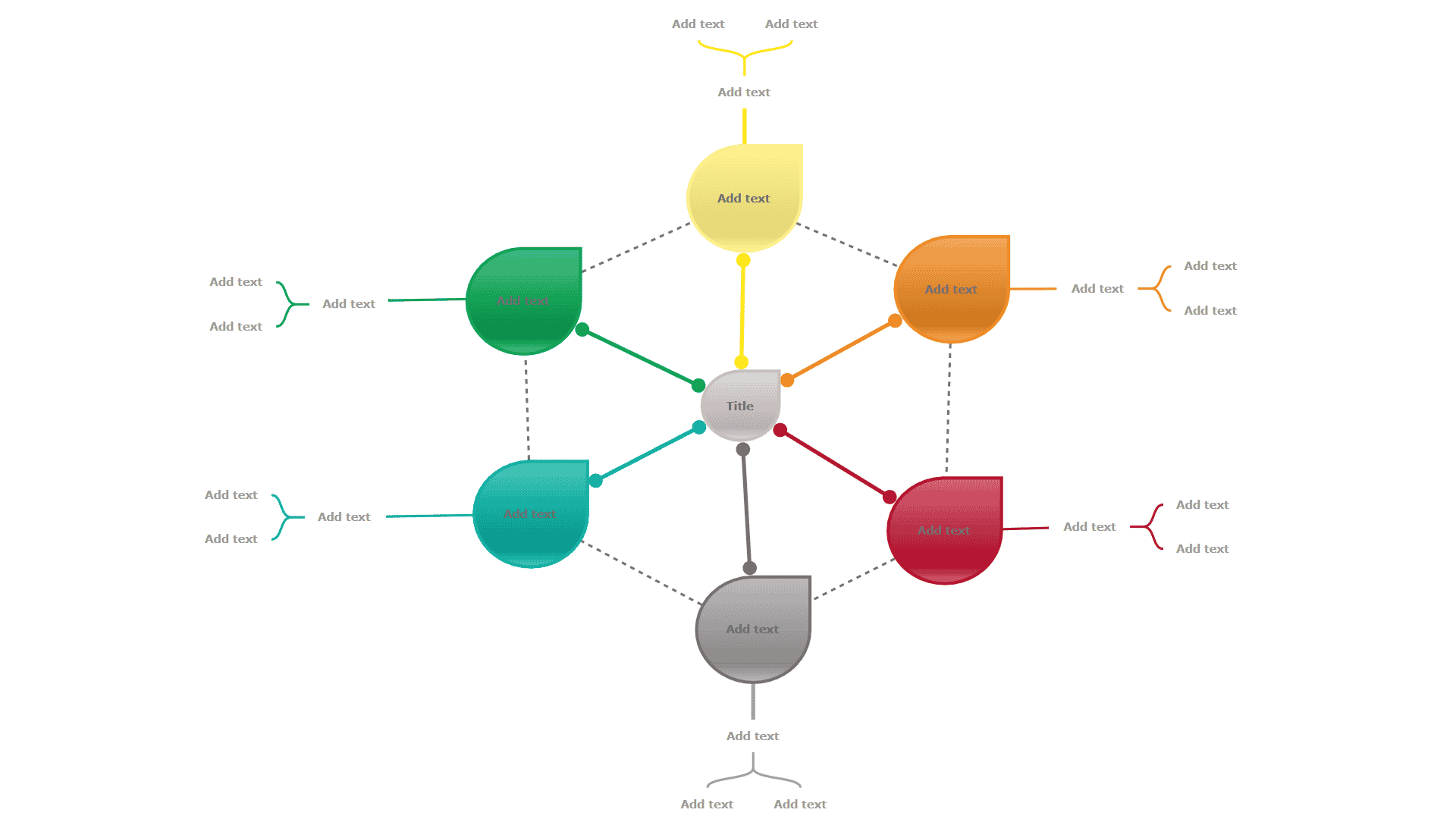 2. Mind mapping promotes creativity
Drawing a personal mind on a piece of paper helps boost creativity, an essential aspect of people's lives. It also helps to improve people's mental state and creative thinking. Use the thankful tree mind map template to add all the things you are grateful for in your life. This is a personal development exercise that improves your mood and your creative side as well.
3. It aids self-recognition
Personal mind maps help you to discover who you are and your worth. Through the personal development diagram, you can picture your inner self and who you desire to be. It also helps you to point out some life problems and the best tactics to solve them.
You can analyze different aspects of your life and have an overview. Use the personal SWOT analysis mind map template to analyze yourself:
4. Mind maps build a connection between thought and ideas
A mind map is the best technique that can be used to discover the connections between ideas and concepts. It helped to show the relationship between ideas and thought. You can use these connections to identify and solve personal problems using the following personal mind map template: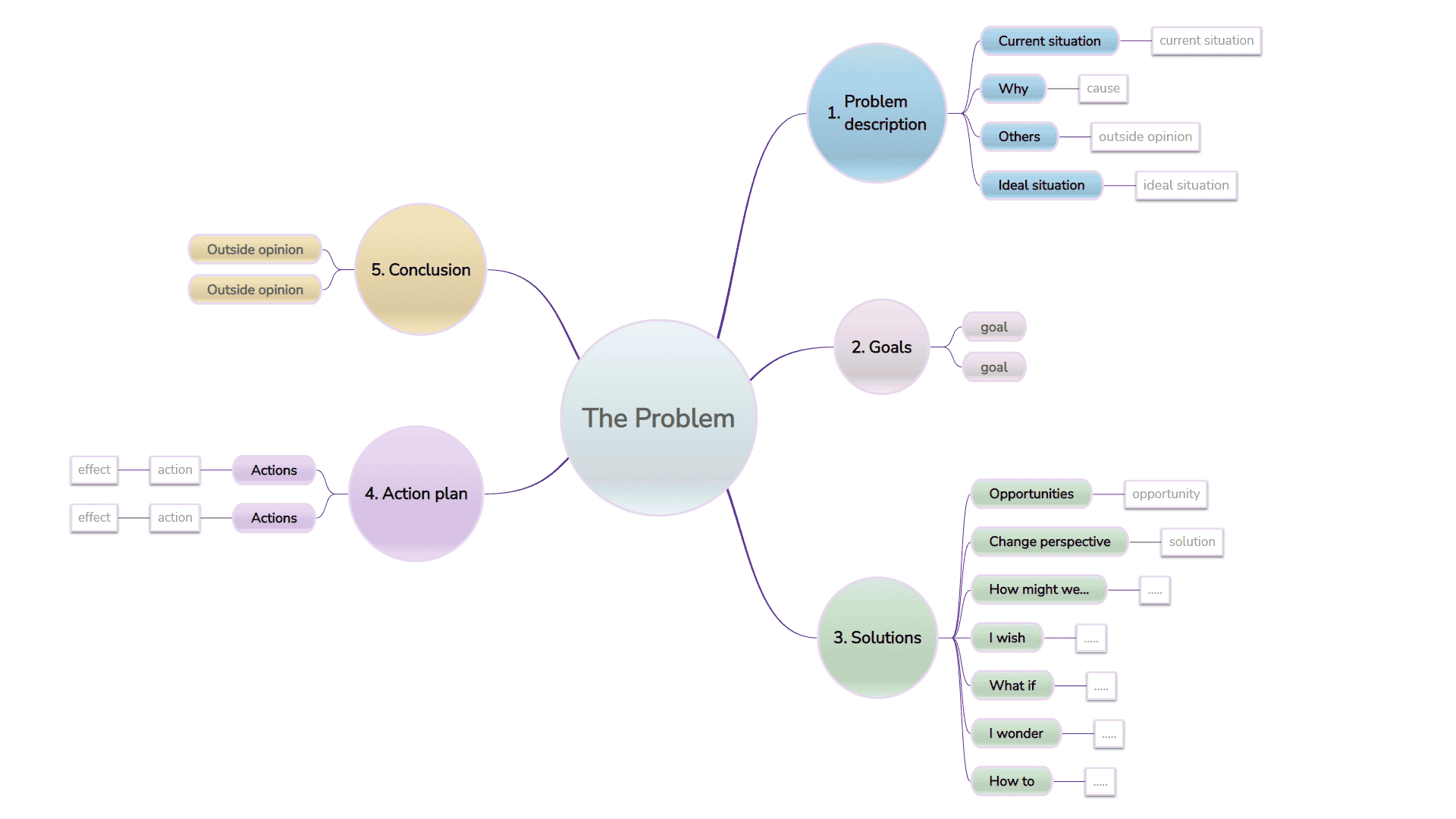 5. Ideal tools for self-development
Personal mind mapping is the best approach if you have been looking for a perfect way to develop yourself mentally and physically. This is because you can introduce yourself, state your life objective, joint problems, and even some private things about yourself in a map/sketch. You can create a life map, improvement map, goal-setting map, planners, dream boards, etc.
Use this mind map template meant to help you improve yourself. Add specific objectives:
6. Autobiography mind map
You can use mind mapping to create an autobiography. This is an excellent introspection exercise and a great start for analyzing yourself. Midnomo has this template that will help you create your autobiography: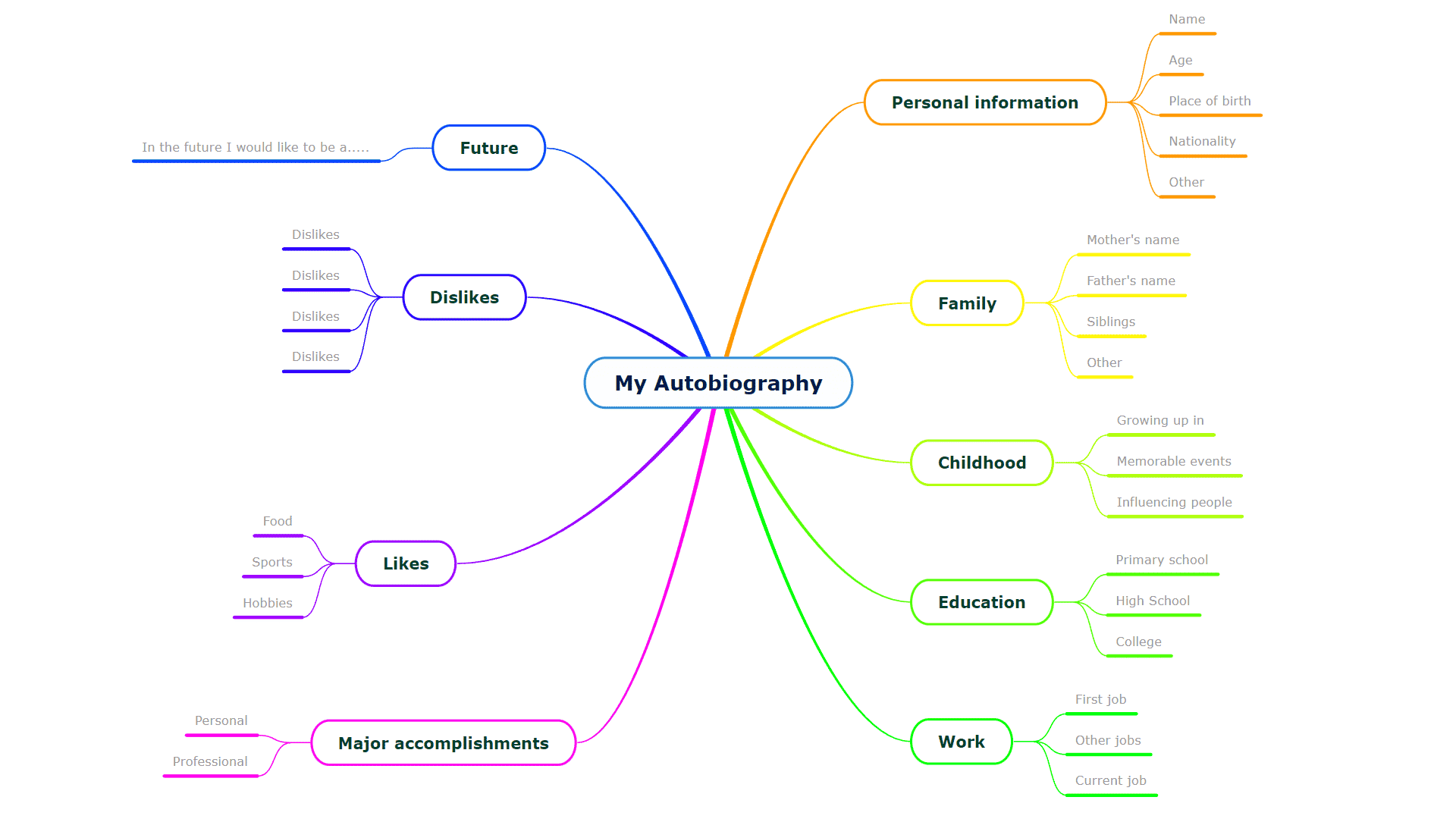 Types of personal mind map
1. Self-image mind map
This mind mapping software helps you to reflect on your lifestyle and how your life progresses. It lets you see your real ambition and life lessons in visual representation.
Creating a self-image in a mind map may express your self-perception, point of view, and character.
2. Self-improvement mind map
Making a self-development mind map will assist you in identifying your inner ideas and emotions. As a result, you can learn about personal issues and develop a workable solution to accomplish your main objective. You can also use this mind-mapping tool to improve and conquer obstacles.
3. Self-reflection mind map
It is crucial to think about your priorities and your areas of enthusiasm. A self-reflection mind map will help you evaluate your strengths and areas of improvement. In addition, it will serve as a guide to paint your life picture and reflect on those things you are doing right or wrong.
4. Self-evaluation mind map
One of the essential uses of personal mind mapping is self-evaluation. This tool enables you to rate the amount of knowledge you have acquired and your progress. A genuine insight is provided through a self-evaluation mind map. With the help of this program, you will be able to identify your strengths, shortcomings, and growth mentality.
5. Self-portrait mind map
This mind mapping tool requires you to consider your future, including your family, job, skills, interest, etc. However, it's a little bit complex and requires you to know about design. You can read about some design works as a reference to what you intend to create.
Things to look at before creating a personal mind map
Drawing a personal mind map is easy if only you follow some set of steps. First, there are some things to consider before drawing a mind map about yourself:
You don't start from the top so as not to get confused. Instead, beginning at the center is the key to successful mind mapping.
Create branches and provide space between ideas so you can subsequently add another.
Give the themes and subtopics some details as well. For example, try to include images, adjust the font and color styles, etc.
Establish connections among the branches.
Follow expert advice for beginners and ask people with experience in mind mapping for assistance.
How to create a personal mind map
Mindomo is a mind mapping software that allows you to create and customize mind maps from scratch or using one of the hundreds of templates available.
To create a mind map on Mindomo, follow these steps:
1. Create an account
The first step is to sign up on Mindomo. Choose the type of account you want to have (personal&work, teacher, or student). However, if you already have an account, log in to start drawing your mind map.
2. Select a template or a blank mind map
After successfully signing in, click on the "Create" button to start creating. Then, you can either select "Blank mind map" to start from scratch or a template from the library.
On the left side of your screen, you have categories of use cases where you can browse. Moreover, you can use the search bar to search specific templates or related keywords. For example, you can type the word "personal" in the search bar, and all templates related to the personal subject will appear. Choose one of them.
3. Edit the mind map
If you have chosen to create a mind map from scratch, add topics and subtopics. If you chose a template, follow the guidelines to fill it out.
4. Make your mind map look attractive
Customize the mind map as you prefer. Change font, sizes, colors, shapes, and lines. Add attachments, images, videos, and icons. You can also apply an existing theme or create your own one from the theme editor.
5. Share your mind map
This is an optional step: you can share collaborators if you want to collaborate with someone and fill it out together. Maybe you need someone else's perspective and opinions about a specific aspect of yourself. If you prefer to keep the mind map for you it will be saved on your dashboard, and you can also export it if you want to.
Conclusion
A personal mind map is a brilliant strategy that helps unlock the brain's full potential and maximize individual productivity. Mindomo offers plenty of personal mind map templates that can come in handy. However, if you need help creating a mind map, this guide will walk you through the process.
Keep it smart, simple, and creative.
The Mindomo Team