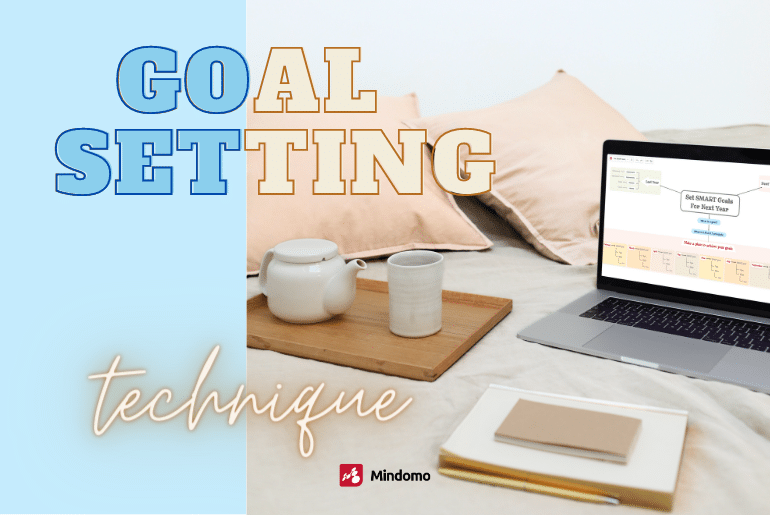 Having the right goal-setting technique can help you achieve your targets and become successful. Besides the positive feeling that comes with achieving your goals, you'll have a deeper sense of being fully committed. Your goal-setting technique is not just about setting deadlines or a to-do list. Yet to be fully committed, you want to have a clear picture of your desired result.
You may have used goal-setting techniques for your personal goals. Usually, people use goal-setting methods for setting personal goals. For example, you may be setting goals for the new year or maybe just a specific goal.
Let's look at the simple example below of a goal-setting technique and see what setting goals and achieving goals can look like:
You want to focus on long-term goals and always dream big. Having an overall goal pyramid that spans several years will help you stay motivated. Breaking down into smaller goals to be reviewed annually is how to keep moving forward.
Yet which goal-setting technique will work best for you? You may be familiar with the term smarter goals or a SMART goal technique.
Yet let's take a step back and look at how this goal technique came about.
An original in the goal-setting process that leads to smart goal setting
Here we are talking about Locke and Latham's goal technique. It's really a one-word technique with traces on how to track progress for smaller goals. They helped not only devise modern goal techniques and what goals involve, but they also helped with the one-word goals. A one-word goal was meant to take an audacious goal and break it into micro goals. It was the beginning of key results, which we will see later on.
The goal-setting theory began with Edwin Locke and eventually included a collaboration between him and Dr. Gary Latham. The mission was to inspire employees to stay motivated with their professional goals. It was one of the first instances where one saw metrics involved in a goal. Involving concrete figures and targets helps show and track employees' progress.
There were five categories as well that were as follows:
Clarity – The goal needs to be clear and specific. It should give a positive feeling and enthusiasm. This is a goal where 'I will achieve sales' is equal to 'I will achieve 10% of the company goals in sales."
Challenge – When achieving your goals, there's a certain risk and reward element. Goals need to have a balanced difficulty to allow you to achieve your goals, yet also not too simple.
Commitment – This goes back to having measurable and achievable goals you're dedicated to. It's the whole theory behind motivation and what employees want to achieve. If they aren't committed to their tasks and job, they won't be committed to their business goals.
Feedback – This is essentially open communication with your manager. First, about effective goal setting and the goal setting journey. Then when the time period for the goal review is done to discuss overarching goals and continuous improvement.
Task Complexity – Some people feel that complex tasks are the best for effective goal setting. Locke and Latham exercise care here. This is because when you set goals with multiple pieces, one failure could destroy the rest of the stages. It can also be difficult to achieve time-bound team goals, so always look at simpler tasks.
A standard with goal-setting techniques and smart goals
Now we can look at one of the more popular goal-setting techniques: smart goal-setting strategies. Smart goals are actually an acronym to help make realistic goals that employees want to achieve. They are sometimes called performance goals as they are highly focused on being measurable goals with metrics behind them. It's best to see a structure of smart goals below:

Specific
This is all about specificity. Saying you want to hit your personal sales quota is not specific enough. You want to say you'll hit your personal sales quota by 25% per quarter, or 110% of the target. It can be an operational goal to reduce the time of a process by X%. Setting specific goals gives you more clarity.
Measurable
This is combined with being specific. Measurable goals mean there's a way to measure progress. This is why smart goals are such a strong type of goal-setting method. It's not just metrics but can also be completing a project or taking a course. Talking with your manager to discuss progress regularly will help with successful achievement here.
Attainable
This relates back to task complexity. Attainable means that these goals cannot be out there. It's a time-bound goal you want to achieve for the entire organization. It's not about overall career goals that come later. It's for the specific time frame of your current responsibilities that are actually achievable.
Relevant
You only have so much time. So you want to ensure that the desired outcomes are all effective in you reaching your overall goal. Manage the task complexity, and deliver realistic goals that are useful. Working on your goal-setting techniques will help you refine this portion, so it's the best use of your time.
Timely
This is here to help you make time-bound goals. That means as you achieve goals that are business goals, you can close them out and progress. This leads to you setting deadlines and focusing on long-term goals. Setting deadlines is key to better performance and helps employees achieve their goals.
What tool is the best for a goal-setting technique?
One of the crucial productivity tips is to use a mind-mapping tool to set your objectives. You will only succeed when you can create a visual of your objectives. It's great to have objectives and to set them, but if you are not constantly tracking the progress you'll make, it won't be enough to achieve these objectives. A mind map tool will help you not only to set effective goals but also to track progress and measure the results. This way, you'll ensure you're going in the right direction.
Learn how to create a mind map with Mindomo, and you'll be able to design achievable goals in no time. You can do a backward goals method, where your goal setting starts in reverse. You can really use it for any effective goal-setting strategy, for your personal goal or business goal.
You can create your own mind map diagram with audacious goals, or you can use e predefined template that will guide you:

You also use the goal-setting techniques that work for you. Mindomo helps you get there even if you aren't using specific goal-setting techniques. Check out this example below for one with no specific set of goal-setting techniques.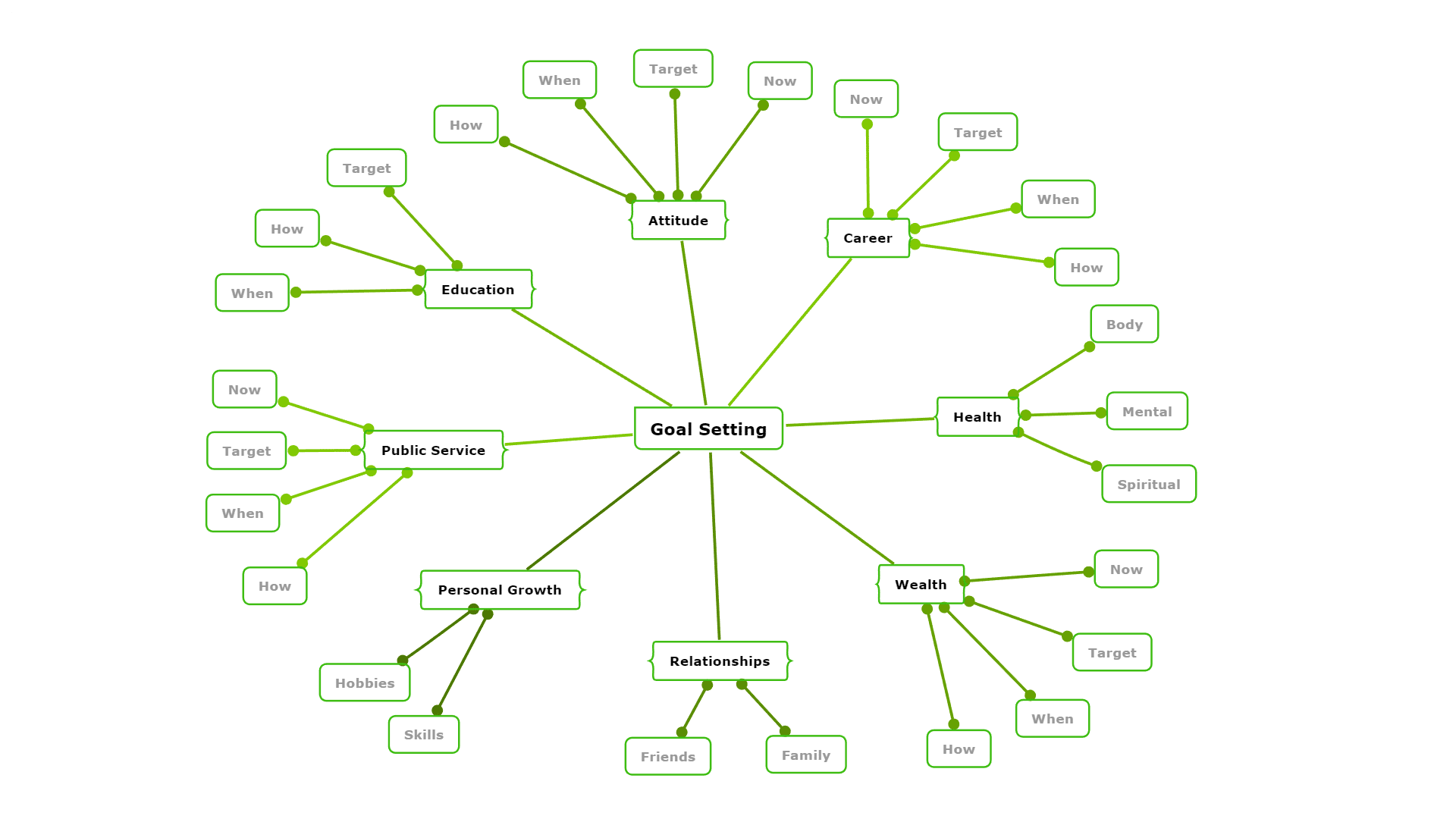 Sign up on Mindomo now and set your goals, track your progress, and achieve your goals!
Keep it smart, simple, and creative!
The Mindomo Team