What's the secret to a good presentation? Audience engagement. Research shows that 79% of people agree that most presentations are boring. A mind map presentation is more visually appealing and attention-grabbing than standard PowerPoint templates or Google slides.
Mind maps are a visual tool that you can share with your audience. Graphic aids structure information and offer an excellent overview of a specific topic making it easy for your listeners to grasp. You can also use a mind map design to help visualize complex content.
Learn how you can become a master presenter with the help of well-thought-out mind maps.
What Exactly is a Mind Map & How is it Used?
Does this sound familiar? You have a bunch of ideas in your head, but you're having difficulty arranging your thoughts and conveying them in a way others can understand. A mind map is a visual design tool to collect your ideas creatively and present them clearly.
A central idea is devoted to every map. Mind map templates let you brainstorm ideas for your upcoming presentation, form a readable structure, add visuals, and deliver your thoughts to your audience. You can include a map presentation to a Microsoft PowerPoint presentation or traditional presentation slides. The maps add professional, colorful, and memorable accents to otherwise dull displays.
Mind maps are perfect for:
Developing a pitch deck
Visually organizing content
Communicating new ideas
Adding creativity to Google slides
Simplifying presentations
Tip: You don't have to utilize a map presentation in the business world! Creating a mind map can also help teachers and students relay essential information in the classroom. Get your creative juices flowing with over 100 editable mind map templates.
Visuals capture an audience's attention and work as a mental trigger to help remember information. So whether you're giving a PowerPoint presentation to your co-workers, bosses, or students, make sure your mind is as visually appealing as possible.
Below is a sample of a mind map that utilized color-coordinated sections to dispatch information.

Why Should You Build Presentations with Mind Maps?
Visual storytelling is one of the better methods to engage an audience. It doesn't matter what you're giving a presentation on. Colors and images can help drive emotions, promote communication, and motivate an audience to take action.
Mind maps are the ultimate visual storytelling tool. Maps create visual hierarchies and connections between ideas. So you can show how things relate to your central idea (no matter what it is) in a way that's easy to understand.
Here are a few examples of when and where you can use a mind map during your next presentation.
Client Presentations
People give over 35 million PowerPoint presentations daily. Make yours stand out with an eye-catching map presentation. Business consultants, employees, management teams, and advisors use mind map presentations to relay important information.
Tip: Add colors and detail to display all relevant information on one single page.
Presentations for the Classroom
Creating a mind map is a fun instrument to promote learning. Teachers can use this visual design aid to help teach new subjects in a way that's easy to understand and remember for students. At the same time, students can utilize mind map templates during project presentations.
Public Speaking Presentations
Talking to a live audience is challenging. Many people are visual learners and require visually appealing content to retain information. Whether you have a presentation at work or you're a public speaker for a living, a mind map can enhance your speech's impact.
What are the Different Types of Mind Maps?
There are several different kinds of mind maps. Some are uncomplicated, while others are more intricate. The type of map you use depends on your presentation. For example, if you're creating a mind map PowerPoint, you may want to include a concept map that follows a more complex, hierarchical structure.
Here's a quick list of the different kinds of mind maps:
Simple Mind Map: This is the most basic mind map where subtopics branch from the main idea.
Tree Map: You can use a tree map to organize and classify data.
Concept Map: Concept maps are great for illustrating connections between concepts.
The Advantages of Mind Mapping for Presentations
A good mind map design will let your audience understand the central idea or "big picture" of your presentation. You can include a mind map in your presentation slides or create one map for your entire presentation. Visual tools with colors and images help give listeners a better experience.
You can use mind maps to construct a PowerPoint presentation, give a speech, host a lecture, or solve a complex problem with your team. The options are endless. So next time you're in charge of creating a presentation, try using a mind map to display your ideas, link critical concepts, and convey important information to others.
Why are mind maps great for presentations?
Online mind map templates are easy to create and easy to understand.
A map presentation is attractive, eye-grabbing, and entertaining.
You can use graphic tools to help others visualize your thoughts or ideas.
Use maps to keep presentations concise and to the point.
How to create a mind map presentation using Mindomo
Step 1: Go on Mindomo's dashboard and create a mind map (starting from scratch, choosing "blank mind map", or starting from a template from the Mindomo library).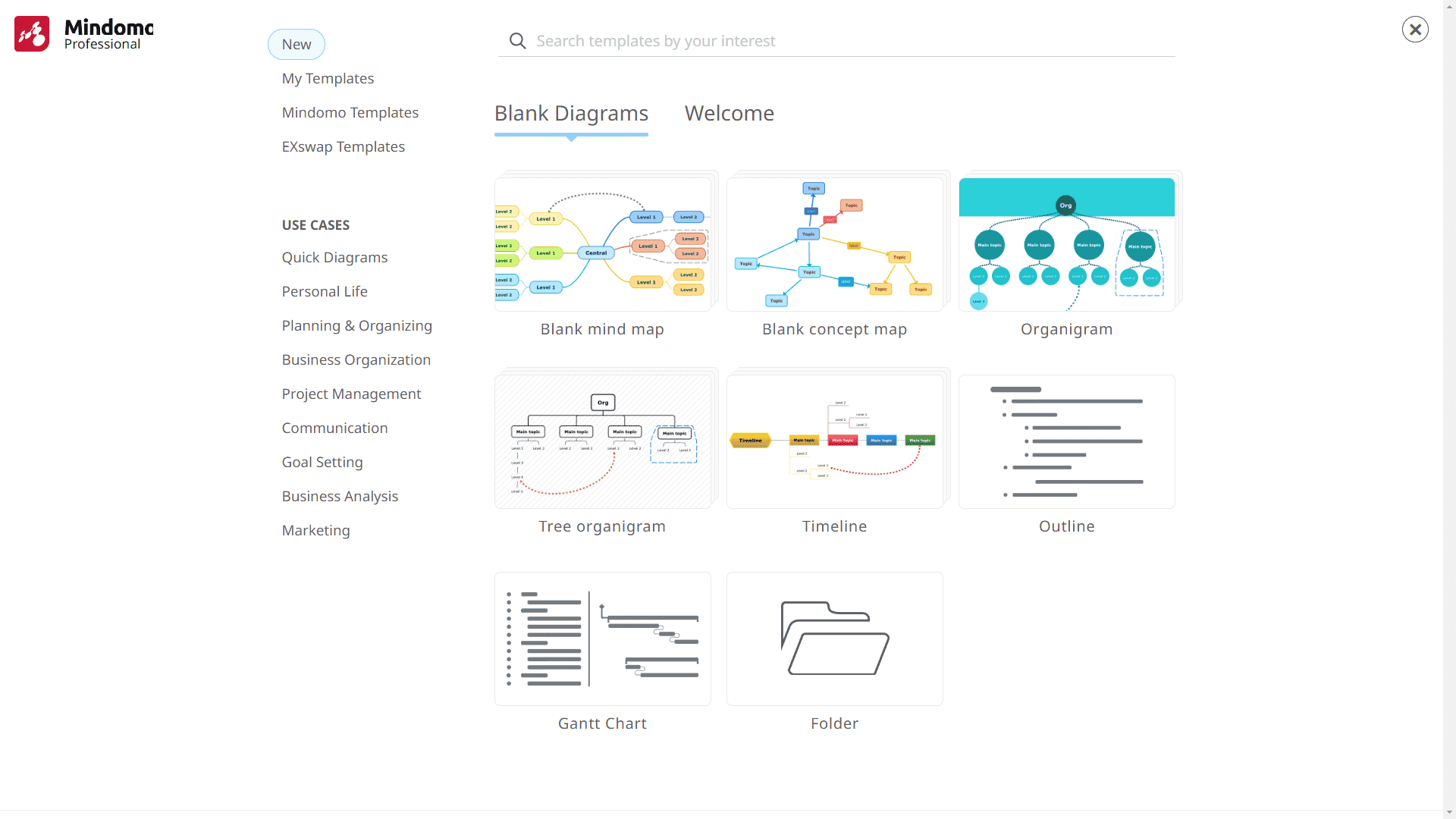 Step 2: Write the main concept in the central topic, and then add topics and subtopics related to the subject.
Try to add words or short phrases (keywords). Then you can insert images, videos, icons, audio files, attachments, etc. Create your diagram as you prefer (learn more about how to mind map).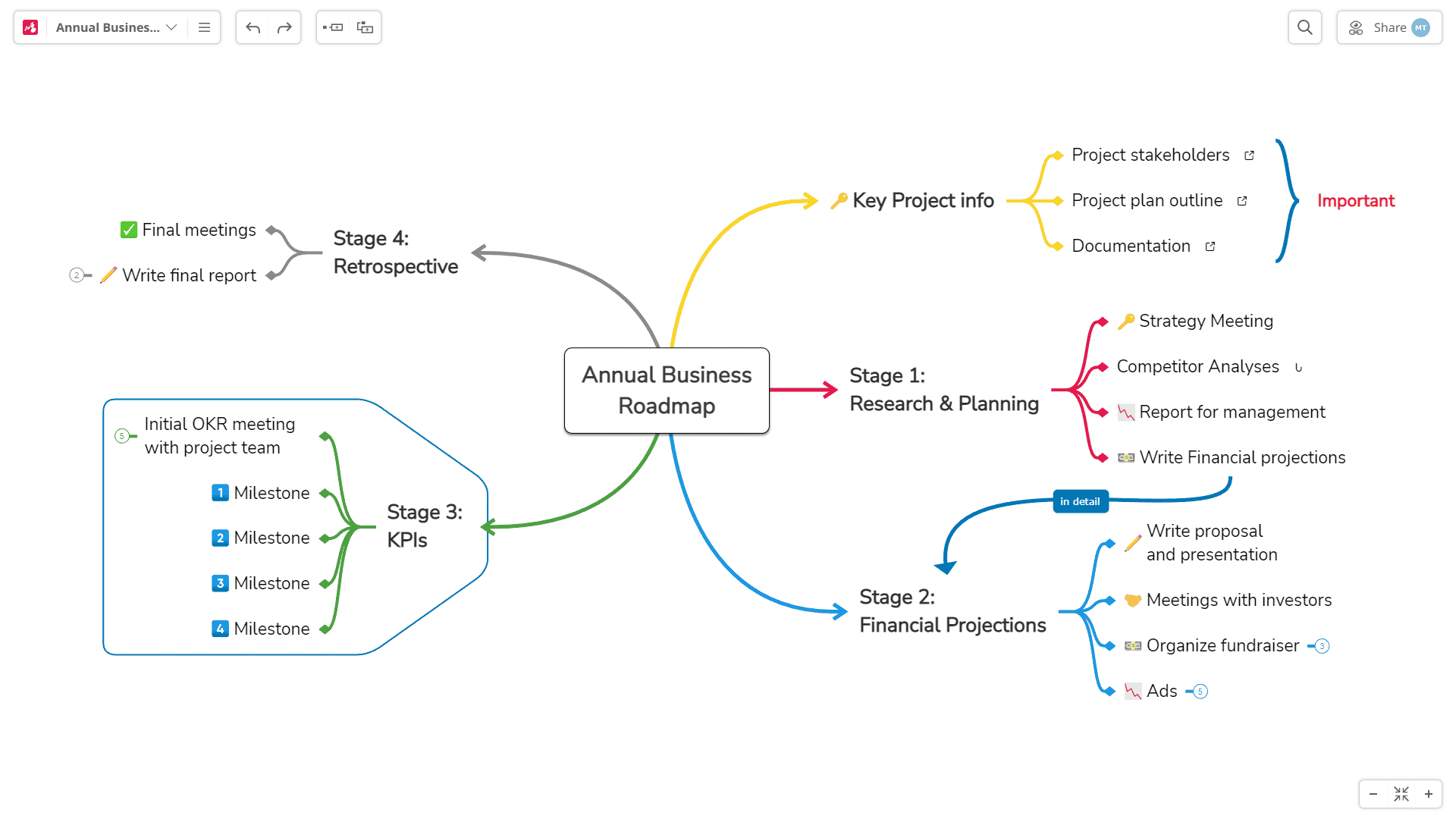 Step 3: Click on the file list menu from the top left corner and select Presenter.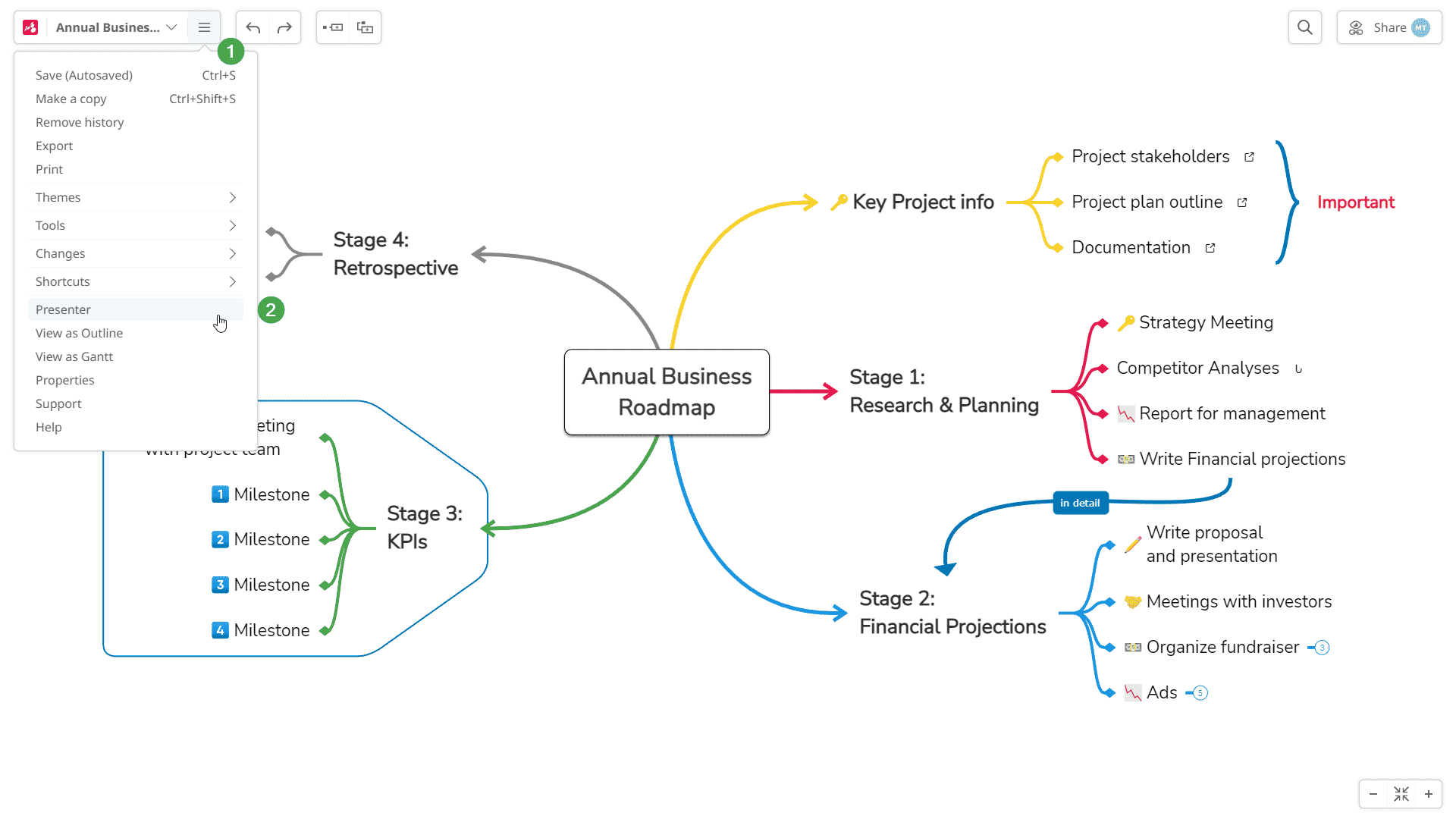 Step 4: Add slides in the order you want to present your mind map. On the top right corner, you have a button for inserting new slides (there is also a shortcut Shift + drag with mouse), and you can reorganize their order or modify them.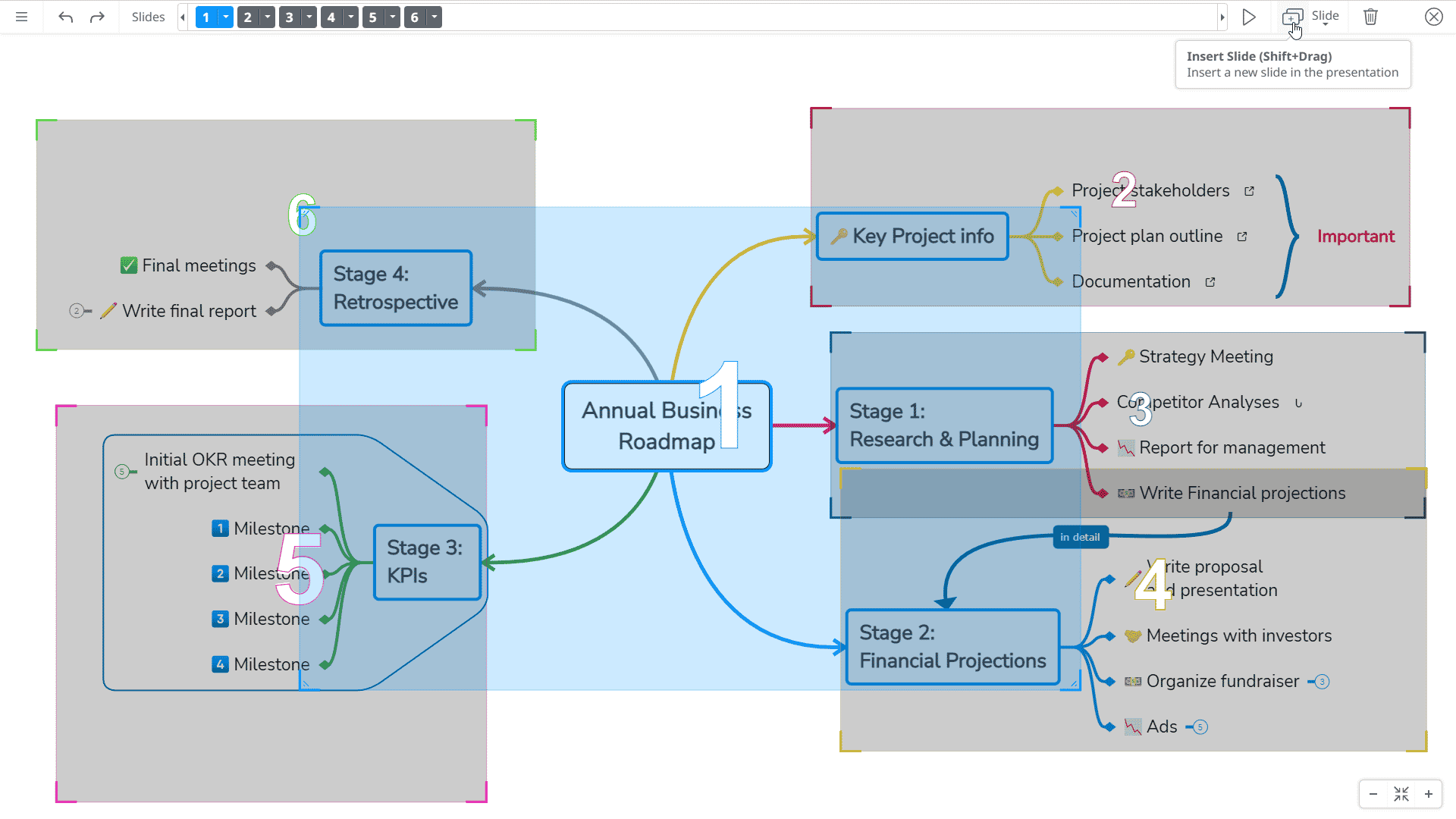 Step 5: Play the presentation by clicking on the play button or pressing F5 on your keyboard.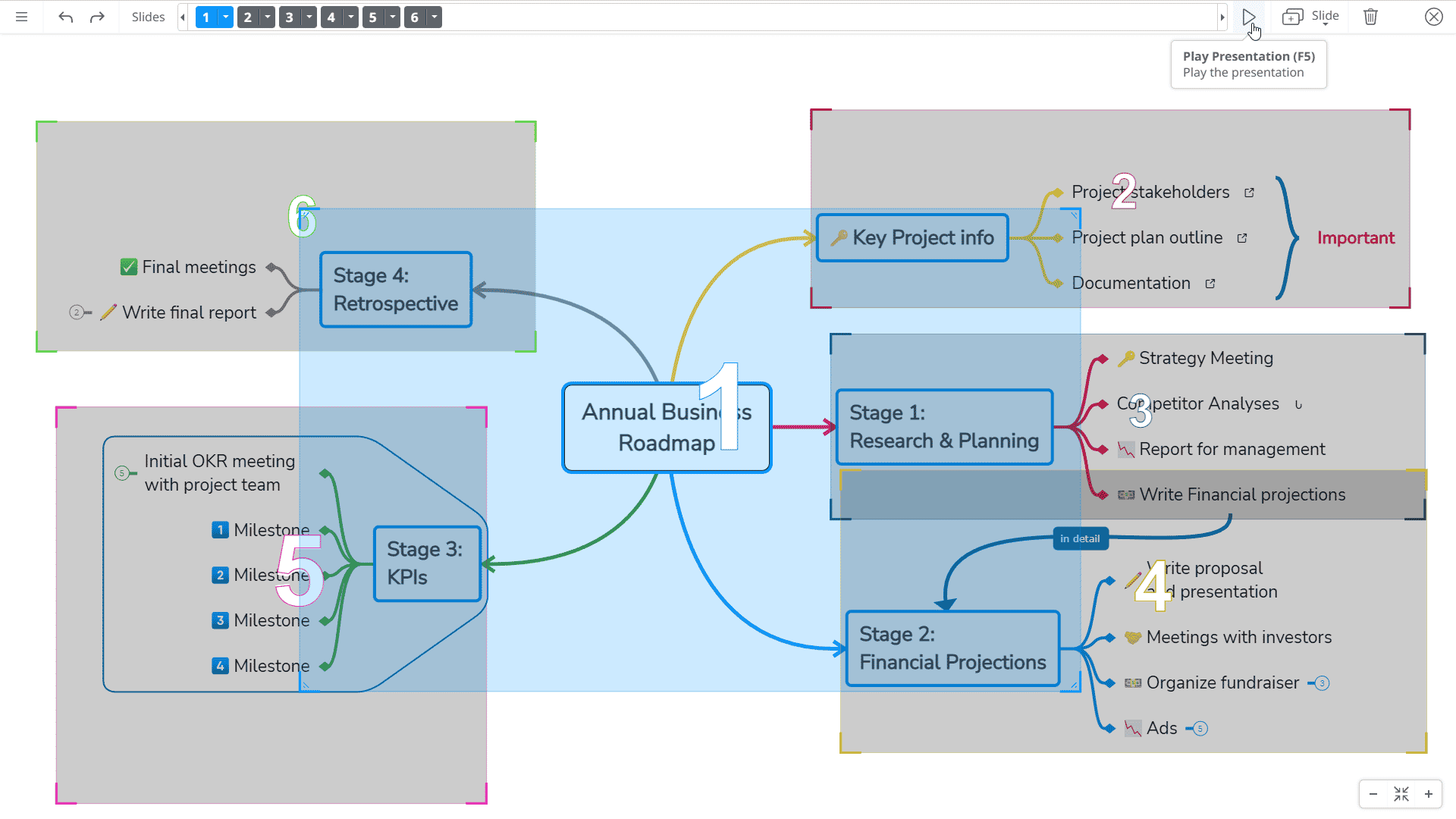 Step 6: Present each slide and navigate through them using the buttons from the bottom of your screen.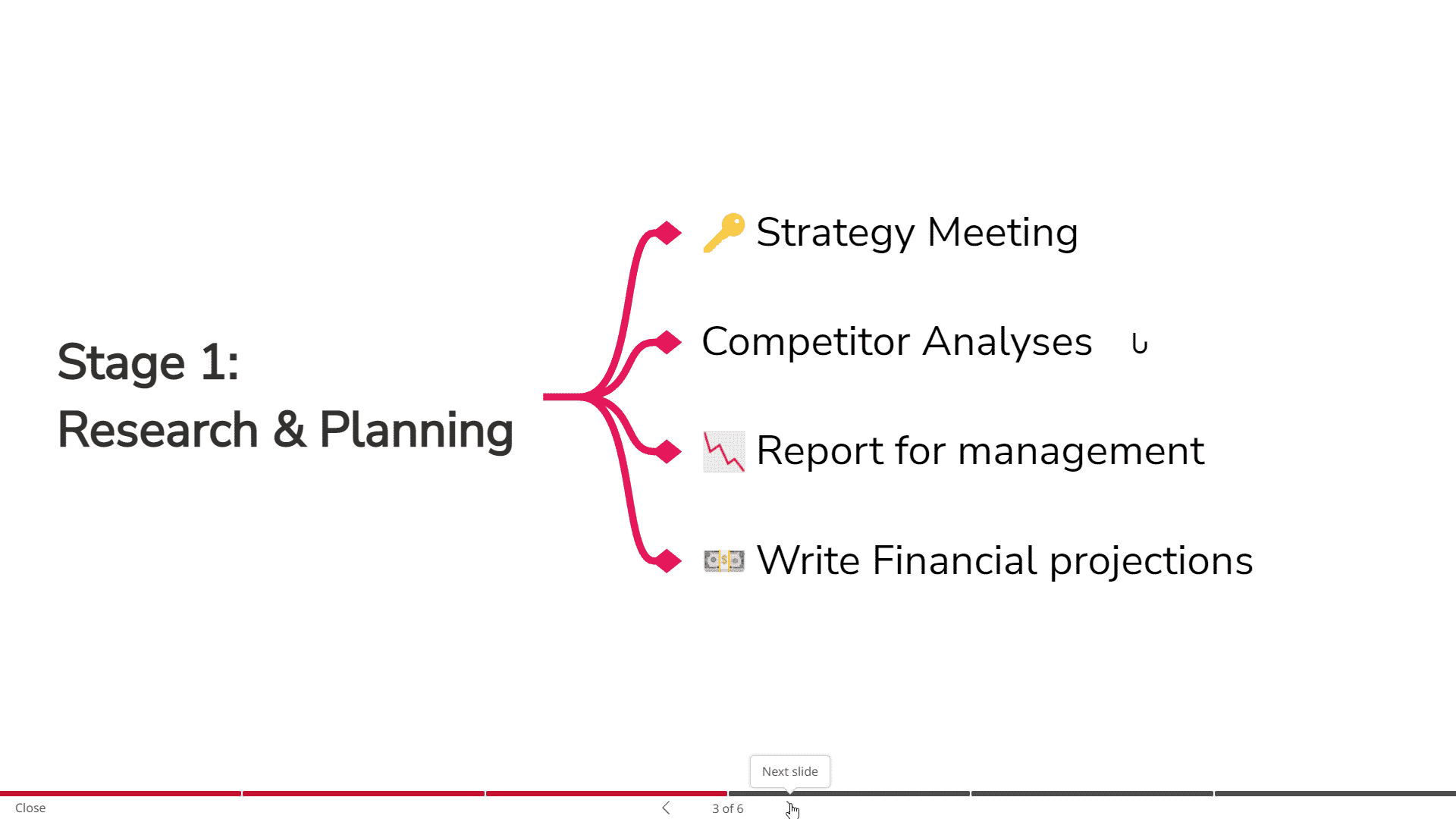 Mind Map Presentations FAQs
Shake up PowerPoint templates and captivate your audience with a mind map. Every mind map includes the central subject, each subject division, and branches of subtopics.
Q: Is creating a mind map time-consuming?
A: Presentations using mind maps can help you save time. You can also use simple mind map templates to help you create a new map quickly.
Q: Can I include a mind map into a PowerPoint template?
A: Yes, you can add an eye-catching mind map to any PowerPoint presentation. Mind maps also work well with Google slides.
Q: How do I ensure my mind map is helpful?
A: Sharing your ideas with others can be intimidating. Here are three tips for using mind maps effectively.
Keep it simple. Use single words or uncomplicated phrases.
Use colors to separate different ideas.
Use subtopics to show how your concepts connect.
Keep it smart, simple, and creative!
The Mindomo Team