At some point, we all have some writing to do. Whether it is a short story, an essay or a speech, good writing is just like Math (go figure 🙂 ), logical and structured. So it becomes clear and accessible for the reader.
For this very reason, a mind map helps you structure your writing. When you are writing a story, begin by creating a mind map. Put a relevant picture in the center to open your imagination. Then brainstorm on the characters, conflict and peek of the story, and how it should end.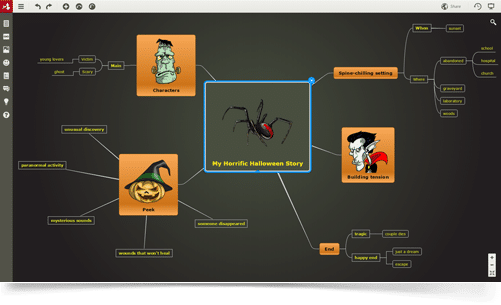 Next, use the new Outline View to go from brainstorming to actually writing the story.

Basically, you will turn your map into a real-time editable outline. This helps you quickly organize ideas in a logical sequence, build them up and polish them 'til they turn into paragraphs. That's the recipe for this creepy Halloween story: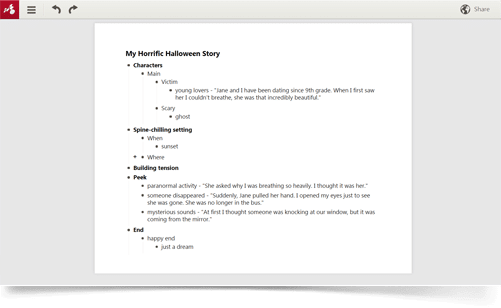 For proofreading, you can share your outline with other people the same way you share your mind maps.
If you are planning to work on an essay, a new book, or even a business plan, try outlining your thoughts, and let us know how it works.
Keep it smart, simple and creative!
The Mindomo Team