You know you are facing a problem when you find yourself in a condition which is different than the desired one. If the problem is simple, then the solution is usually quite obvious. But when you're facing a more complex issue, the card up your sleeve is to get in a problem-solving state of mind.

There is a saying that in order to understand a problem profoundly, you need to see the bigger picture. If this doesn't come naturally at first, mind mapping will help you. Mind maps let you create visual databases, so you can see everything in one page – the root of your problem, its causes, on-the-spot ideas on how you can fix it, etc.
Let's take an example: you have a travel agency that's going through an image crisis. A quick and efficient way to do a problem diagnosis would be to create a mind map around these simple questions:
1 What is the real problem?
The first step is to clearly state the issue you are facing and identify what is real or true about it, as factually as it can be determined.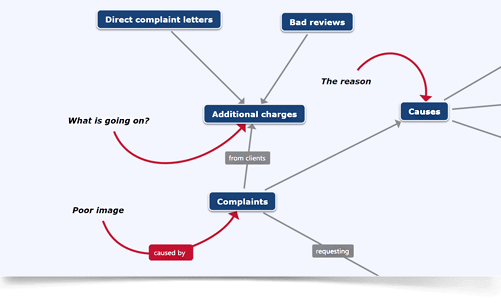 2 What is going on?  Why did this problem occur?
 This is the point where you start collecting and analyzing all the information you have about the problem. You need to determine if your problem is being influenced by your organization (structure) or a function (process). Also, you need to know exactly who are the people affected by the issue.
3 How to avoid the problem? How to ameliorate it? What actions will solve the problem?
This step is about solution planning. You have to evaluate the whole situation, point out all your alternatives, select the ones you'll be implementing and prioritize them. Don't forget to think of how you will determine if your actions made a difference or not.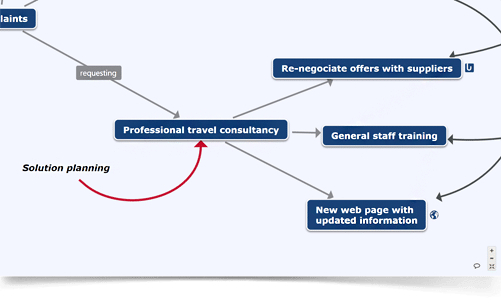 Problems occur all the time, and no matter how small or big, the most important thing is for you to come up with imaginative and rather stress-free solutions. That's  why problem solving is so looked for by universities and employers. If you want to develop or boost this important skill, mind mapping is always a good idea.
Keep it smart, simple, and creative!
The Mindomo Team