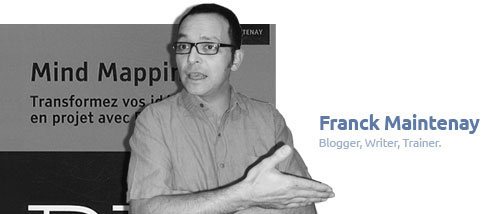 Please allow me to first introduce myself. I've been using mind mapping for 6 years now and have specialized on software such as: Freemind and Freeplane. In 2008, I started my own blog. Today, after several years of practice, I am a trainer in this domain and I had the privilege to write my first book " Mind Mapping: transform your ideas into project with Freeplane". The launching of this book took place 2 weeks ago and it is this book that stands at the origin of this post. In my book I also included Mindomo especially in the part dedicated to the relationship between Freeplane and the other Mind-Mapping softwares.
The team of Mindomo suggested I should write a post regarding my impressions on Mindomo and how I use it. The main ideas that I will focus on refer to: Why is Mindomo one of the best current solutions for beginners in Mind-Mapping ? Why is Mindomo an atypical mind-mapping software in the light of its features? Why does Mindomo know how to benefit from the advantage of being an online software application?
Why Mindomo is one of the best current solutions for beginners?
When I have full training days on Mind-Mapping, I always dedicate the last hour to presenting different mind mapping softwares and the usability of one of them through a practical example for the entire group. For a long time, I've been using Freeplane or Xmind to portray clear mind mapping examples. But now, I am using Mindomo to present mind mapping concepts and examples. Indeed, learning Mind-Mapping is not simple in the beginning. As such, Mindomo possesses an extremely purified interface: some options in the menu bar and about twenty buttons assure 98% of the functions of Mindomo. In this context, creating a Mind-Map becomes really simple. We dedicate the first part of the hour to the contents of a Mind Map: it is the objective of the exercise.
Why, in its features, Mindomo is atypical compared to the rival offers?
Mindomo doesn't distinguish itself from the other softwares by the functionality of its basic features only, such as: inserting branches, adding text, images, and colors,…all softwares have these features fairly well implemented. However, the team of Mindomo knew how to integrate these functions in connection with other tools in order to improve the online quality and functionality. It is possible to feed a kind of press-paper of ideas ( Mindomo Grabber) from a small interface placed on the screen of your PC, simply because your ideas can occur anytime, as you are playing online poker or consulting cooking recipe on the Internet.
Mindomo also offers the possibility to insert your data and notes from Evernote, the very well known collector of information. Mindomo also knew how to effectively respond to the increasing requests of having presentations generated straight from the mind map. Indeed, many mind-mapping software users are focusing on having the presentation mode included. The presentation module integrated into Mindomo is one of the simplest and most effective that I was able to test. It is enough to select parts or topics straight from the map (those which interest you the most) in order to create various slides for your presentation. You can also change the order of the slides and click on the play button to launch the slideshow. There's nothing more simple.
Evidently, everything is being simplified, mainly because Mindomo allows us to assign tasks to branches, such as "Who makes What? When? ". We hope we will also be able to create filters, and this may happen in a future version.
Why Mindomo knew how to expand the benefits of being an online software application?
In its structure, Mindomo is an online software. However, it is also possible to have an offline version which synchronizes automatically with the online version when you have Internet connection. It allows us to create and/or to modify Mind Maps as we travel by train or to the countryside, and once we reach home and synchronization has taken place, we can access the final version of our work.
There is also a mobile version of Mindomo available on iPad and Android tablets. Whatever your tool (the Web interface, the off-line software or the tablet version), you'll find systematically the same interface and the same Mind-Map, without any "interpretation" and disturbance. As a Freemind and Freeplane user, I consider the exporting module of Mindomo towards these softwares very well made: practically all the elements of a mind map can be exported: images, website links, file links, shapes, etc. When I work on a given subject, I first create a Mind-Map as a "resource" in Mindomo on which I place my ideas as they occur to me. Then I structure it as I go along. Finally, when everything is finished and if it is necessary, I export it to the Freemind / Freeplane format.
The efficiency of Mindomo Mind-Mapping in terms of information management doesn't need any more proof of evidence. Mindomo really acts as a facilitator, transforming the "exercise" into a pleasant experience.
French version
Commençons tout d'abord par les présentations. Je pratique le Mind-Mapping depuis 6 ans et suis spécialisé sur les logiciels Freemind et Freeplane. En 2008, j'ai en effet démarré mon blog. Aujourd'hui, après plusieurs années de pratique, je suis devenu formateur dans ce domaine et j'ai écrit mon premier livre intitulé « Mind Mapping : transformez vos idées en projet avec Freeplane » qui est sorti durant ce mois de Septembre. C'est précisément ce livre qui est à l'origine de ce billet. J'y parle en effet de Mindomo dans une partie consacrée aux relations entre Freeplane et les autres logiciels de Mind-Mapping. L'équipe de Mindomo m'a donc proposé d'écrire ce billet afin de vous faire part de mes impressions sur ce logiciel, mais également de mon utilisation de Mindomo. Plusieurs points seront abordés : pourquoi Mindomo est l'une des meilleures solutions actuelles pour les débutants ? Pourquoi, dans ses fonctionnalités, Mindomo est-il un logiciel atypique par rapport aux offres des concurrents ? Pourquoi Mindomo est un logiciel qui sait tirer profit des avantages des applicatifs en-ligne ?
Pourquoi Mindomo est l'une des meilleures solutions actuelles pour les débutants ?
Quand j'anime des formations complètes sur le Mind-Mapping, je consacre toujours la dernière heure à la présentation de logiciels de Mind-Mapping et l'exploitation de l'un d'eux au travers d'un exemple commun au groupe. Si, pendant longtemps, j'ai utilisé Freeplane ou Xmind, j'exécute désormais cet exercice avec Mindomo. En effet, apprendre le Mind-Mapping n'est pas nécessairement simple au début. Aborder son prolongement au travers d'un logiciel ne doit donc pas rajouter de difficultés supplémentaires.
A ce titre, Mindomo possède une interface extrêmement épurée : quelques options dans la barre de menu et une vingtaine de boutons assurant 98% des fonctions de Mindomo. Dans ce contexte, créer une carte devient vraiment simple. On consacre l'essentiel de son énergie au contenu de la carte : c'est l'objectif de l'exercice.
Pourquoi, dans ses fonctionnalités, Mindomo est atypique par rapport aux offres concurrentes ?
Ce n'est pas sur les fonctions basiques que Mindomo se distingue du reste : insérer des branches, ajouter du texte, des images, des couleurs,… les logiciels savent tous le faire. Par contre, L'équipe de Mindomo a su intégrer des fonctions en lien avec sa raison d'être : le fonctionnement en ligne. Il est donc possible d'alimenter une sorte de presse-papier d'idées (Mindomo Grabber) à partir d'une petite interface placée sur le bureau de votre PC, simplement parce que les bonnes idées peuvent apparaître au moment où vous jouer au poker en-ligne ou que vous consulter une recette de cuisine sur Internet. Mindomo offre également la possibilité d'insérer vos données provenant d'Evernote, le collecteur d'informations bien connu.
Mindomo a su également réagir efficacement à la demande croissante de disposer d'outils de présentation d'informations. En effet, beaucoup d'utilisateurs de logiciels de Mind-Mapping exploitent leur logiciel dans ce sens. A ce jour, le module de présentation intégré à Mindomo est l'un des plus simple et efficace que j'ai pu testé. Il suffit de sélectionner des portions de cartes (celles qui nous intéressent) pour créer les différentes diapositives. Ensuite, on redéfinit éventuellement l'ordre de ces diapos et on clique sur lecture pour lancer le diaporama. C'est on ne peut plus simple. Bien entendu, tout n'est pas parfait. Puisque Mindomo nous permet d'assigner aux branches des éléments tels que « qui fait quoi ? quand ? », on aimerait pouvoir créer des filtres. Mais peut-être que cela sera possible dans une future version.
Pourquoi Mindomo est un logiciel qui a su tirer profit des avantages des applicatifs en-ligne ?
A la base, Mindomo est un logiciel en-ligne. Toutefois, il est possible de disposer d'une version « sur poste » qui se synchronise automatiquement avec les cartes en-ligne en présence d'une connexion Internet. Cela permet donc de créer et/ou modifier des cartes dans le train, à la campagne,… et de retrouver le résultat chez soi une fois la synchronisation effectuée.
Il existe également une version mobile de Mindomo fonctionnant sur les tablettes iPad et Android. Quel que soit votre outil (l'interface web, le logiciel « hors-ligne » ou la version tablette), on retrouve systématiquement la même interface et la même carte, sans aucune « interprétation » et donc perturbation. Adepte de Freemind et Freeplane, le module d'exportation de Mindomo vers ces logiciels est très bien fait : pratiquement tous les éléments sont exportés : images, liens vers des sites, vers des fichiers, mise en forme,…Donc en ce qui me concerne, sur un sujet donné, je crée d'abord une carte « ressources » sur Mindomo sur laquelle je place mes idées quand elles me viennent à l'esprit. Je la structure ensuite au fur et à mesure. Enfin, quand tout est fini et si cela est nécessaire, je l'exporte au format Freemind/Freeplane.
L'efficacité du Mind-Mapping en terme de gestion de l'information n'est plus à prouver. Dans ce cadre, Mindomo agit réellement comme un facilitateur, rendant l'exercice encore plus plaisant.
Guest post by Franck Maintenay