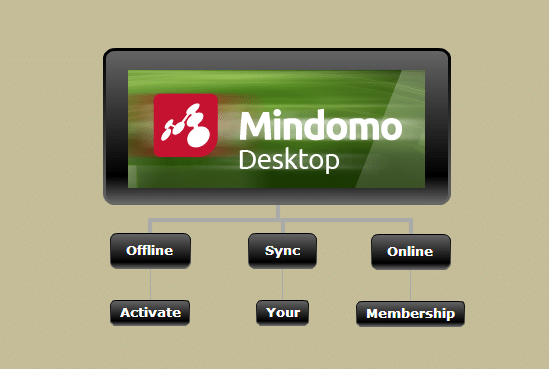 You must be really excited to have purchased a Mindomo membership plan to organize your ideas with mind mapping.  You may want to go a step further and start working on Mindomo Desktop but you have no idea how to transfer your membership to this version.
How do you activate your membership on Mindomo Desktop?
To activate your membership please take the following steps:
a. Open Mindomo Desktop -> go to File -> Online -> Login
b. Enter your credentials using the same username and password you have for the online membership.  You only have to log in one time to activate your membership on the desktop version.
How do you know you are connected online?
1.  Every time you log in online from Mindomo Desktop you should notice on the bottom right corner that you have connected to the online version.
2. After you log in, you can access your online mind maps very easily:
Go to File -> Online -> Open Online
The greatest benefit of using Mindomo Desktop is that you can work on your mind maps offline as well as online, depending on your needs, context and location.
If you need more assistance on how to work with Mindomo Desktop and how to gain access to your online mind maps please contact us at support@mindomo.com
Looking forward to your feedback,
The Mindomo Team