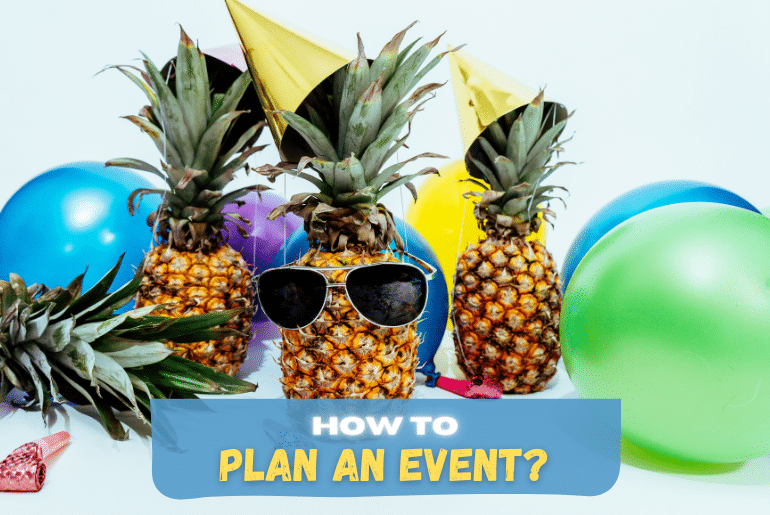 For those wondering how to plan an event, personal or professional, it doesn't have to be difficult. Event Planning or event management is how to stay organized every step of the way. Of course, using some event management software to track everything properly may be beneficial. It will also help to track all the event planning steps and develop an event master plan.
8 Simple Steps to Plan the Perfect Event
This article will be a step-by-step guide to planning your event without missing anything, so let's just jump right into them.
Step 1: Determine the event's purpose
What type of event is it? You need to be aware of this to develop a comprehensive event plan. Know when the event date is and what the target audience is. Make sure the event space makes sense for the target audience. Start building out an event planning checklist.
If there are any similar previous events to look at as a template for an event planner, consider using those. Your event branding must also be decided upon to create an overall event theme.
In addition, you want to confirm who the event team is and coordinate with all the support event planners. It's always good to have multiple event planners handling pieces of the entire event. This will help align with the overall event purpose and help each team member to stay organized.
Step 2: Set the event budget
Your event budget will help guide the event planning and event management. You want to dedicate what will go for the event promotion or whether to develop an event website. The event's success won't matter if you've gone beyond the initial budget.
Step 3: Choose an event venue
Are you looking at making in-person events or virtual events? Is it going to be multiple events or a hybrid model? Combined with the event budget, this will help you select the appropriate event venue.
This needs to be decided very early with event planning. Otherwise, you may plan an event without an appropriate venue. This is extra crucial for larger events to ensure there's enough space. Booking in advance will help to secure better venue costs typically as well.
Step 4: Create the guest list
Whether you're an online wedding planner or planning a personal trip with friends, you want to have the list beforehand. Maybe you're looking to attract attendees and use social media platforms to track those who sign up. Whatever you do to gather people for the events, you want to know how many people will show up.
A good place to store this could be your event management or mind-mapping software. This works best for either an in-person event or a virtual event.
Step 5: Build an event timeline
Events do eventually end. Event Planning is best when there is an itinerary to follow. Items such as when guests should arrive and when key participants should prepare for the speaker lineup. This also helps with attendee engagement. Attendee engagement helps gather feedback that will help you with your next event and future event planning.

Step 6: Prepare decorations, equipment, and catering
Why that event budget is so important because it helps you with what you can get for the event. Planning an event with an event budget will include decorations, AV equipment, and your catering budget.  
Based on your event space and the event attendees, it will matter what type of event technology you have. You also want to ensure with catering that you have covered various dietary needs related to event attendees.
Step 7: Invitations
Now it comes to social media and social media campaigns to promote the event. This can help get potential sponsors or as a way to showcase sponsorship packages.
You want to have your event at maximum capacity to ensure the event's success. This happens with proper event planning and the time needed to market the event.
Step 8: Use the right event management template
Every event is different, and you want to make sure that you have the right type of graphic organizer. Typically, with mind-mapping software such as Mindomo, you shouldn't have any issues with event planning. We'll look at some examples below.
Personal travel event planning
A great way to start to get into event planning or event management is to handle your own events perfectly. You can start even with your next trip and use our template below.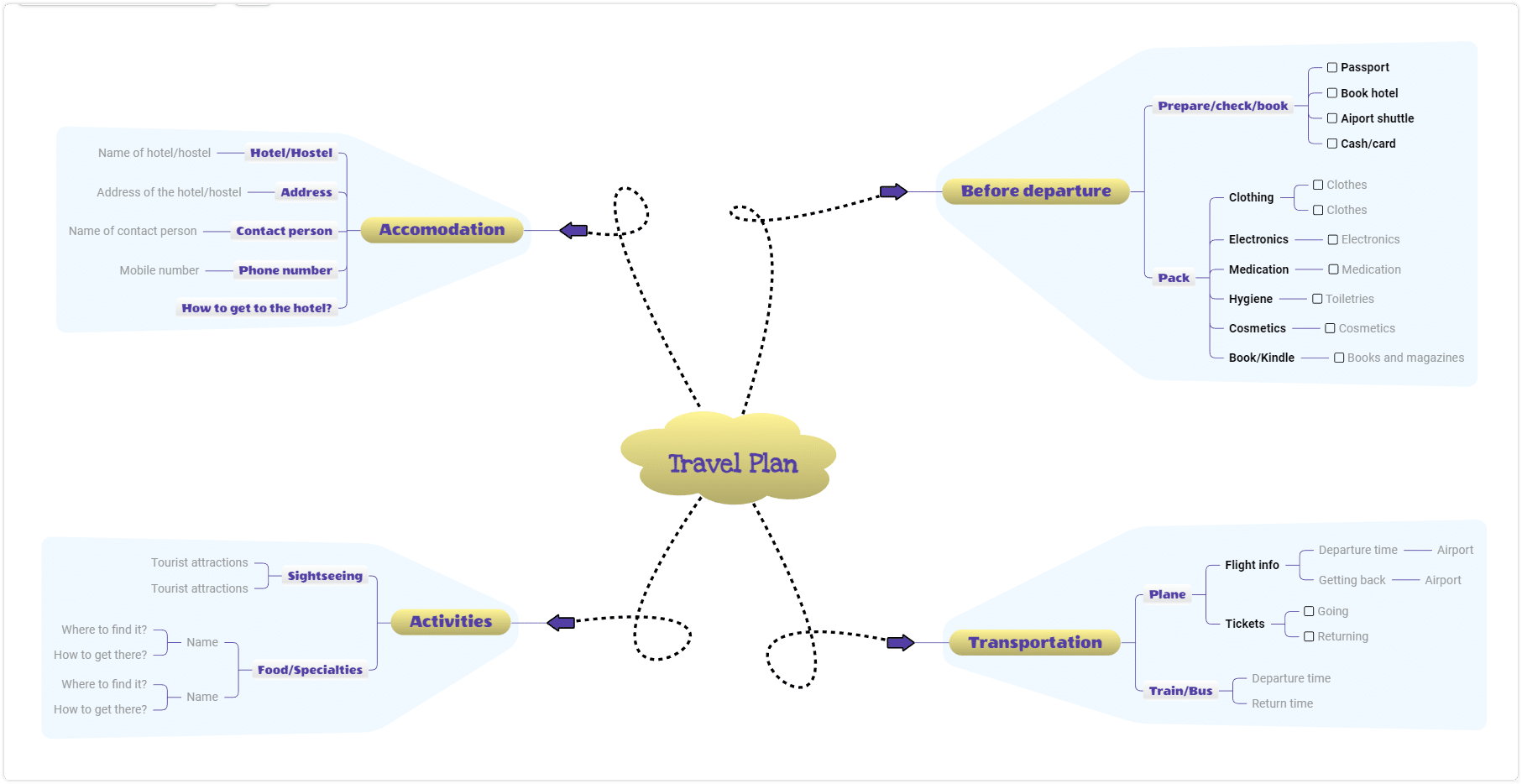 This will teach you how to plan an event and stick with an event budget or a travel budget. It is even better when you're planning for multiple people. Your itinerary will basically be the event master plan for everyone attending.
Use an event planner for work
If you have a recurring event, such as a business meeting, use our meeting template below.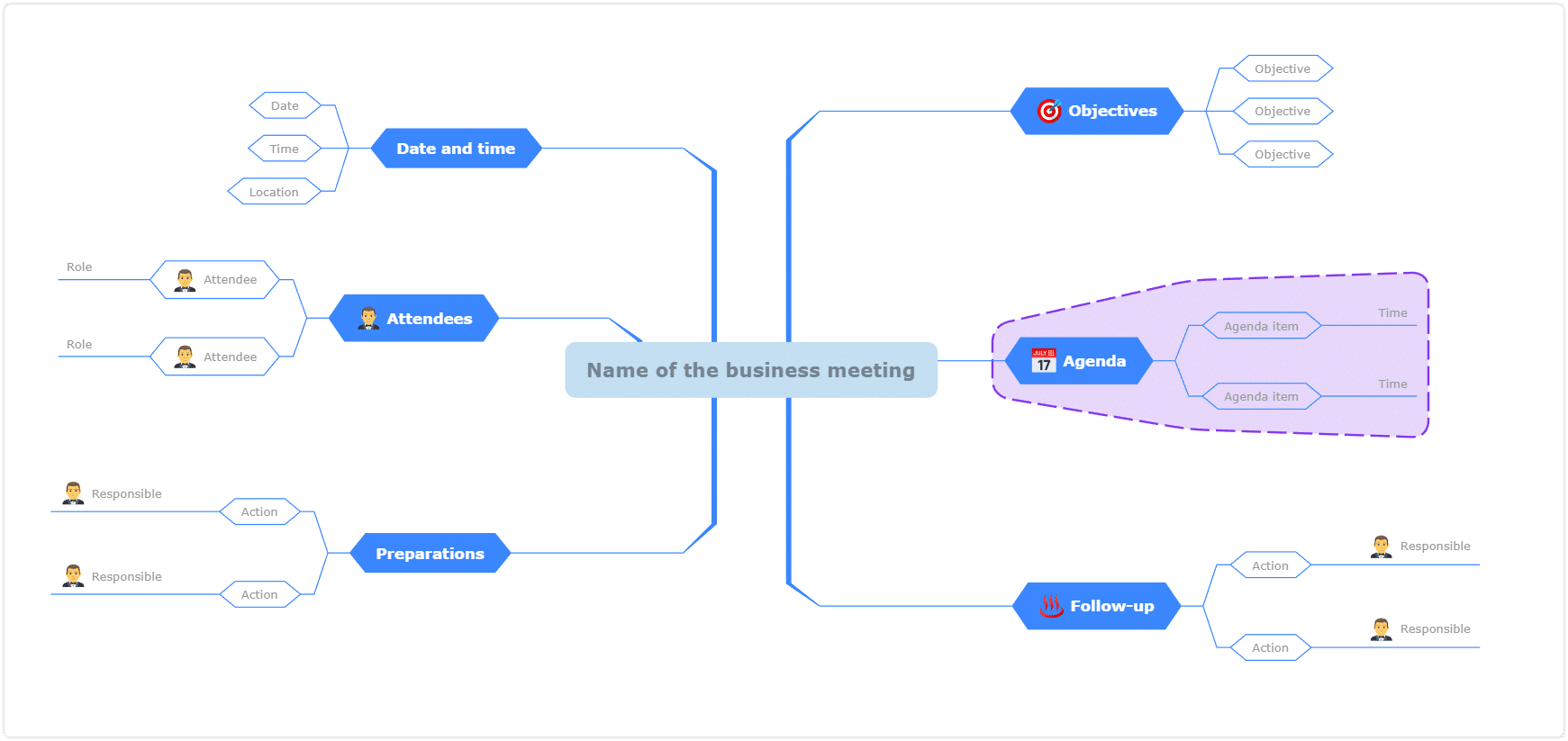 It helps bring all the details together and hones your event-planning skill. It's also easier than using project management software when tracking meetings. It's better for follow-ups mentioned in the meeting as well. You can also share the diagram with other coworkers, create and assign tasks, and easily edit anything.
Or you may find yourself managing a complete workshop. This helps with the planning process of the workshop as well as the event plan itself. You can easily share the event agenda beforehand and track the feedback post-workshop.
Event Planning for special moments
These can include anniversaries or wedding plans. Event management is crucial for these special days and needs to be planned meticulously. All components must be executed flawlessly, especially if it is a large event.
When planning an event like this, stay organized and have additional event managers for support. You can use this type of mind map diagram below for a high-level overview of the day.
For the event master plan, you want to use a more detailed option for your event planning. Look below for the inspiration and level of detail needed for these types of events.
Ready to plan your future successful events?
A successful event comes from proper event management. Keep in mind that every event you run helps with your next event, and you'll get better at event promotion and event management.
Using the right type of mind map template can help you start and visualize the process, and it can be the perfect planner whether you'll plan small or large events.
Use one of the above templates, or create your own one from scratch.
Keep it smart, simple, and creative!
The Mindomo Team