If you are looking at how to be productive and track your daily tasks, you might want to consider a planner app. A planner app helps to organize your to-do lists and recurring tasks and helps with task management.
Yet there are multiple platforms out there with their own key features. There are free daily planner apps and daily planner apps that come as mobile apps. In the end, it may be best hard to choose which are the best daily planner apps.
While some daily planner apps come built into other products, they may not be the best planner app. For example, Microsoft Outlook's key features revolve more around email than a task manager. It's not as intuitive a tool to help you complete tasks.
Or you consider Google Calendar but again realize how much micromanagement and setup are required. Then you may consider daily planning apps that notify via Apple Watch. But having your Apple Watch constantly ping may lead to you ignoring it. That's the issue with most daily planner apps. They are either too informative or bundled into an app with multiple unrelated features.
Don't lose out on the numerous benefits of staying organized, which start with the right features from daily planning apps. Leave apps such as Google Calendar for other topics. Do, however, consider a digital daily planning app. One that isn't just for lists or a calendar app. One that will help act not only as a daily schedule app but as a daily everything app.
You want something that can create to-do lists, as well as mark when you're completing tasks. Something that can manage projects or just your grocery list. A daily planner app with everything in one place. It can be a mobile app, but that doesn't have to be one of the key features.
The best daily planner app will have key features syncing your whole life together. A daily planner will help you boost productivity as well.
Consider mind mapping software as your daily planner app
If you don't have an easy-to-use interface that you're going to want to use on a daily basis, then you won't stay organized. You can try out all the apps in the world to try to schedule tasks, but UI is important. A better way of using daily planner apps is by being able to organize information visually. If you think about the process of how to organize your life, that's how it starts. If it works on a personal level, why shouldn't a task management tool be visual as well?
As a task management tool
Using a mind map diagram as your daily planner will also be the best daily planner app. Mindomo helps in that way, and you can work to create different types of plans. Whether you're looking for a daily planner or a content planner with due dates, it's possible with Mindomo. Plenty of templates are available to get you started in this planner app.
This daily planner app also comes with a free version with powerful functionality. This helps eliminate using another daily planner app, as the free version will immediately help you with your to-do list.
This helps you set up repetitive tasks you may need to accomplish within its key features. It's also great for everyday tasks and can seamlessly add tasks as they come up. You can use this for personal items to keep you organized, even your daily chores.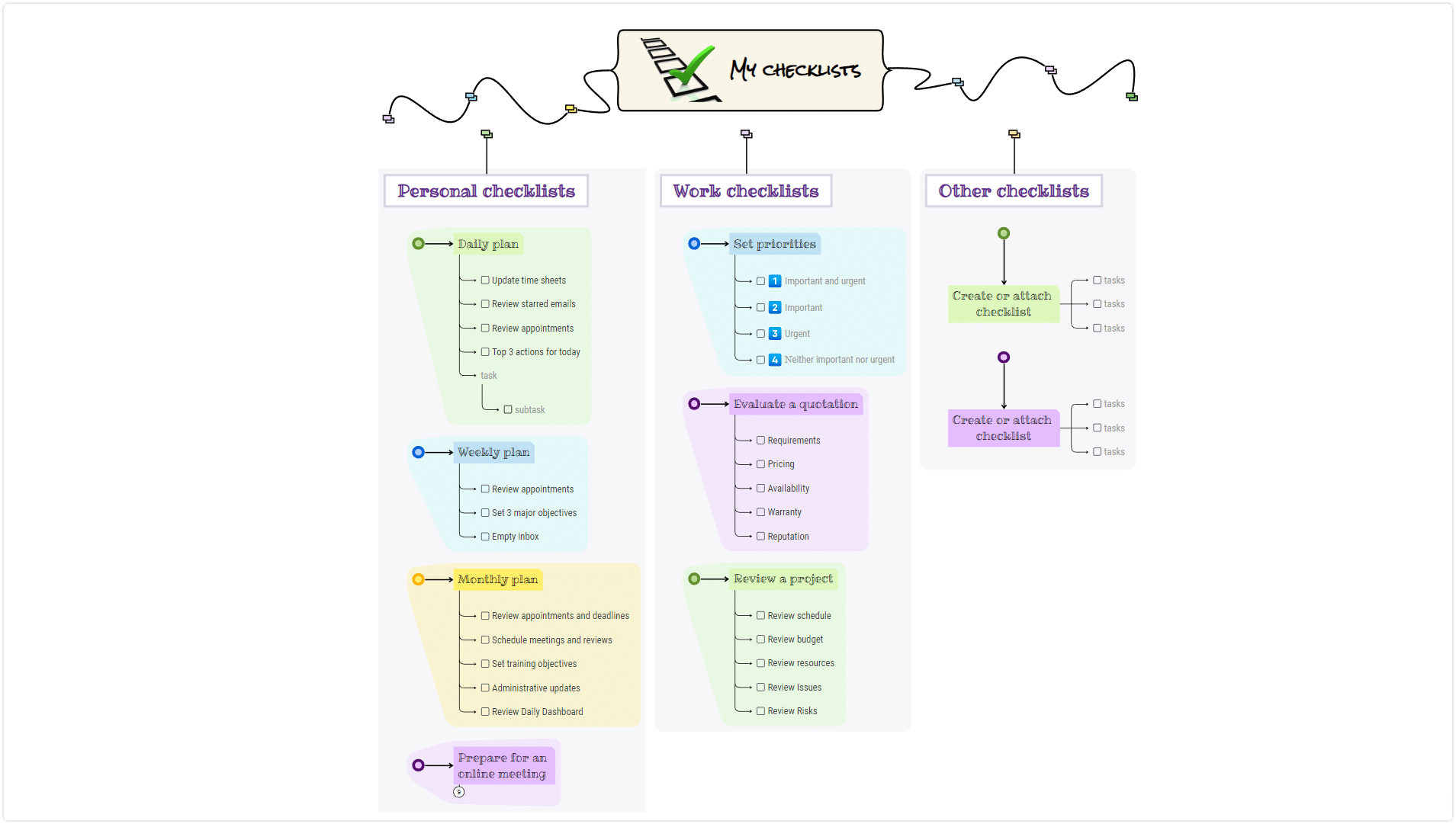 As a project management tool
Another one of its many key features as a planning app is to treat it as a project management app. How to be productive this way is to add all the to-dos. You can then edit tasks as needed and choose tasks to focus on. As the tasks get completed, you can check them off.
You can also set up collaborative tasks and integrate with Microsoft Teams. That means you can continue to organize information visually but communicate with Microsoft Teams. You don't have to go anywhere else to create project timelines. You can also combine the two and make a reminder app or a robust daily schedule.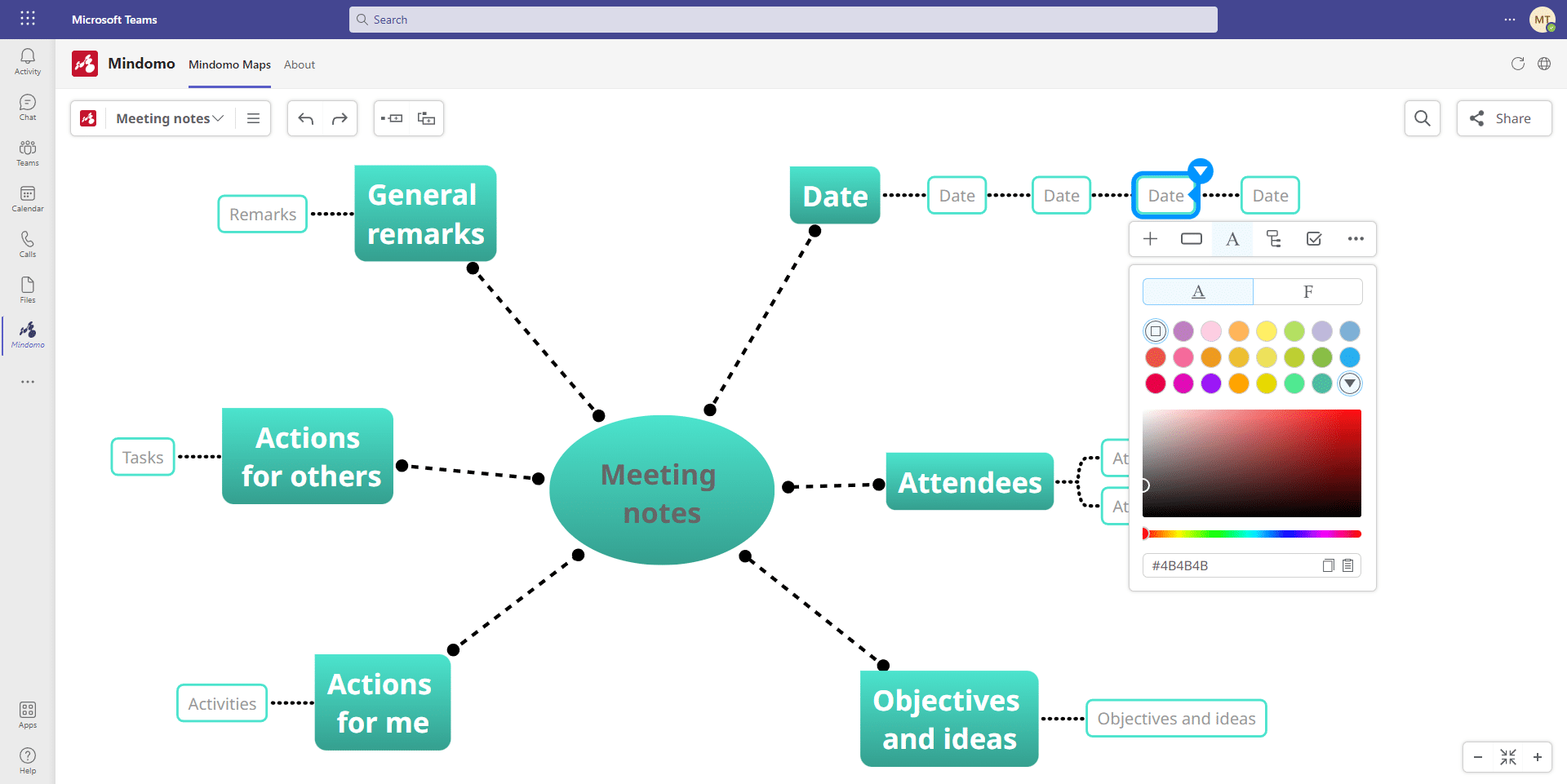 This could help to eliminate the complexity and dependency on Microsoft Outlook. As emails are not as fast, Microsoft Outlook could be completely replaced. You can set up advanced recurring reminders via MS Teams and Mindomo and cut out the usage of Microsoft Outlook. Never miss a deadline with these daily planner features ever again.
As a content planner
As mentioned earlier, content planning needs to work with a daily planner app. You can link recurring tasks for content with content creator tools and Mindomo. At the same time, you can set a due date as needed. You can also assign tasks or to-do lists with others via collaboration.
You can build outflows for each distribution channel and turn them into a productivity app. At the same time, you'll add tasks and edit tasks as needed to produce and launch content.
Key features needed in a daily planner app are the collaboration elements. In just a few taps, you're sharing your daily planner app with those that need it. No more confusion about to-do lists or wondering who will complete tasks.
Collaborative Daily Planner App
Everyone will be fully aware of all the due dates in this planner app and see updates as they happen. You can share all the diagrams and have multiple people add their own content and to-do lists. It'll make collaborative tasks just that much easier to handle.
As the planner app usage matures, you can change the structures and layouts that make the most sense. This will make those group tasks and daily life easier and more efficient.
Multiple daily planner apps in one for recurring tasks
Another great feature is that with so many numerous templates, you can make multiple to-do lists. You'll get a few boards in the free version of Mindomo to create a separate to-do list as needed. You can make personal to-do lists and professional to-do lists and have them be on different boards.
Keeping your personal tasks separate will help you keep to your daily schedule. Or you can upgrade as needed for unlimited tasks and to be able to manage multiple projects. It's also mobile-ready and acts like a mobile app.
In the end – no need for Google Calendar and the like with this planner app!
As part of being the best planner app, it has an easy-to-use interface to ensure customization as needed. You can make it aesthetically pleasing as well as practical with this as your planner app. Do keep your planner app separate from other tools so as to not be overwhelmed. In fact, your planner app and other apps like Google Calendar should work together. With Mindomo, you can integrate your tasks added in the visual diagrams into any application that supports iCal.
It can be for recurring tasks or to schedule tasks. Google Calendar shouldn't be used as a to-do list or for your daily tasks. It's not meant as your go-to for daily planner apps. Mindomo has become one of the best daily planner apps out there. Sign up now and get started!
Keep it smart, simple, and creative!
The Mindomo Team