So, why is an online wedding planner so important? Well, maybe you've already figured out how to plan an event. Now you want to upgrade that into wedding planning. The reason is that weddings skyrocketed in 2022. It could even hit record numbers in 2023, keeping wedding planners just as busy as more couples tie the knot.
Whether you're doing wedding planning for yourself or for someone else, you want to go with an online wedding planner. You may think the traditional wedding planner route with a big book is the way to go. Yet there is a massive to-do list to consider in the wedding planning journey.
To be able to have an optimal wedding planning process, you'll want wedding planning tools that are easy to access. Don't forget also to consider wedding websites.
How can I organize my wedding online?
You may think to yourself that wedding planning tools are cumbersome or expensive. In fact, if you consider using a diagramming tool platform such as Mindomo, you'll find plenty of templates. Around 90% of couples these days are planning their weddings online with digital wedding planning tools.
There's a good reason as the big wedding day approaches. Many engaged couples are much more digitally savvy these days. Another reason for using wedding planning tools is that it makes it stress-free for engaged couples. It's easy to edit or even to share with someone who helps you.
Feel free to consider using this template for the big event. You'll find it's ready to go from planning the budget to the guest list. It's a wedding planning option that helps with the key decisions for the event.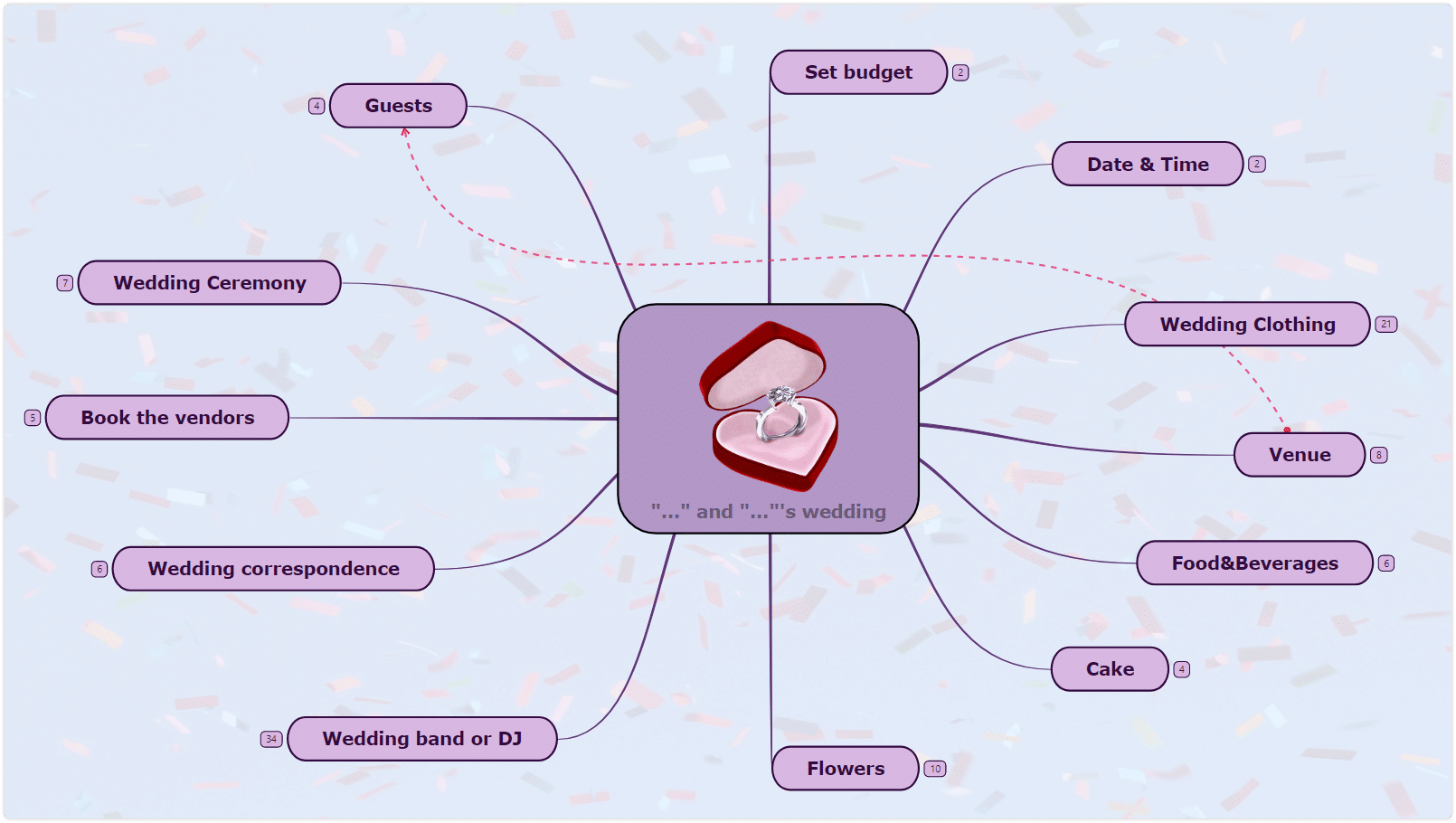 Easy edit, add, or remove something with an Online Wedding Planner
The wedding can be planned safely and digitally with the right wedding tools. You can create the ultimate wedding checklist online and track the progress easily. You can add pictures of wedding venues and mention the overall wedding style to match the wedding venues. Once the perfect wedding venue is confirmed, it can be checked off the main list.
You can also set up a list of wedding vendors for the big day. They can be the band, caterers, photographers, and so on. You are also able to set tasks to ensure that there's enough time before the wedding day to book everyone. Remember that vendors should be booked way in advance to secure them and the best pricing.
Another aspect to consider is the wedding budget itself, as you cannot have a wedding checklist without the wedding budget set. You can link up Excel spreadsheets that follow the wedding budget and seamlessly track it with a proper budget calculator.
You can even begin to start planning the seating chart for where friends and family should sit. While planning for the seating chart and the guest list, you can start to track invitations accepted as well. You can easily set deadlines with dates for when the invitations are due.
This online wedding planner can easily be shared
Collaboration is key when it comes to wedding planning. Maybe your best friend/sister or brother will help you with the organization of the entire wedding. You can easily share this wedding planner with them, and they can view and even edit it in real-time.
They can add prices for menus, flowers, and different offers and help you check tasks or other wedding details. You can share the wedding details that are specific to the vendors. For example, the photographer can know the seating chart in advance so they can plan in advance.
You can also create the seating chart using a Mindomo diagram. It can be shared with the wedding party easily.
Making a mind map to track the wedding registry options for the big day is even possible. All the links to the wedding registry options selected can be stored online with the mind map diagram we're using.
Customizable design and efficient planner at the same time
The wedding planner tool can be set to a color palette that matches the wedding style. Everything else, from headings, fonts, shapes, and sizes, is customizable. You could have a big one for urgent to-dos such as the wedding venue or the budget. In turn, you can adjust all the sizes and fonts as the date for the ceremony approaches as well.
You can add images, videos, and even audio files or links, and you will have everything in a compact diagram that will also look amazing.
You can use the search bar to find anything or to sort and filter tasks. Your special day will be a big project, and you'll easily track the progress and make sure you're not falling behind.
Easy access anywhere and anywhere
It wouldn't make sense these days if you couldn't access your wedding checklist via a mobile device.
When you use us as part of your wedding plan tools, we make access from anywhere easy. It can even start to look like a wedding website.  
What not to do when planning a wedding
Even with a professional wedding planner or if you're highly organized, there are still some things not to do. The first one is not planning on a budget. There are multiple pieces with varying costs, and you want to be able to budget for them, especially the reception. Handle this before even setting your wedding dates.
Then you need to have faith in your vendors. Don't rush getting vendors; don't always go for the cheapest. Find vendors that you can afford to pay for and suit your wedding style. Book them way in advance and let them be the professionals they are and manage their own area. Don't forget tips at the end, either.
Another thing is getting lost in the wedding planning via social media or having family manage to take over. This is your wedding, meaning your decisions throughout the process. Whatever services you want to have, you have. Whoever gets on the guest list is your choice only, and you have the final say. The more you allow family or friends to get involved, the less stress-free the process becomes.
So, let's start filling this wedding plan mind map!
Our mind map uses minimalist simplicity to have anyone learn to use it fast. This makes it an excellent option for any wedding planning activity. The idea is for the engaged couple to focus on tying the knot versus every single detail in their head.
Wedding tasks should be easy to handle. The guest list should be trackable and always stick within the budget. Keep in mind to pair this with wedding websites as well.
Sign up on Mindomo and use our free online wedding planner template!
Keep it smart, simple, and creative!
The Mindomo Team