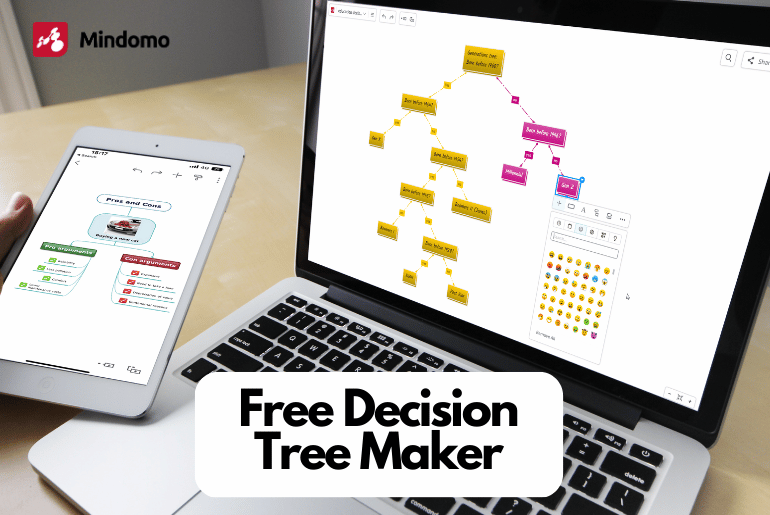 What is a decision tree – Quick Overview
A decision tree or decision tree diagram is a graphical representation that has many uses. But how do we make a decision tree? How does a decision tree help to get to those possible outcomes? What does a decision tree diagram look like, and will these decision trees be built correctly? This is where a decision tree maker comes into play.
A decision tree maker is ideal for making your decision trees. Once you create the first decision tree templates, you can end up building similar decision trees going forward. Yet you will need to spend time to master your decision tree building techniques. There are a lot of nuances in decision trees, and your first few may appear as yes or no answers.
As you start to understand how complex the best decision trees are, you'll start to incorporate math into them. Then you'll see that this is the fundamentals of data science and machine learning.
Choose the right diagram software to make your decision tree diagram
You may take some time mastering decision tree creation, but try to move away from pencil and paper. An online decision tree maker such as Mindomo can help you get the fundamentals down. This decision tree diagram maker is simple to use. It helps with some decision tree examples. Moreover, using software has more advantages: importing data fast, adding comments, presenting it to other people, free templates, different options for customization, etc.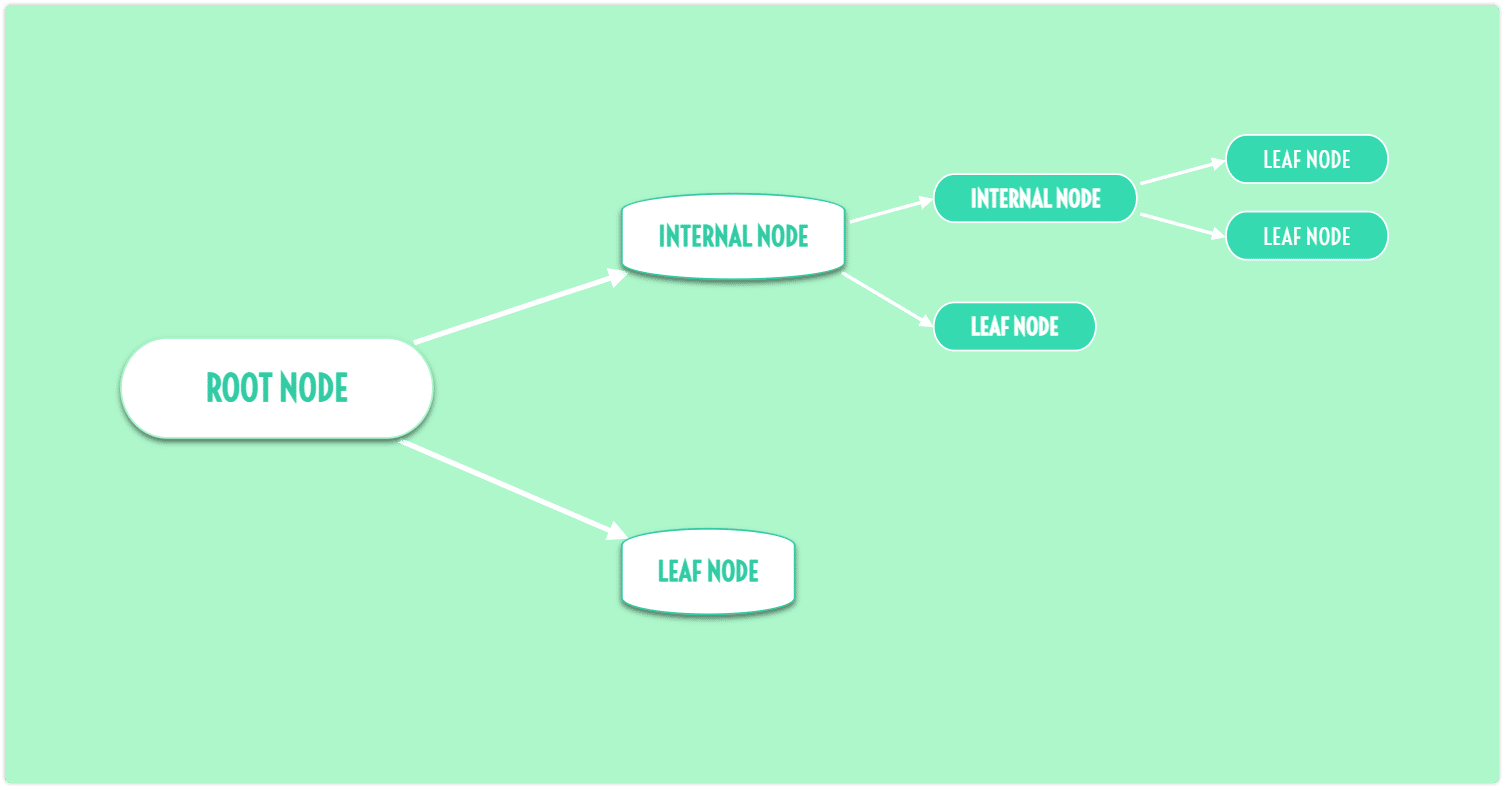 While at the same time, it can easily get as complex and data driven as you need it to be. An online decision tree maker will also help to make it easier for you to share it with collaborators. In addition, it's easier to build one when you have free decision tree template options. You can also easily create out different decision tree diagram choices for every life using a blank canvas or the templates library.
Where to start with the decision making process?
Here is a 7 steps guide on how to actually start your decision making process:
Step 1: You want to define the problem first.
What is the important decision that needs to be made by your decision tree maker? Is it related to business decisions or personal decisions? Either way, you need to gather all the information beforehand. Make sure to spend enough time on this part.
What is the end goal? Are you doing credit checks for banking loans? Are you vetting executive level candidates for positions and need to go through a big list? Or are you planning out your career options, such as whether to focus on technical or non-technical skills? These are very high level examples, and the more data points you put in there, the stronger your decision tree will be.
Step 2: You need to define the decision nodes that need to be answered to get to a decision.
That's what decision trees are all about. What is the split in the road that puts you on that path in the decision tree? We can go back to our personal decision tree above. Simply picking the first choice of technical or non-technical opens up new doors and closes out other chances. We haven't drawn our decision tree here yet, we're just laying out the data points.
Step 3: Build out all the outcomes.
Whether the outcomes are for business decisions or personal ones, you need to have a set possible list of outcomes. Remember, it's not always about the right decisions or many decisions, just having an outcome for the decision tree.
If we look at our personal decision tree option, there could be a few outcomes. Such as if you go the technical route, your outcome could be CTO, CPO, or launching your own product. If your decision tree pushes you with a non-technical route, it could be CEO, CFO, or COO. This is, of course, on how extensive your decision tree is.
Step 4: Assign probabilities.
Depending on the decision tree maker you're building, you may need to give a value for the decision node. Decision trees using probably and figures will provide more insight, so always consider them in your decision tree diagram. This can help both business and personal decision trees.
This isn't about simply picking out a yes or no answer and you hit an outcome. The best decision trees start to work with machine learning thoughts and processes.
Step 5: Review each run through.
You're going to use decision trees more than once. That decision tree needs to be reviewed after each outcome. Are the data points and run throughs making sense? Are the choices in the decision tree diagram relevant? You can calculate how often a decision node is hit versus the probability of hitting those decision nodes.
Step 6: Create a decision tree.
Before, you were just building out the items that go into the decision tree. Now it's time to build your decision tree diagrams or decision tree templates. Start with that initial node and break down all the proper outcomes as they will happen. You don't need to create a decision tree sample on paper when you can simply use decision tree software which is easily editable.
Step 7: Improve upon your decision tree.
If you start to notice that every time you use your decision tree diagrams hitting a certain outcome, review it. Otherwise, it's not a decision tree but simply a validation tool. Comprehensive decision trees will be very extensive, with multiple outcomes possible within the process. As they say, practice makes perfect, and the same goes with your decision tree building.
Decision making techniques for decision trees
While you may want to pick an algorithmic method or two, you also won't need to your first decision tree. Start small with your decision tree and find the right type of online decision tree maker for you. You need to hone in on your decision making techniques first, and only then will you use them properly.
If you follow these simple guidelines to create a decision tree, it will help you greatly going forward. Your decision tree diagram needs to be useable in the end. Of course, you should start with a decision tree template. A decision tree template will help you get the ball moving, and that comes with the right decision tree software.
Ready to start creating your own decision trees?
It all starts with that first decision tree diagram and getting yourself experiences enough through an online decision tree maker. Also, in our step-by-step guide, each step itself requires a certain amount of effort to help with the decision making process. Your first decision tree diagram will always remind you of how far you've come. Just remember it won't be your last decision tree diagram.
Mindomo is a diagramming tool that offers you professionally designed templates to start creating your tree diagrams and also the possibility to create them from scratch. Start with the main idea, add and customize branches and lines, and drag and drop to rearrange them.
Sign up now and get started!
Keep it smart, simple, and creative!
The Mindomo Team