Just to make sure you have everything you need to kick-start this new school year, we spent the entire summer vacation working on some cool updates:
1. Playback feature: your own magnifying glass to see who did what on any mind map. Use it to see who has been working on the map, all their individual contributions and the time they were made. With this new feature, assessing students' work on collaborative mind maps will be a piece of cake.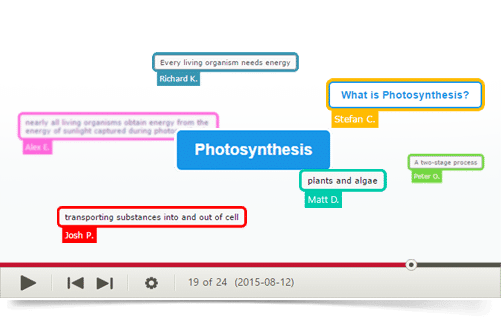 2. Courses transformed into Assignments. Why? The Resources and Notes sections in a Course were less used. So we removed them, making everything more straightforward. Still, nothing has changed in the way you build and share your mind map assignments:
– students maps are instantly shared with the teacher from the moment students start their assignments
– students share opinions and learn from each other on collaborative assignments
– teachers can share assignments with other teachers that might be covering their classes
– student maps are easier to reach since they are grouped on assignments
– assignments can be duplicated
– one can create student accounts without email
3. Google Classroom integration: bring all your predefined Google Classes into Mindomo to share your mind map assignments easier.
4. itslearning integration: yet another LMS from which you can  work with Mindomo directly, no additional login required. Check out the guidelines for this integration.
5. Office 365 integration: schools and also organizations can add Mindomo to their Office 365 accounts. This way all users on their accounts will be able to work with Mindomo directly from there. Guidelines for this integration here.
Mindomo makes a run at being the best mind mapping solution for you, so feel free to share your feedback and suggestions in the comments section below.
Keep it smart, simple, and creative!
The Mindomo Team