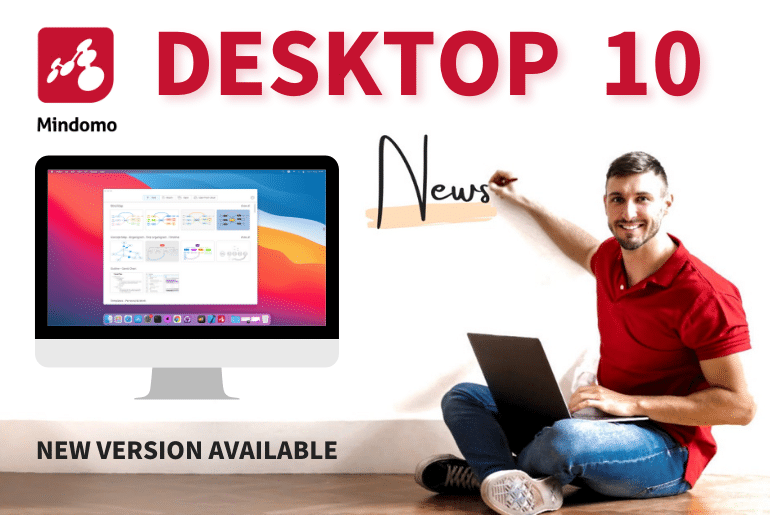 Mindomo Team has been working on a big release lately, and now it's time to reveal it: a new version of Mindomo for Windows and macOS is available! Mindomo 10 comes with a fresh interface, a native look and feel, and a series of great improvements.
This is the second important release in 2021 after we launched the new online interface of Mindomo, which received many positive feedbacks from our users. We are very happy to hear that you're enjoying your experience using our tool. Therefore, the new Desktop version has significant improvements:
Fresh interface – native look and feel
Similar to the online version, the new Windows and macOS version has a new graphical interface that is even more engaging and intuitive than before. In addition, it brings all the actions closer to reach to make the users' experience more pleasant. In addition, the new interface has more space for your diagrams.
Dashboard
When you open Mindomo, you can see the new dashboard which has a fresh look. Besides the appearance, the buttons that were on the left side are reorganized, and positioned on top of your window: "New", "Recent", "Open", and "Open from Cloud".
On the "Recent" section you can see all the recently accessed maps. From now on, there's a cloud icon in front of the maps that are synchronized with your online account. This way, it's easier for you to know which map is local and which map is synced.
Dialogs
The native look and feel of the new Mindomo improved the dialogs of the app. Now you have native windows that you can move on your screen or close.
For example, when you open Preferences, a new window with "Mindomo Options" will pop up on your screen. This is not fixed anymore, you can move it or close it from the top right corner.
Menus
When you open a mind map, you will see the new interface. It has menus on the top left corner, where you can find everything you need. For instance: File, Edit, Tools, etc.
Features
This updated version of Mindomo for Windows and macOS brings all the online features to your Desktop app.
Now you can use all of them to ease your work:
Advanced color picker with unlimited colors and previously used colors saving option;
Topic deselection – to deselect a topic click anywhere on the background;
Brand new context menu that has better organization to help you find everything faster;
Redesigned checkboxes;
Notes and comments panels are redesigned and they can be revamped (normal and maximized);
Timeline for topic changes;
The timeline for map changes is improved
To get to know the online version and how to use it to create a mind map online, check out this video:
Improved functionalities
Copy – Paste branches
In the previous version, you could copy and paste branches using the options Copy Branch (Shift + F8 for Windows and ↑ + F8 for macOS) and Paste Branch (Shift + F7 on Windows and ↑ + F8 for macOS). You needed to copy the text that appeared (and check the box to include the topic style) and then paste it. Now it's simpler and faster. You can only use keyboard shortcuts directly on the topic you want to copy:
Copy (Ctrl + C for Windows and Cmd + C for macOS)
Paste (Ctrl + V for Windows and Cmd + V for macOS)
And then you can simply paste it on the map. The topic style will be automatically included.
Synchronization – Cloud maps
A major improvement of the new Mindomo is cloud synchronization. In the previous versions, you had to sync all the changes manually by clicking a button. All the changes made until that moment were synched, but if you continued to make changes, you had to sync again by pressing that button.
Now, this process is automated. Once synced with the cloud, a mind map will be kept synced whenever you are connected to the internet (and Mindomo is opened). In other words, all the changes you will make will be synced automatically with the cloud if you have an internet connection.
If you lose the internet connection and you still edit your mind map offline, all the changes are saved locally. Mindomo will automatically sync everything when you reconnect to the internet.
You can always see the status of your map on the top right corner of your screen (Synced/Offline).
"Cloud" menu
When you have a mind map open, you can go to the "Cloud" menu from the top left side of the screen. There you can see on which account you are logged in (if you are logged in) and you can easily switch your account.

License management and activation
With the new version of this mind mapping software, it's easier to manage and activate your license. If you don't have a license active and you reach the maximum of 40 topics on a mind map (free account limitation), you'll get an automatic message on your screen. There you can activate your license or buy one.
Login – Remember me functionality
From now on, you can check the "Remember me" option, and you'll stay logged in even if you close the Mindomo app. You don't have to log in every time you open Mindomo for Windows or macOS.
Switch between types of diagrams
Last but not least, the new Mindomo for Windows and macOS has improved the switching between mind maps, Gantt charts, and outlines. With this optimization, you can turn your mind maps into outlines or Gantt charts faster (or vice versa).
We hope you enjoy our new version of Mindomo for Windows and macOS. Don't forget that we also have mobile mind map apps (for both Android and iOS users). We'd be very happy to hear your feedback on this update. We are always aiming to improve our mind mapping tool for you and your opinion is very important to us. Please share your thoughts in the comments section.
Keep it smart, simple, and creative!
The Mindomo Team