In everyday life, we are often required to be innovative and creative but in some areas, routine can be the thing that sets a difference.
You might ask how successful people got where they are, and if you start looking for answers, you'll find out that they have strong morning routines. This is important mainly because it gives you the chance to set the tone of your day. A good morning results in a good day, this way your productivity will increase and you will have the necessary energy you need throughout the day.
Great philosopher Aristotle said "We are what we repeatedly do. Excellence, therefore, is not an act, is a habit." And he was right. Let's take for example a successful sportsman whose performance depends on practice. This means that he has to repeat the same move over and over again, until his muscles will remember it and it becomes an automatic action for the body, leaving space to the mind to focus on perfecting it.
Same thing happens with morning routines, they can be very soliciting until we get used to them, but in reality they are a chance to prevent the day from failure. We have some easy tips and tricks you might just want to turn into habits: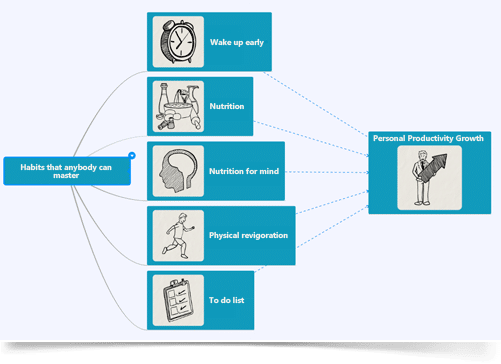 Wake up early

– it may sound corny but the early bird gets the worm. If you wake up earlier, you will have more time to do all the stuff you need to get done. Now, you don't have to force yourself to wake up at dawn, but if you are a late riser, try at least to move forward the hour of waking up with 10 minutes. After you get used to it, move again with another 10 minutes and so on.

Never skip breakfast

– even cars need gas to function, so why would you expect your body to get you through the day without nourishment. Remember that breakfast is the most important meal of the day so kind to your system and give the necessary food.

Small pieces of happiness

– it's not enough to feed your body, you need to feed your mind and soul too. Make time every morning to do something that makes you happy: sipping a cup of coffee in complete silence, watching inspirational videos, reading a few quotes, talking to your loved ones the phone, petting animals, whatever works for you.

Exercise

– The human body was designed for constant movement. Just think about our ancestors who didn't have cars or supermarkets so they were walking a lot and they hunted for food. Unfortunately, nowadays we don't move enough because we are prisoners of our own comfortable inventions. So knowing that your body needs a bit of help and motivation on the matter, try exercising on a daily basis, in your own limits: walk the dog, stretch or run for 15 minutes. You will see that after making morning sport a habit, you won't not be able to imagine your day without it.

Plan the day

– make a brief list of to dos, choose the most important thing and start with that. If you do the important job while you are still fresh and in shape, you will ease the pressure and manage to stay relaxed while dealing with the rest of the things.
All habits can be learned, it's a matter of self-discipline. So the best thing you can do is to practice everyday until it becomes an automatism. What will be the first thing you'll want to try?