Thousands and thousands of people are using Mindomo on their Android devices. What is really uplifting for our team is that they take the time to share with us their positive outcomes after using the app. We want to keep things this way, and  we want our users here with us in the long run. This is why we are constantly encouraging their feedback and try to make it count.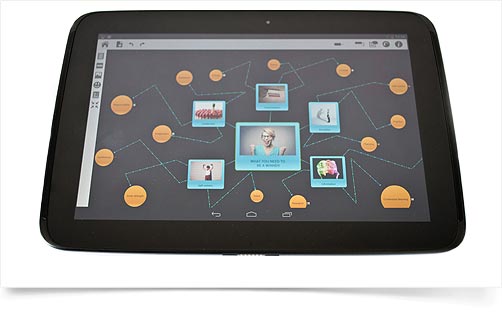 It's kind of like playing the "mirror, mirror on the wall" game, except the fact that we don't look for flattery. We want to find out if or when users encounter any difficulties so we can help them. This is exactly how we found out that our Android app could work better on high resolution devices. Or that some users would really love using Mindomo in their native languages.
What did we do about it? We decided it's high time for an upgrade. Final result? Our brand new Mindomo 2.3. for Android, which displays two major improvements:
The app runs smoothly on a whole bunch of high resolution smartphones and tablets – Google Nexus 5,7 and 10, Samsung Galaxy Note, HTC One, etc.;
We enabled full translation in French, Spanish and German.
Over to you
It would be great if you could check out our latest 2.3. version for Android  and let us know what you think. Feel free to do this in the comments section below, on our Facebook page or Twitter channel.
Also, if you would like to use Mindomo in your native language, do send us an e-mail at support [at]mindomo[dot]com.
          Keep it smart, simple and creative!
          The Mindomo Team