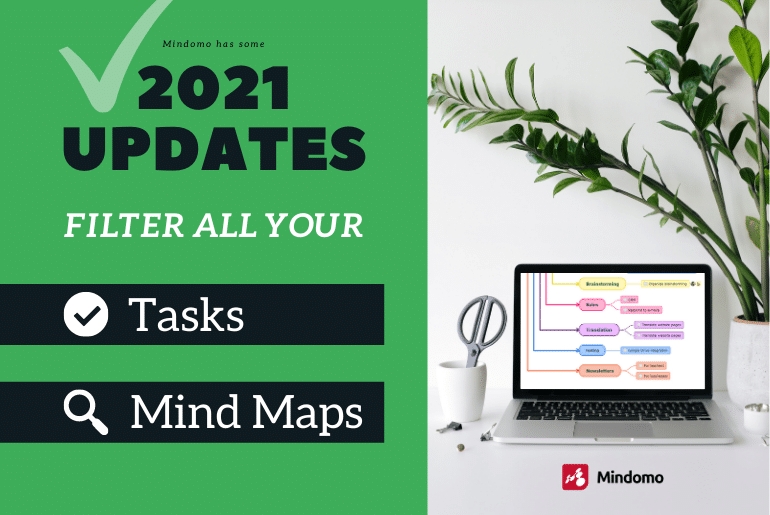 2021 is here and Mindomo developed some fresh features from a long series of improvements prepared for this year. Now, a brand new option to search is available for all your mind map's task lists. Filter all the tasks by due date, priority, assignee, stage or updates. Become twice as productive by eliminating wasted time to search for them manually.
How does this feature work?
A mind mapping software must help you have everything organized and Mindomo takes it to the next level.
Thanks to this new functionality, you don't have only some tasks organized into a mind map. Now you have all your tasks from all your mind maps, concept maps, and Gantt charts sorted and easily accessible in a few seconds. Thus, you get a better overview of all your projects and you improve your productivity. Task management becomes simpler and you can easily identify what's more important or urgent.
All you have to do to filter the tasks is to go on your dashboard and type "#tips" on the search bar. It will open a list of hashtags you can use to search and filter a specific category of tasks.
Filter tasks by assignee
When you create a mind map and add tasks, you can also assign them to one or more collaborators. Similarly, they can assign tasks to you.
To see all the tasks which are assigned to you by other team members, you can simply search #tasks:mine on your dashboard. You will see a list on your screen with all these tasks. This task list contains the mind map, concept map, or Gantt chart where each task is located. The due dates and attachments are also visible.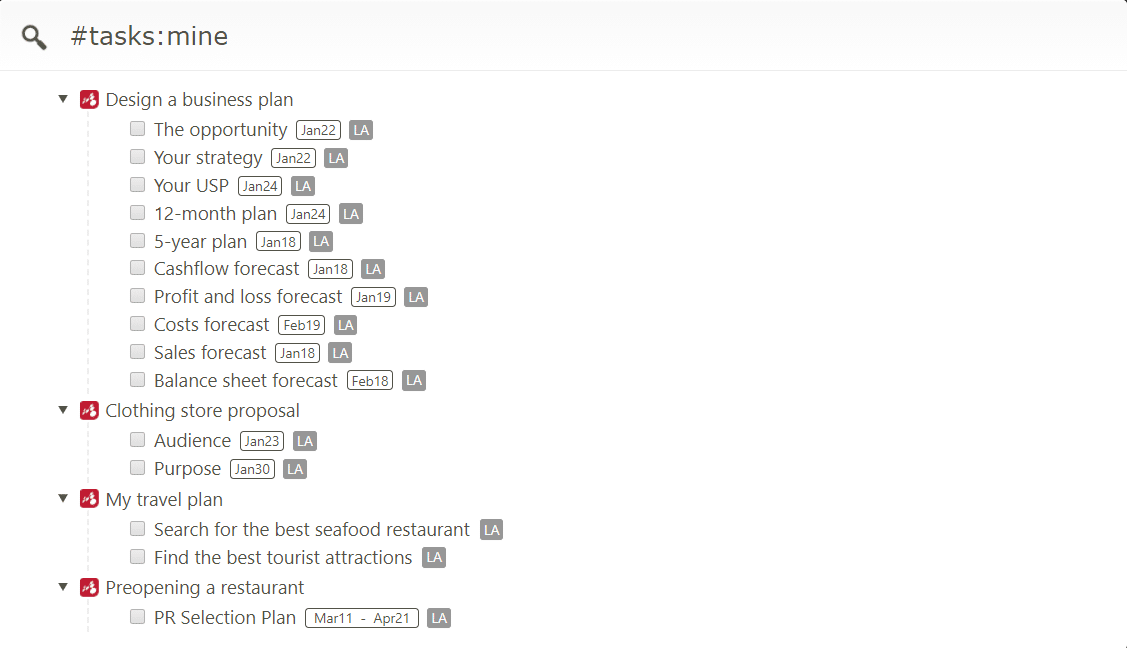 You can use this filter to improve task management even more, by searching for someone's tasks. In other words, you are able to see what open tasks are assigned to one of your colleagues. This way you can see how much work they have left. You will also know who is free to help you or who is working on specific projects. Type #tasks:(user name) in the search bar and you'll filter the user's tasks.
Filter tasks by due date
Stay on track and don't miss any deadlines. Check all the tasks that have due dates by using the hashtag #tasks:due.
To be more specific, you can go through all the tasks that have the deadline today. Search #tasks:today in your dashboard and you will see the task list.
Similarly, you can filter all the tasks that are due for tomorrow by using the hashtag #tasks:tomorrow. Moreover, to get a better overview of your week or month there are hashtags for both: #tasks:week and #tasks:month.

Filter tasks by priority level
Completing the tasks with higher priority first is a well-known method in task management. Brian Tracy explains it in his book called "Eating the frog". In essence, he states that you need to focus on the most important tasks first in order to improve productivity.
Therefore, to work on these kinds of tasks, you have to start by finding them through all your projects. Instead of opening each mind map and checking the tasks, you can filter them and save time. Use the hashtag #tasks:priority1 to see all the tasks that have the priority level 1. The hashtag #tasks:priority2 will list all the second level priority tasks, and so on.

Filter tasks by date of completion
Seeing the opened tasks (not completed yet) filtered into different categories is very important. But seeing a task list of everything that has been accomplished today, yesterday or this week gives you an overview. Moreover, it keeps you motivated.
Either if you want to evaluate the improvement, or stay updated with the projects you can do it easily. Go on the mind mapping software's dashboard and type #tasks:closed:today in the search bar to see what was completed today.

#tasks:closed:yesterday will show yesterday's achievements, #tasks:closed:week will display the current week's completed tasks.
Filter tasks by date of creation
Your mind mapping software helps you schedule tasks and set deadlines. But this is not all it can do. With Mindomo you can filter your tasks by the time when they were created.
All you need to do is to use the hashtags #tasks:created:today, #tasks:created:yesterday or #tasks:created:week. This way you can have a task list of the tasks created today, yesterday or this week.

Filter tasks by updates
When you collaborate with your team members editing mind maps, you have the chance to lose track of the evolution of the projects. Being focused on your task list takes the majority of your time.
When you want to get a quick overview of the improvements all you have to do is to search for them. Use #tasks:modified:today to see today's updates.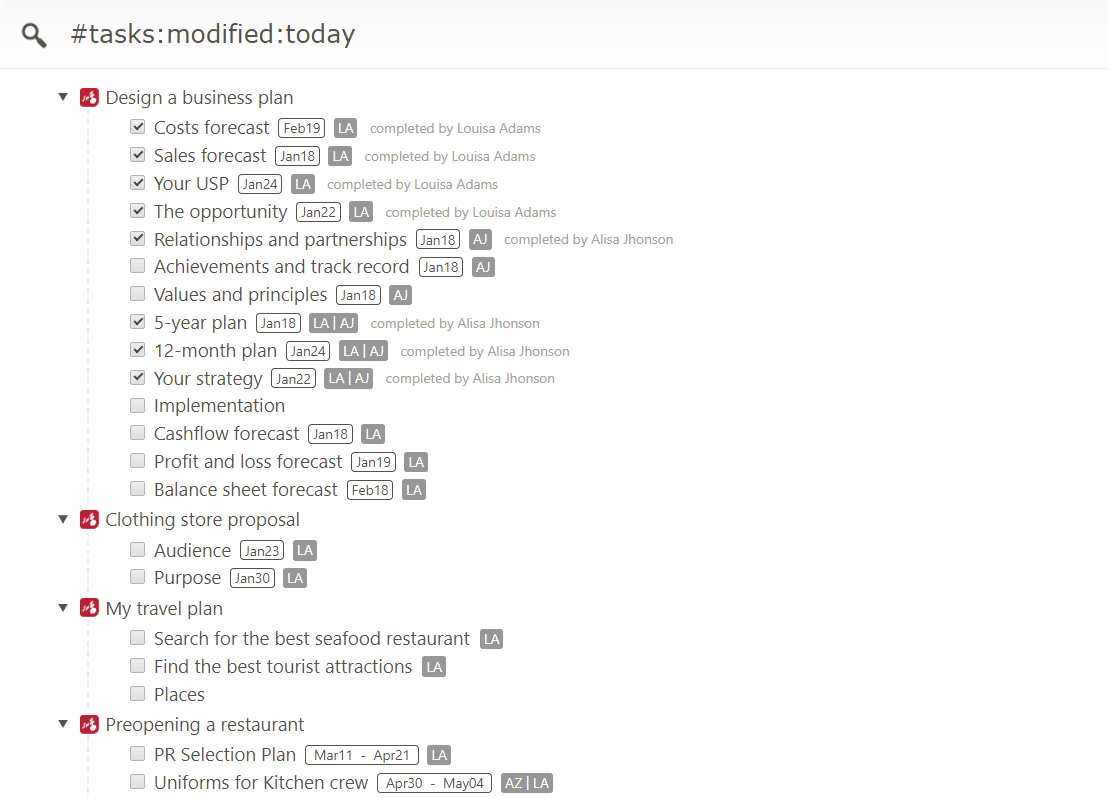 Similarly, use #tasks:modified:yesterday for yesterday's progress and #tasks:modified:week to gen an overview of the current week.
Bonus feature: Filter your mind maps
The Mindomo team is in continuous development of mind mapping software to improve the user's experience. Therefore, new features are always developed. Besides the task filter, there is also a mind map filter.
You can search for all the mind maps created by one of your collaborators. Use the hashtag #maps:(user name) to filter them out.

When you create a mind map and share it with other collaborators they can contribute by editing it. Just like the task updates, you can search for the mind map updates. To see what's new today use the hashtag #maps:today.
Similarly, you can see the modified maps from yesterday, the current week, or current month using #maps:yesterday, #maps:week and #maps:month.
Take advantage of these new filter features to be more productive and organized. Make the most out of Mindomo and start using them today!
Don't forget to take a look at the Mindomo evolution in 2020.
Keep it smart, simple, and creative!
The Mindomo Team