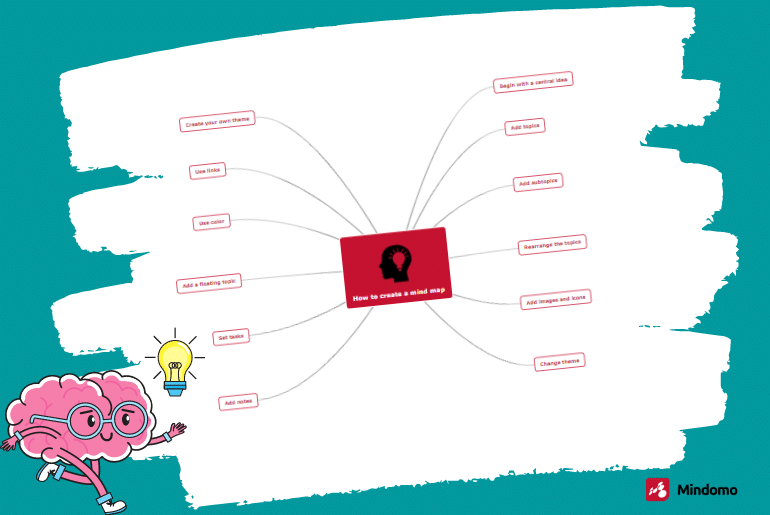 Mind maps are visual representations of ideas. They help your brain to capture information easier. Learn how to create a mind map and how to use mind mapping software.
Mind maps were invented by the English author and speaker Tony Buzan. He encourages the use of different colors, fonts, and images.
What are mind maps exactly? Research shows that mind maps are an efficient way of learning. They improve memory and help you recall information.
Reasons to create a mind map
Use mind maps if you want to:
Organize information;
Communicate more clearly
Solve problems efficiently
Create business plans
Organize events
Manage meetings
Plan marketing strategy
Prepare for interviews
Create interactive presentations
Brainstorm ideas
Increase productivity
Plan your holiday
Set your goals
Summarize books
Prepare for exams
Learn languages
Improve memory
Manage projects
There are many mind map ideas you can try to implement by yourself.
You can create mind maps using mind mapping software programs. They offer more advantages than traditional mind mapping techniques. These days there is a wide range of mind mapping tools you can choose from.
Tony Buzan stated some rules for creating a mind map. They apply both to traditional and digital mind mapping. Besides these rules, he encourages people to develop their own personal style of mind mapping.
Mindomo is an app that offers a wide range of features that no other mind mapping software has. It allows you to take advantage of all the benefits of mind mapping and create mind maps the way you want. For example, you can customize colors, backgrounds, and dimensions and create your own theme.
How to create a mind map
In the following, you can learn more about how to mind map and the full process of creating a mind map with Mindomo.
Begin with a central idea
All mind maps start with a central idea. It is a keyword that can describe the subject of your mind map. You can also add an image to the central idea to stimulate your imagination.
Add branches with keywords
Add branches with topics and subtopics. All ideas should be spread out from the center. Add as many as you want.
Firstly, start attaching the main topics to the central topic. These can be emphasized using Bold style, different colors, fonts, or capital letters.
Secondly, you can add subtopics attached to the main topics.
Try to use single words or at least short phrases.
One of the laws of Tony Buzan says that you have to keep your mind clear by using radial hierarchy, numerical order, or outlines.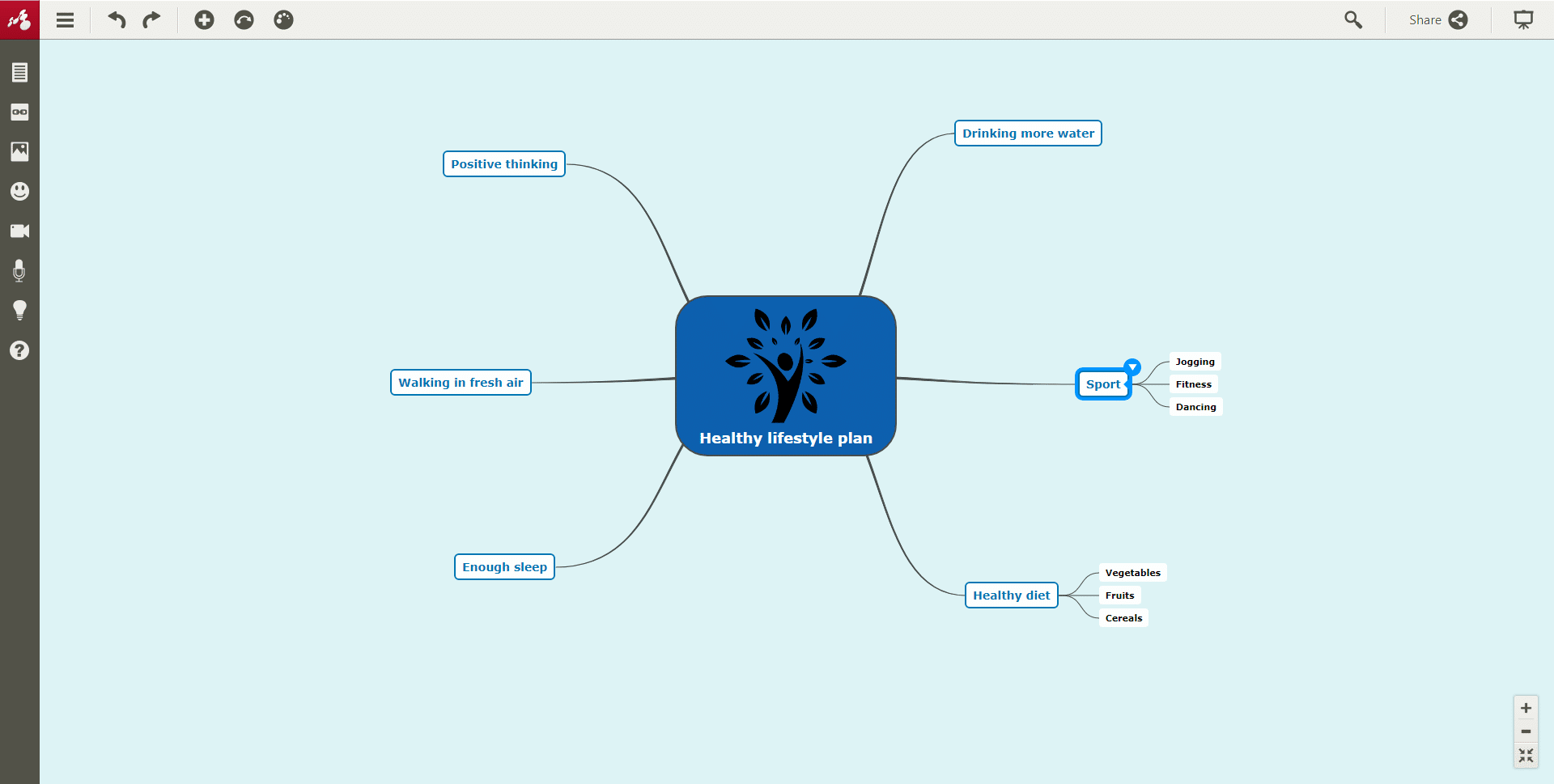 Rearrange the topics in your mind map
Before you add branches, you can change the position of the topics anytime by drag and drop. Organize information in your mind map. Moreover, you can choose another shape for the lines that connect your ideas.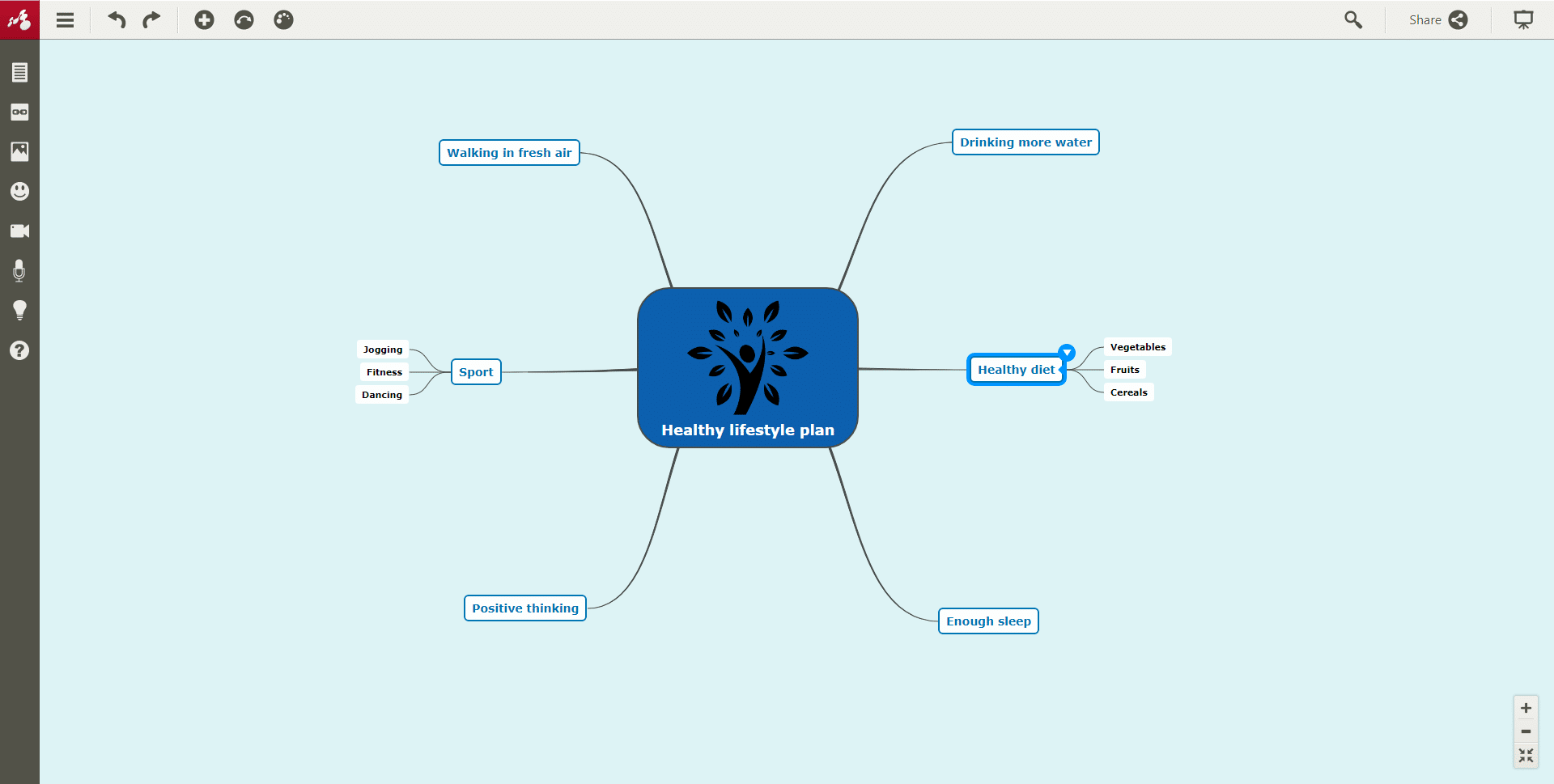 Add images and icons
No words capture information better than an image. Images and colors are essential in stimulating your imagination. Add images to as many topics as you want. Especially an image in the center of the map has a very powerful impact on your brain.
Use various colors, images, and sizes to improve memory and recall.
Mindomo offers many possibilities to add images, like searching for online images, importing from your computer, or your cloud storage service.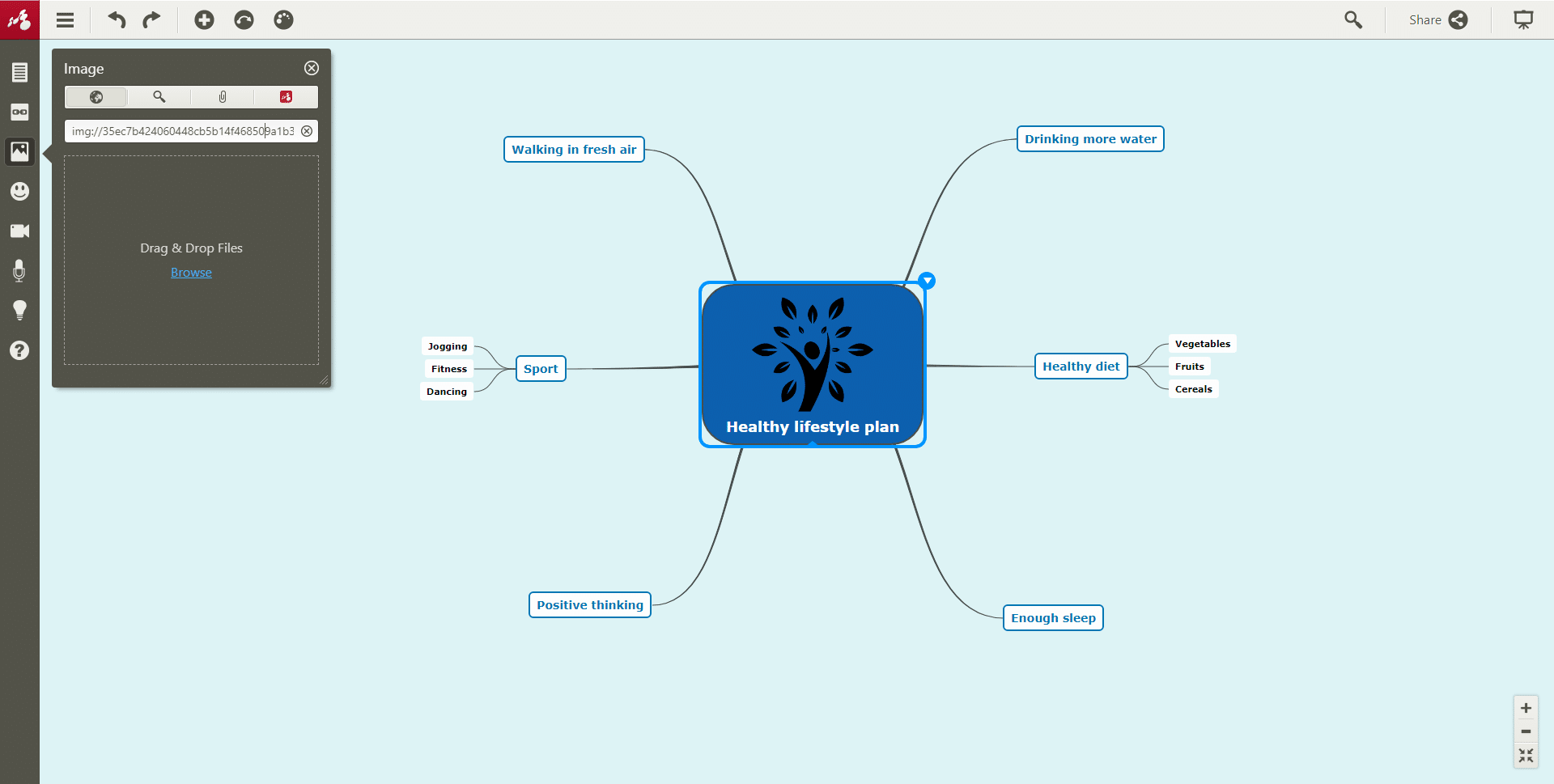 You can also add icons. Watch this video to see how to add icons to your mind maps.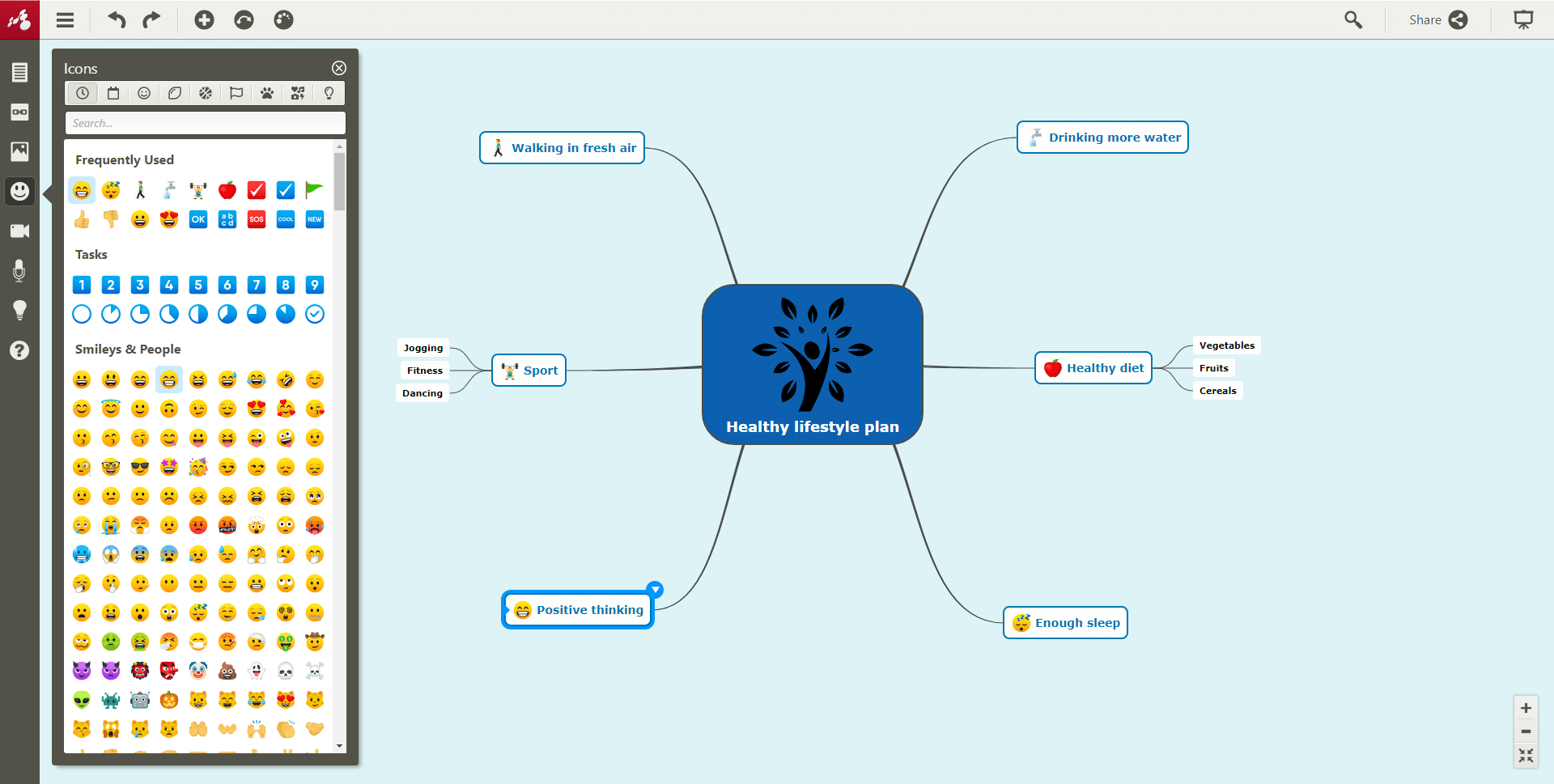 Choose a theme or create a new one
Themes are used to customize the look and feel of a mind map. They are a set of graphical appearance details, like background colors, fonts, and types of branches.
Mindomo has a wide range of themes. Anyway, if you do not find one that is suitable for your needs, you can create a new one. Watch this video to see how to create your own theme.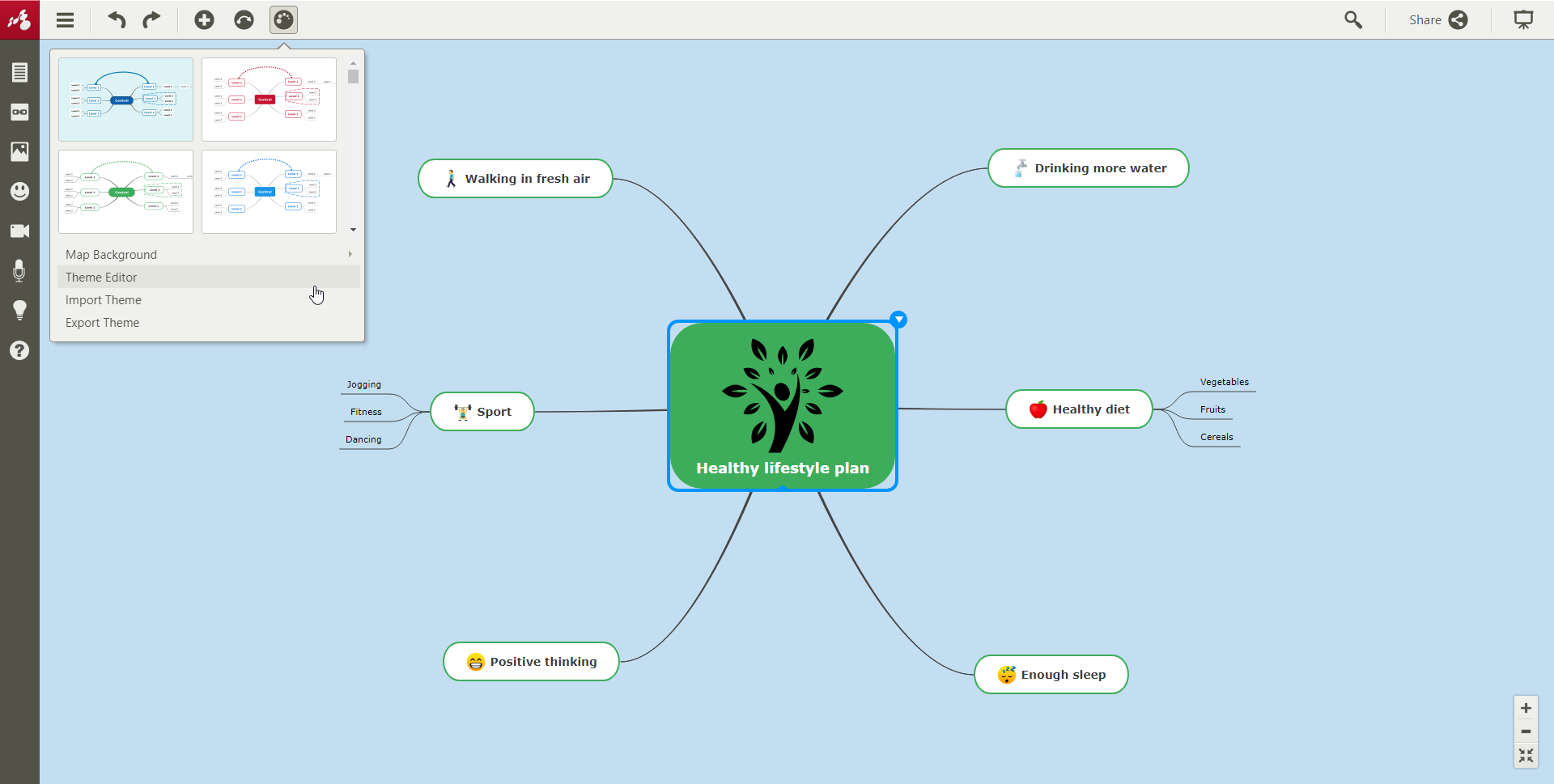 Add notes
In case you want to write more than short phrases about a topic, you can add them in notes. Organize information in a document instead of crowding all of it into topics. Check this short video about adding notes in Mindomo software.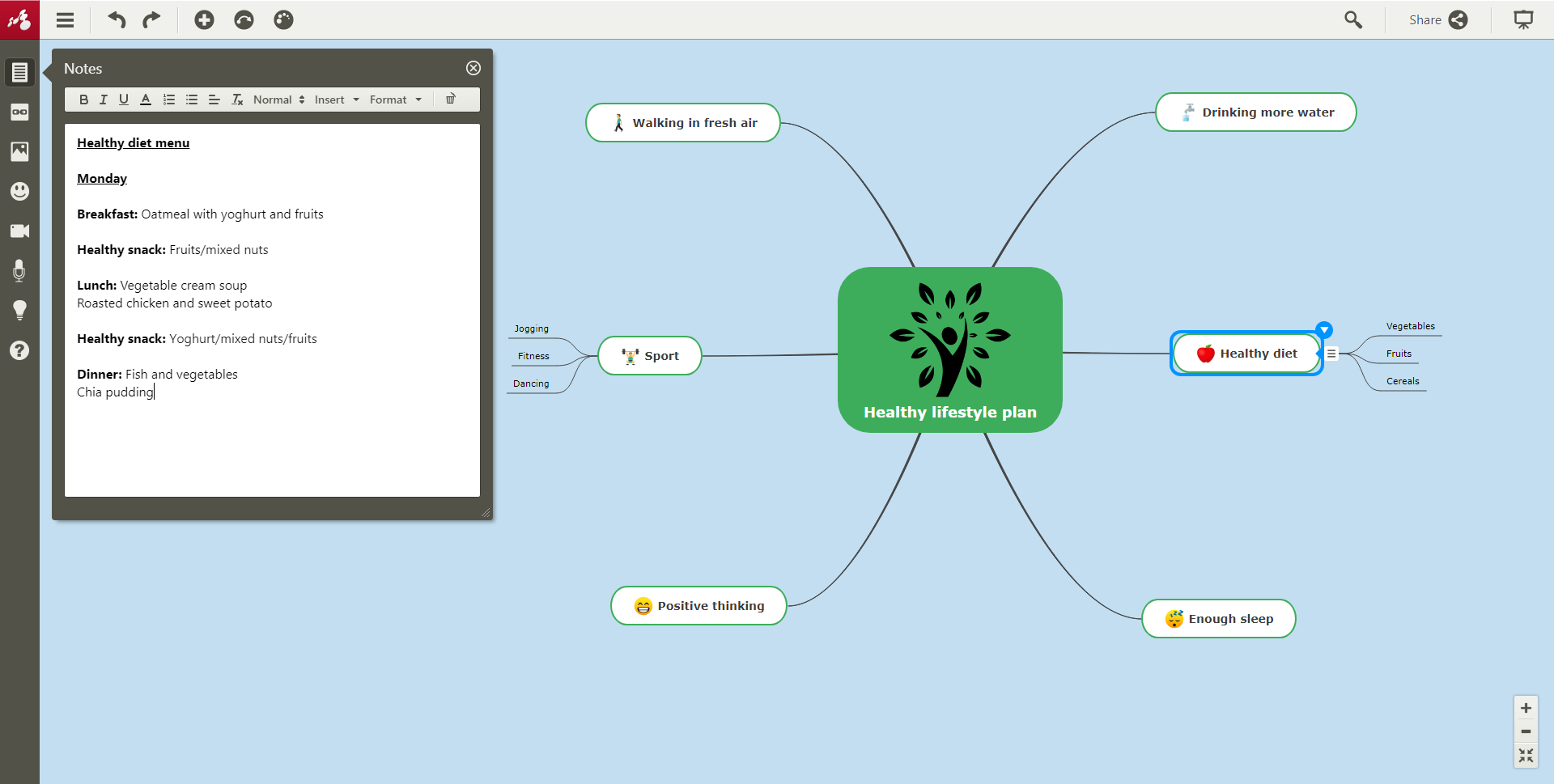 Other things you can do with your mind maps
Set tasks
Add tasks to your mind maps and tick the box when you complete them. This will motivate you to accomplish them faster. This feature allows you to assign tasks to other people. For example, it helps the project management of a company. You can also add a due date to the calendar. Furthermore, you can solve problems or create a business plan using mind map templates. Read this blog post to learn more about the recurring tasks feature.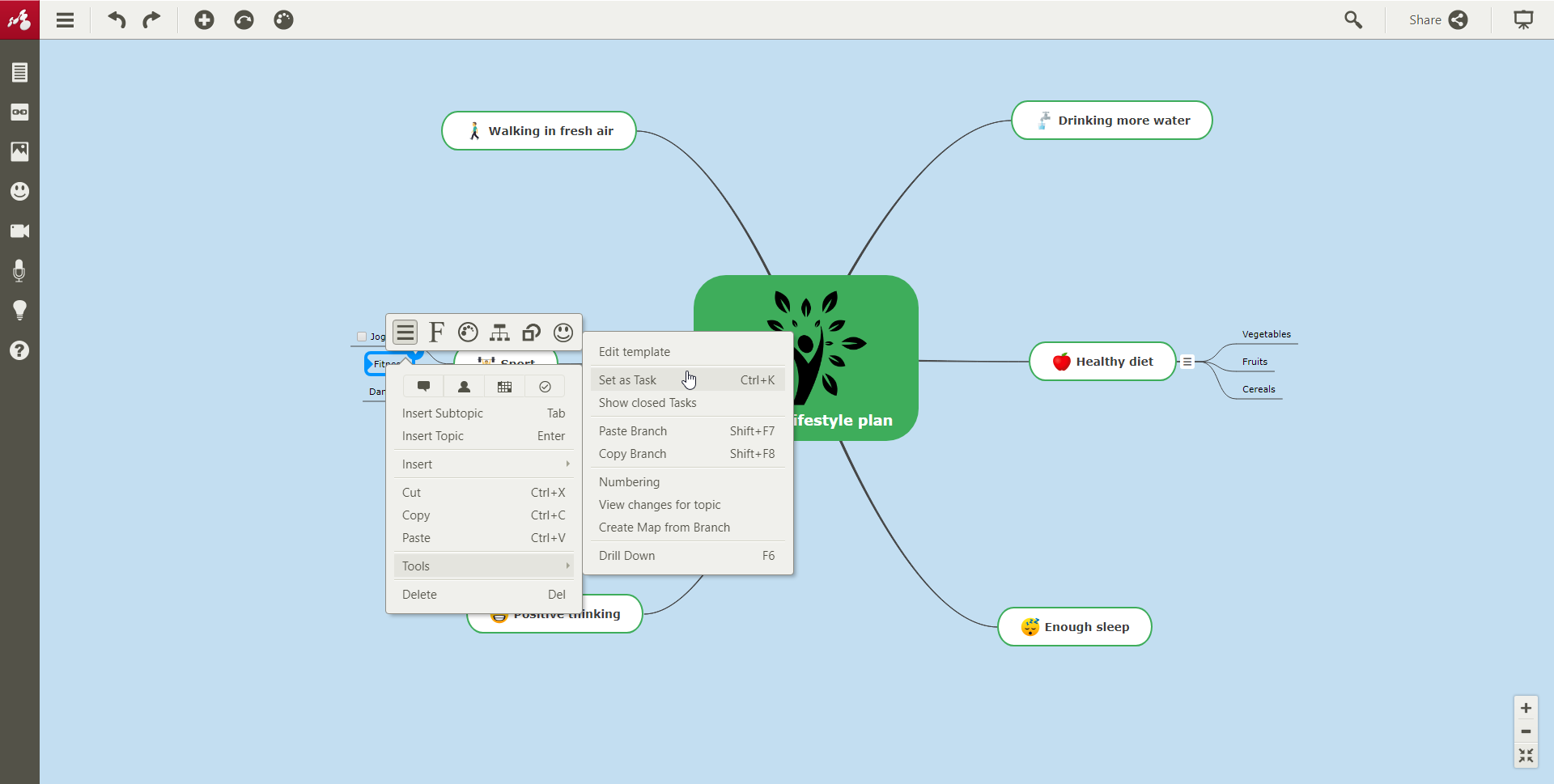 Add a floating topic
If you want to try something new, you can add floating topics to your canvas. This can contain additional notes that attract your attention when you enter the map. Like images and colors, floating topics help you recall information easier. It is like a separate mind map to which you can add branches and ideas. In this way, you can keep all your ideas related to slightly different topics on a single canvas.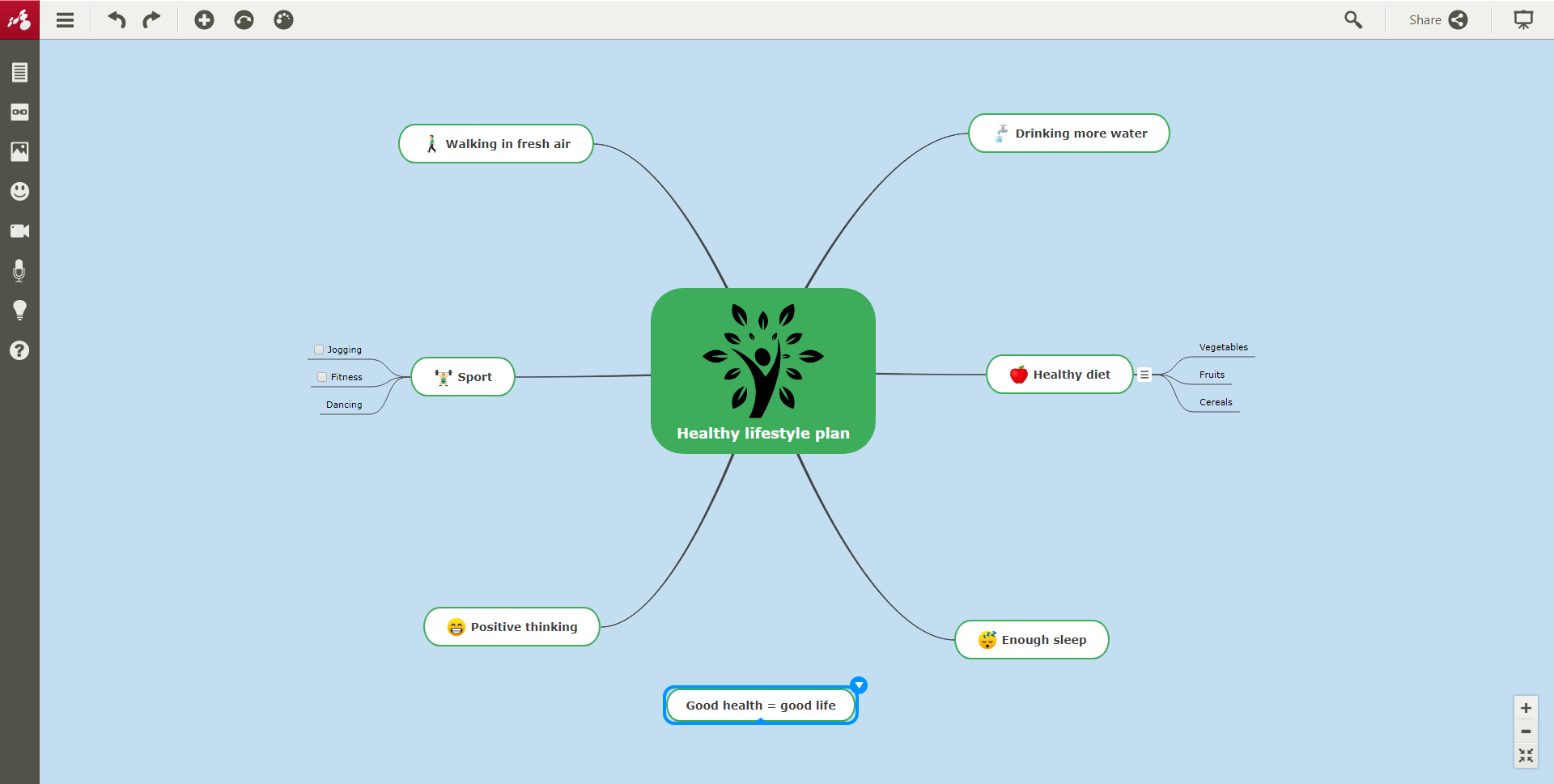 If you want to learn more, you can check out this video about creating a mind map.
Mindomo offers many other features, like adding hyperlinks and attachments to your maps, adding videos, audio, recordings, etc. Try it now and improve your thinking skills.
Capture information in your brain with ease and put your ideas in order.
Keep it smart, simple, and creative!
The Mindomo Team