Project management covers all industries and can be a wide spectrum of roles and responsibilities. At the end of the day, it focuses on managing projects, resource management, planning, executing, and risk management.
You may be managing teams or need to have technical skills based on the type of project. Project completion is based solely on managing projects properly and working well with relevant team members. Therefore, it's critical to not only have the right time management but also a high level of organizational management as well. There are also various types of project management methodologies that you can follow beyond project management roles. These are based on the preferences of the organization. However, the responsibilities of a project manager tend to remain the same.
Different roles in project management
While not a comprehensive list, the fundamentals are the same no matter how different the industry.
1. PMO Project Management
These project management roles are commonly found in a corporate setting. A Project Management Office PMO has several team members working on managing teams of projects. From time to time, they may additionally be in charge of managing projects depending on the needs. They are more related to creating procedures and incorporating risk management practices. They will know and work with all the project teams and understand on a high level all the project objectives. Then they work best with overall team communication and resource management for extremely large organizations.
They would work best with using mind mapping techniques in a more collaborative mind mapping sharing. So it's ultimately their responsibility to show the health and status of all projects happening. A Project Management Office PMO benefits from a mind map maker to collect all the different moving parts like this: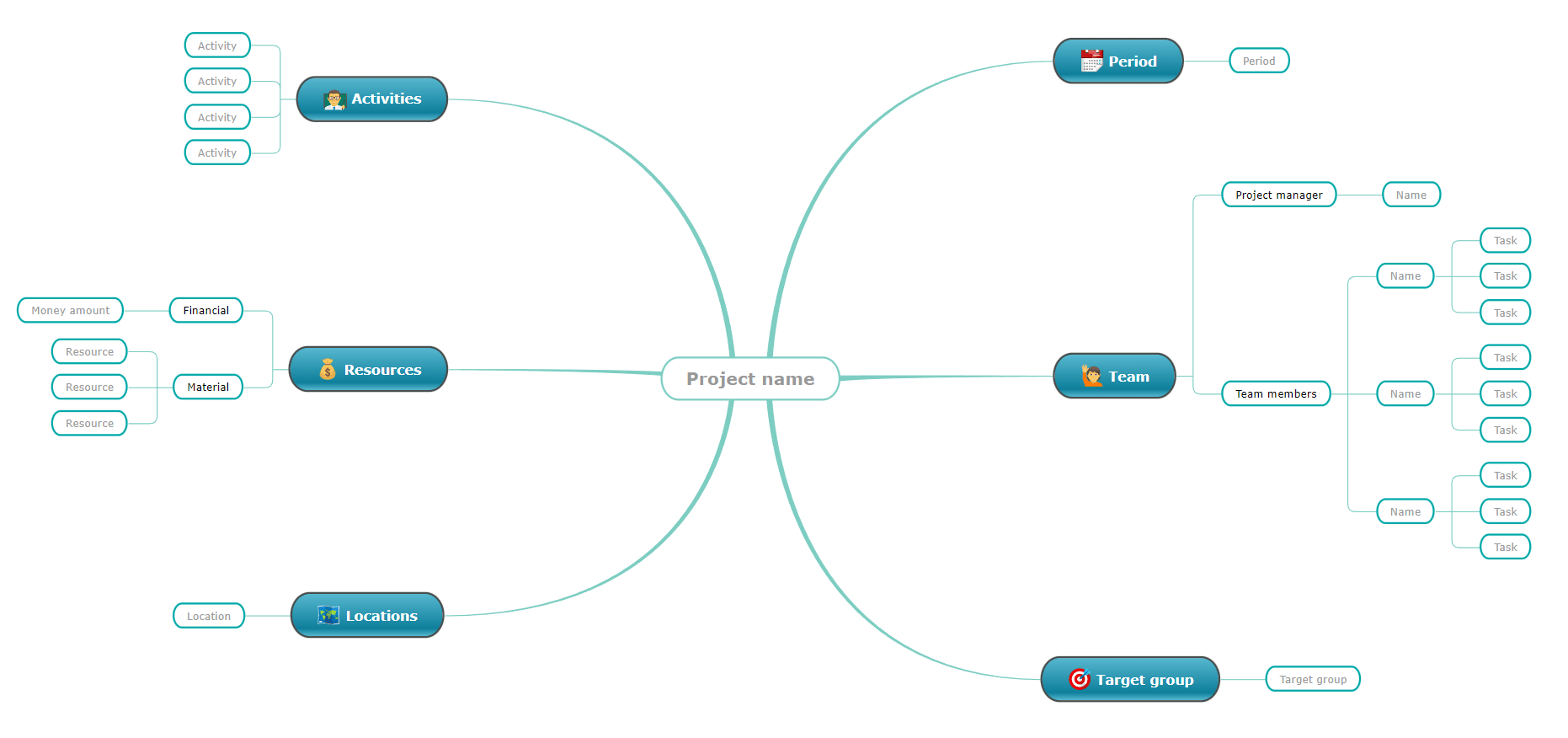 2. Construction Project Management
Here we look at a more analog setting, but still critical regarding project management roles. In construction project management, the team members are more specialized construction workers. This can include positions such as foremen, carpenters, electricians, plumbers, and so on.
The project objectives are simpler and are based on delivering whatever construction needs there may be. This can be building a house or refurbishing a kitchen. Yet the same rules and roles in project management can apply to the project manager.
3. IT Project Management
Here we're heading back to the office setting and one of the more common project management roles. Those that are in IT project management are only focused on one project at a time for the organization. The role is continuous as IT needs are always ever-evolving, so managing projects becomes a more full-time career. There needs to be some level of technical skills, but no need to actually code or develop anything.
Many project managers have their project management professional PMP certification. The stamp of approval, which is the project management professional PMP certification, is the global industry standard and is highly recommended. These two project management roles are much more involved with the project itself and would benefit from something below. In fact, with the right mind-mapping techniques, they would also benefit from a time management mind map. Time management is just as important as spending is on a project. So having a separate time management mind map will help ensure the project and other tasks stay on task.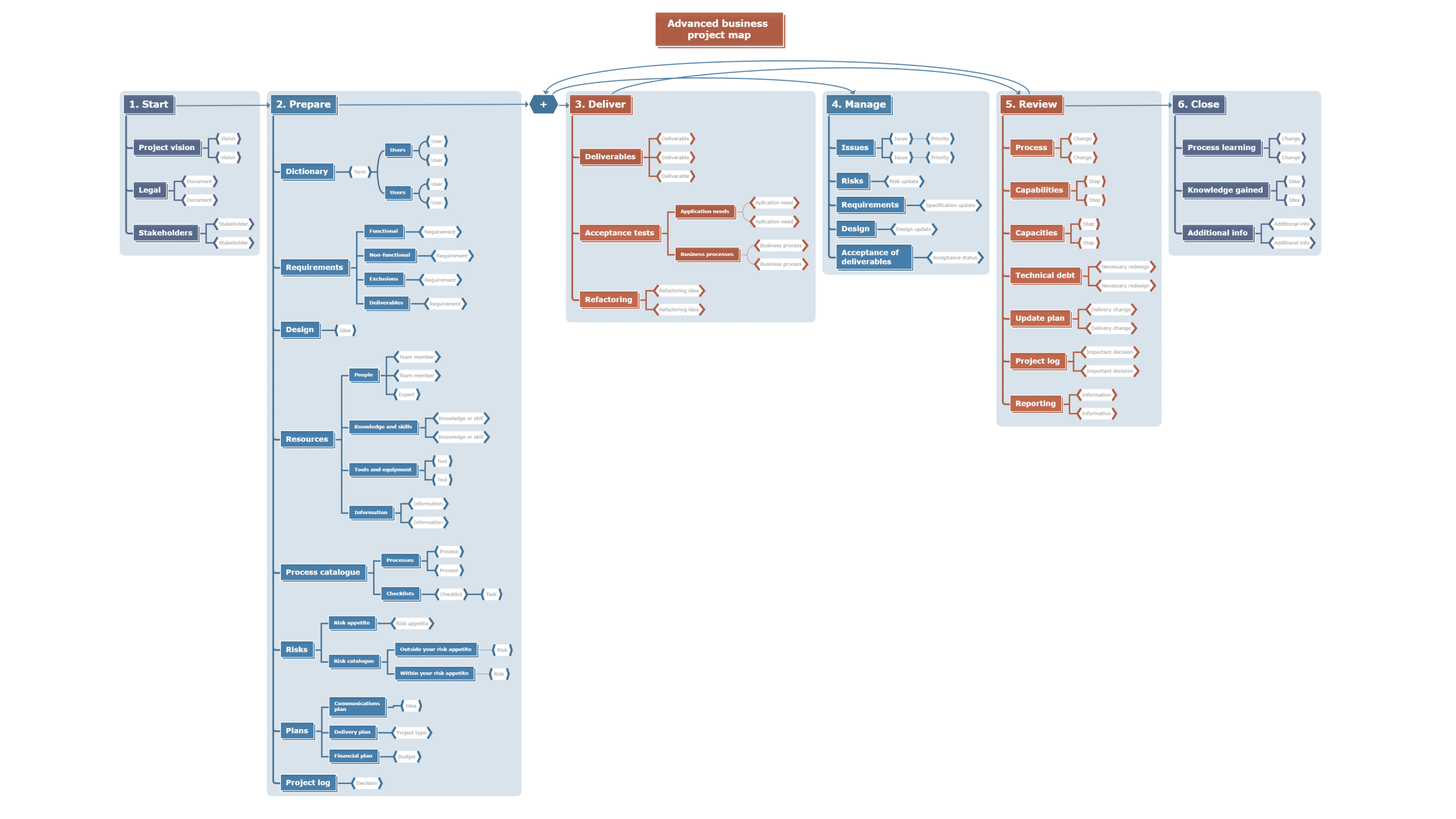 Non-project management roles
Project planning may fall under the project manager, but there are other team members to consider.
1. Sponsor
This is the person who is from senior management and is supporting the project where needed. Regarding project management roles, they are not involved in the day-to-day project planning. They focus more on problem-solving and how the project can help eliminate those problems. They can support additional requests for funding or resource management as needed.
2. Client
A client can be internal, such as a Sponsor above, or an external third-party project. Again they don't do anything such as managing teams but want to see what the project planning may look like. They may help with investing the funds required and are only looking to ensure the project is complete within budget.
Whether internal or external, both the Sponsor and the client can benefit from a brainstorming tool, like a mind map. Or they may map out the project's key players similar to what is below.
3. Remaining Team members
These could be everything from analysts to developers. They are part of project teams and fall under the project manager. Their roles and responsibilities can vary depending on the project objectives and the industry. At the same time, these project teams are the ones that do the grunt work to push the project forward. A project manager's roles ensure everyone is on task, and that can be helped with collaborative mind mapping.
Without the right type of team communication and understanding of these roles in project management, the project will fail. Think of the project manager's roles as that of a conductor's and the team as the orchestra. They help planning, executing, and delivering results to the project manager.
These team members will also be the ones that tend to fill in the brainstorming tool or mind mapping software. This means they will need to be familiar with mind-mapping techniques and know the right software type. Yet that can also fall under the responsibilities of a project manager.
Keep in mind that everyone will most likely want to see a risk management mind map of the project. This helps mitigate potential issues.
Use the right tools for your projects
To handle the various pieces of project management is to have the right type of mind map maker. That's where Mindomo comes in. In fact, there are already several mind-mapping templates available when it comes to project management.
So you're able to start immediately and can collaborate with team members. At the same time, you'll be able to share with stakeholders the progress updates. It will also allow them to place comments where further explanations are needed.
Don't get yourself lost in your next project management task; Sign up on Mindomo and start mind mapping with us today. 
Keep it smart, simple, and creative!
The Mindomo Team