What is a mind map? A mind map helps to become a visual tool to gather thoughts and ideas. Yet the use case of a mind map is only limited to our imagination. Whereas one may use it as a management mind map, others may use it as a time management mind map.
It seems revolutionary, but mind map note-taking or building a to-do list helps organize information immediately. You can use mind maps for myriad options to boost productivity across any field. Make sure to always see that there are free mind map software options to start reducing initial investment needs.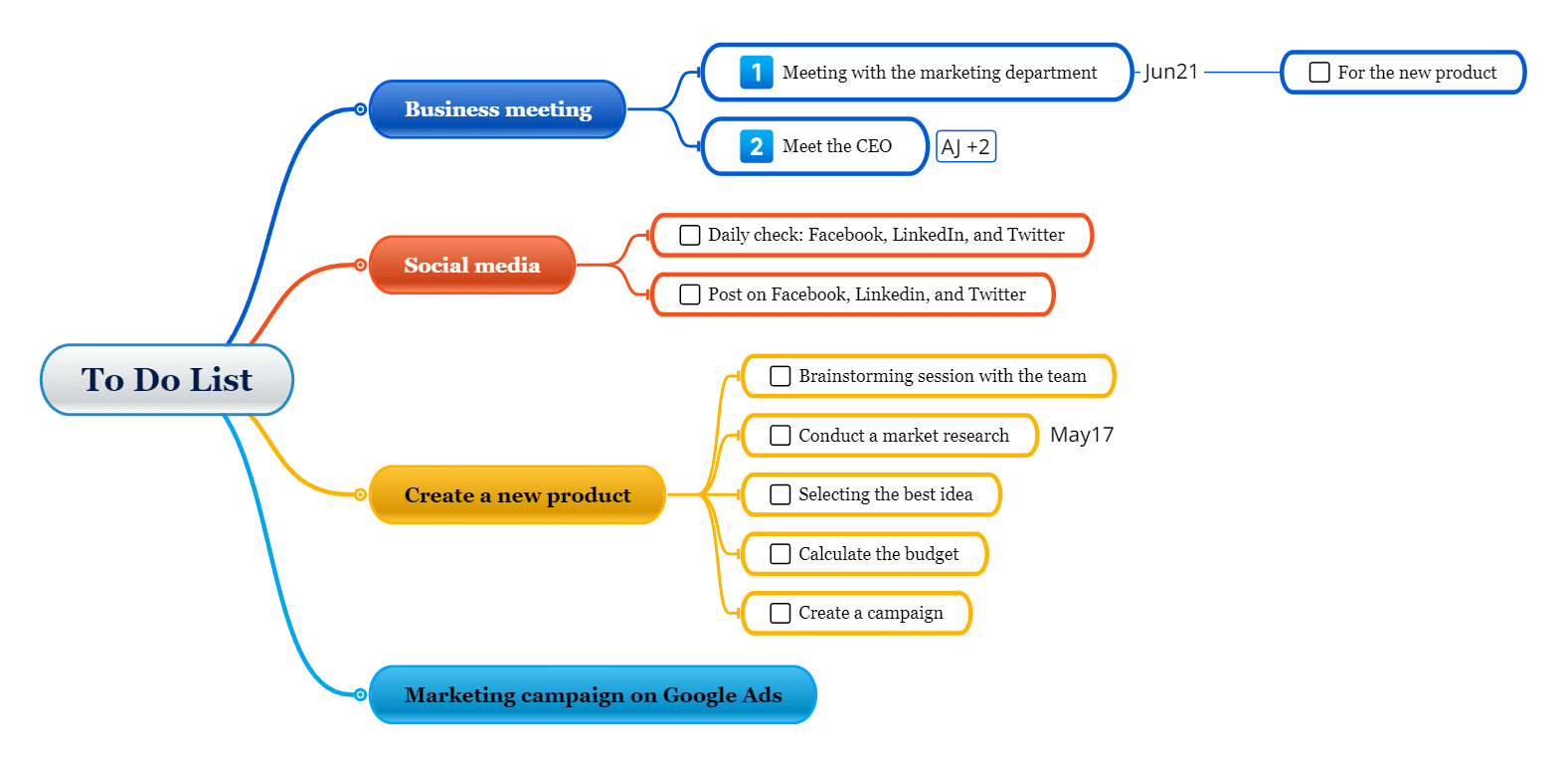 How do you write a time management mind map
Step 1 – understand what a mind map is
It's a good idea to know what you're getting into and also know how to mind map. From there, you'll realize that a mind map can become chaotic when you organize your thoughts. Thus you want to adjust your mindset and use it as a mind map note-taking function instead of a data dump. So essentially, you are taking your original mind map method and shifting to this new method.
Step 2 – Put the core topic in the middle
If this is your time management mind map, make sure to call it that. Your management mind map is meant to evolve as your tasks get completed, and new ones are added. It helps if you are using a mind map app and need to quickly find your time management mind map.
Step 3 – Understand what the core topics will be
Note that this is an ever-shifting mind map. One of the many productivity tips to have is to pre-build some initial categories. These are not locked in digital stone but should be the bare minimum to start. First, you'll want to have your To Do list. This is the priority list of what you must do and a key part of good time management. This will expand and contract, and all done tasks should go off to the side of a done list.
Then you're looking at creating a category which is the antithesis of your To Do list. This is your distractions list and should be the opposite of your To Do list. For example, there can be too many meetings (that may not be necessary). Your time management mind map should also include a saying no category. This is all about times you've said no to extra tasks so you can have an organized management mind map.
You want to add collaborations and work with others on your to-do list. In addition, you want to ensure good time management here because workplace collaboration and morale are critical.
Here are some examples of categories – that can be tailored to your needs: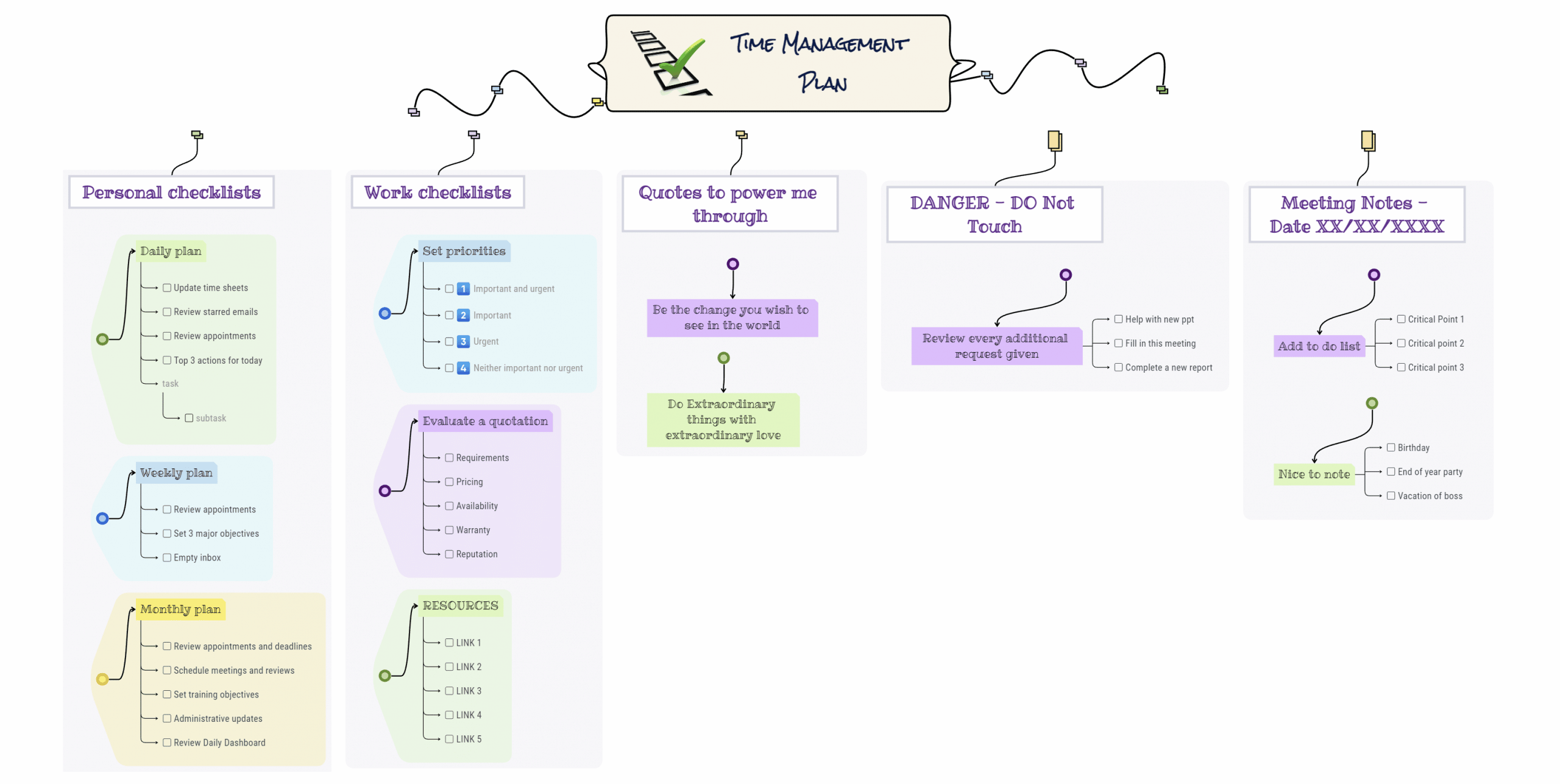 Step 4 – Link with other mind maps or resources
Another set of productivity tips is all about easy access to your information. For example, when you build out a time management map, this is your hub of work. All of your references should be linked here. Your quick access to the tools you need should also be here. Anything that supports your work should be linked here. That's why it's imperative to work with a mind map app with the right integrations.
Step 5 – Leave space and stay organized
A good time management mind map always has enough room to grow comfortably and expand as needed. Having a mind map note-taking properly is just as important as how it's formatted. You should be working with software and diagramming tools that easily format and keep everything organized.
Step 6 – Keep yourself motivated and collaborate
Your time management mind map can have inspirational quotes preserved, such as you would have sticky notes pushing you forward. In addition, you can share and collaborate on your time management mind map with your team or manager. This is so you can show your workload and keep yourself aligned with the overall team goals and initiatives.
It doesn't have to be mentioned as a step, but keep using it consistently. For example, always check in to your time management mind map in the morning. Then, update everything on your time management mind map by the end of the day.
How mind mapping helps time management
There are a good few reasons why time management is critical and how a time management mind map can help you.
First of all, you will be left with much less stress as you are organized.
You'll be much more productive by checking off mission-critical tasks.
You'll be able to easily organize your thoughts daily and see where the priorities are
Your online note-taking wont just be scribbles in a notebook. Instead, you'll see that it's categorized and relevant.
You'll feel much more motivated, energized, and ready to handle more complex tasks.
Mind mapping is your ally to ensure everything is relevant and everything you need is in one place. That's always key, as we live in a world of notebooks and sticky notes that tend to get lost. You have a centralized location to put all the necessary action items, reference items, and even items not to touch.
When you end up using a diagramming tool for your time management mind map, it even becomes simpler. You can click and drag items or checkboxes as necessary. But, of course, that means spending more time working and less time on administrative tasks.
Use the right software
Make sure that you first embrace the need for good time management. Then see how a visual diagramming tool such as Mindomo can help you organize your thoughts. You'll want this time management mind map to be active. That means every meeting, have it open and use it as your online note-taking tool instead of digital notepads.  
Start by using useful time management map templates
Mindomo offers a wide range of use case templates, and you can find dozens and hundreds of templates to customize. There is a search bar that helps you find relevant templates for you in seconds. Here are some examples suitable for time management:
Weekly planner
Kanban board:

Daily Dashboard:
Getting things done time management map template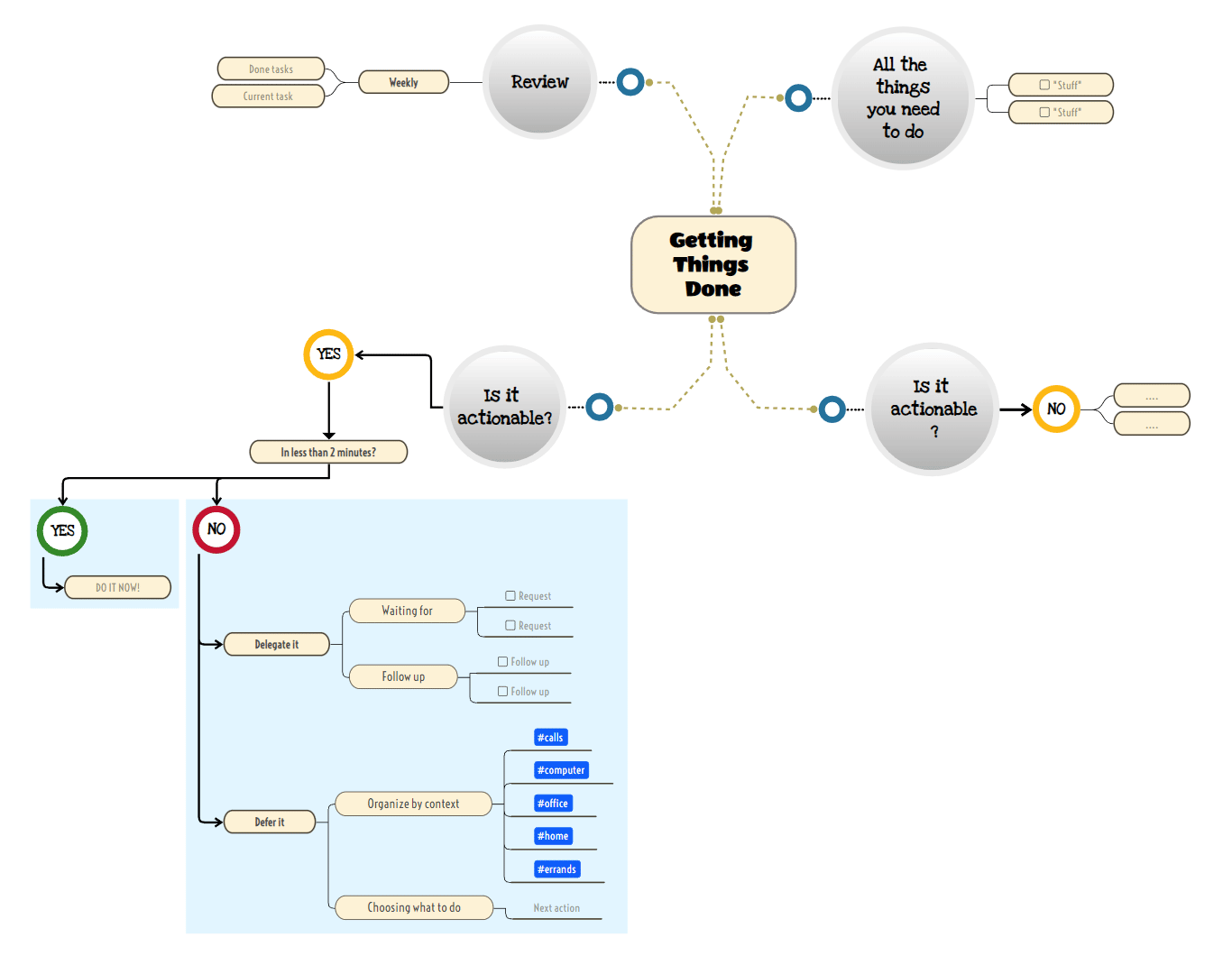 Pomodoro Technique:
Mindomo always starts out as a free mind map software option that has integrations ready to go. That means you can start out today and expand your needs and integrations as your needs expand. 
Keep it smart, simple, and creative!
The Mindomo Team