Being able to communicate ideas effectively helps with all facets of life. Communicating ideas to your audience can either be a success or a failure. How those words come out in the message to any person can be a form of influence. There are also two types of communication to consider here.
It's necessary to have excellent communication in life in general. You want to portray your concepts while at the same time remaining concise. It's a skill used and needed around the world, so we'll take a deeper look below.
It will also help you with your future career endeavors, as many employers seek those with effective communication skills. Effective communication will help any company with conveying its message and helping with its overall business endeavors. This becomes key with corporate communication, which is how the company speaks to its consumer and investment base. It can also be how companies communicate ideas for feedback as well.
Types of communication
We may stay focused on clear communication from the words used to the message being displayed. However, knowing both will help to engage highly effective tips that will be shared later on. In addition, you will still need to organize your thoughts and words with both types. There's no better option for a new idea or any ideas in general.
Oral communication
This type of communication is the more common one we think of. This includes creating our own interpretation in our own heads. It can include active listening, phone calls, or even nonverbal cues if you can see the person. It can be meant to explain things effectively to the listening audience.
When done right, oral communication grows a deeper understanding and helps us connect points. Most people, however, tend to lack the right style or tips on how to have effective oral communication.
Written communication
This is a good example of when you want to take emotions out of the equation and clarify. You can have a communication medium to explain and expand the process without talking or practicing. Not to mention, you can work on writing your communication language in your own style as well.
Writing communication tends to be more formal and means problem-solving with a certain idea or concept. It has you working with your brain, usually in a less collaborative setting.
How to become an effective communicator of your ideas?
Use the following essential tips when you communicate an idea to one person or to an audience (a meeting, event, presentation, etc).
1. Appropriate style
Regardless of the medium, you want to be able to effectively portray your ideas. That means having the right language and style when you are talking is critical. You want your audience to listen and be ready to identify with the idea from the beginning. This engagement is one of the best tips you can have. Without a person or an audience listening, communication will lead nowhere.
Effective communication requires practice, and it is best to be within a certain structure. Context blended with enthusiasm is key, whether to present a presentation at work or give a speech. Communicating effectively requires clarifying and explaining ideas and empathizing with your audience. You want to maintain eye contact with the audience as you say the words. This helps to push the point and focus of the topic into the brains of the people in the audience.
2. Confidence
Then it's all about confidence. You need confidence, no matter how eloquent your language, examples, or insight. Without confidence, your audience will quickly see something is off and will not believe your words.
You may talk and show examples or do explaining, but your audience won't be vested in it. That's why you want to have the right tone and volume whenever you're speaking.
3. Active listening
Then you want to focus back on active listening. Receiving constructive feedback anytime when you communicate requires you to listen. You want to ensure that those speaking to you are heard and that you understand their concerns.
Most people just want to feel appreciated by being heard, so take the time to be a good listener. This shows a level of authenticity that helps to develop a manner where people want to listen to you.
4. Empathy – connect with your audience
Don't stick to one form of communication, either. While you always want to appear friendly, you want to shift your tone depending on your audience. Remember, the key is always to connect with your audience.
This may mean switching your examples, staying concise after a long day of presentations, or shifting your style. Maybe your audience doesn't appreciate how you communicate with constant eye contact. Read the room, so to speak, and always take the time to understand non-verbal communication.
5. Visual communication is the key
Humans are highly visual creatures. When you want to communicate an idea to your audience, always have visual support: an image, a graphic, an object related to the context, or draw something while explaining. The human brain will be more likely to understand your message, and moreover, the audience will be more interested.
These are simple ways to focus on the visual element. A mind map diagram is a great tool that helps you communicate your ideas. Create simple mind maps using keywords and show them while you present the information.
For example, let's pretend you are in a conversation and you want to explain the necessary steps to start a podcast. Using a visual diagram like the one below helps the person who is listening to identify the exact steps (starting from the initial one, then following the next steps in their order), to follow you in the conversation, to understand the structure of the whole process, and remember all the concepts you're explaining easier seeing the diagram.
This is a great way to explain complex concepts too, giving you the advantage of making them simple to understand.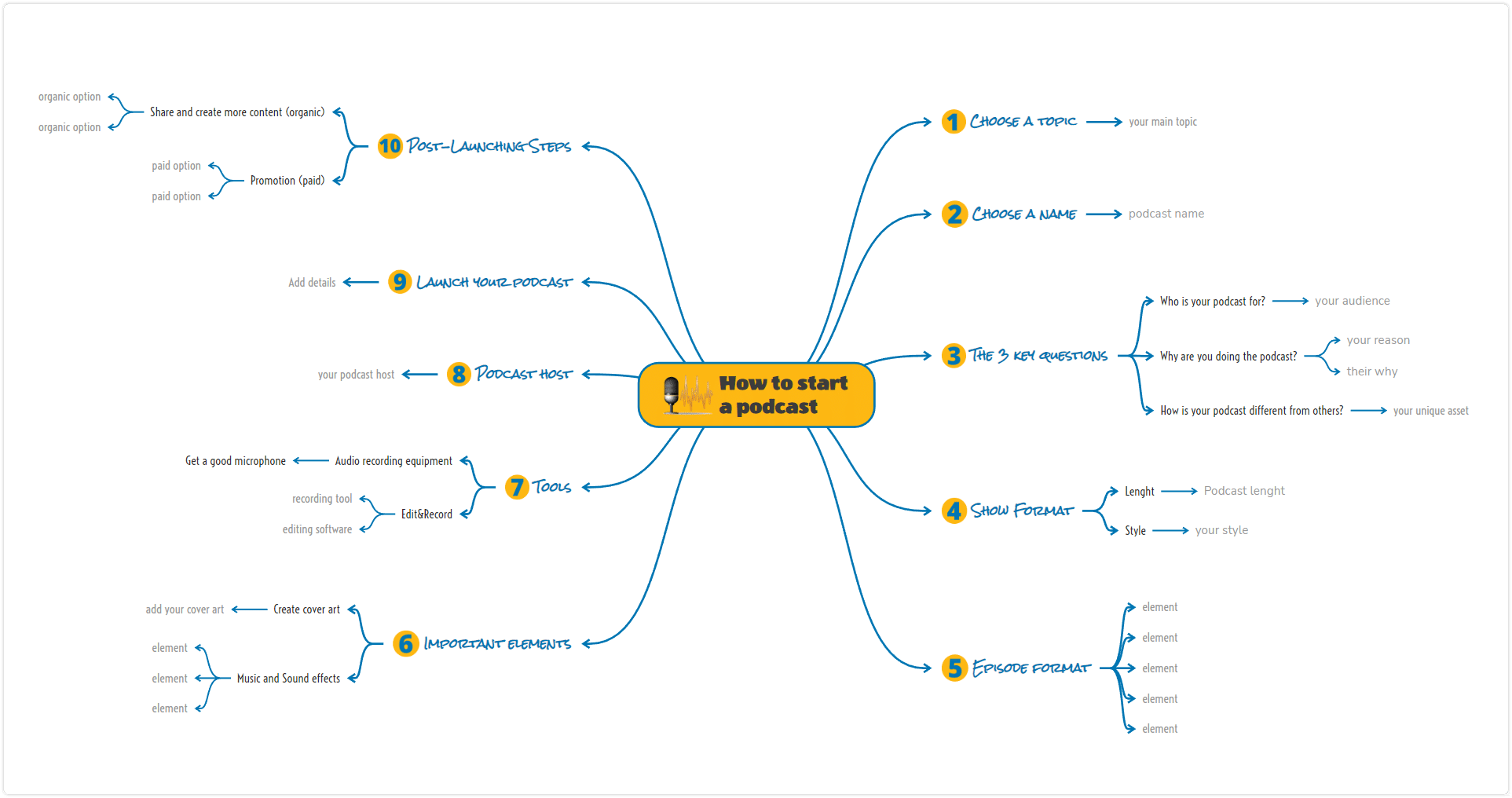 6. Non-verbal communication is critical to understanding communication.
Sometimes we end up speaking more with our bodies than by talking or with our words. The message can be conveyed much better in conversation through non-verbal communication.
It shows others how you feel about what you're saying and if you also believe the message. If your non-verbal actions align with your words, clarity, conversation, or overall point, it helps improve trust.
This helps to supplement a more engaged audience when you speak your message point by point. Understanding this will only help you grow in how you communicate. You can get your idea or point across, and your audience will be listening willingly.
The most useful tip for efficient communication
We covered the theoretical aspects of communicating efficiently, and now it's time to get a practical tip. How exactly to prepare for a speech or create a great presentation for an audience?
Using mind map software as a graphic organizer can help you organize your ideas. A mind map diagram keeps you focused and gives you a central location for your talking points.
Organizing your thoughts will better prepare you to explain things through effective communication. This will help grow your self-esteem, which will compound back to you being able to communicate effectively.
Mindomo helps to have you build out your mind map presentation. It's mind map software ready to get you organized in an effective manner. This way, you can focus on writing your ideas as well as communicating ideas effectively.
Sign up now and create your diagrams.
Keep it smart, simple, and creative!
The Mindomo Team