Mind mapping can make a big difference when it comes to teamwork and collaboration. Why? Because mind maps are a visual and easy way to share information and build consensus for ideas and projects.
So far, you were only able to share your mind maps in Mindomo if you were registered online. With our latest improvements, you are now able to share your local maps too.

Share your maps with online users
Use the improved 'Sync & Save Online' feature to save your local maps and all their attached files in the cloud. This way you can make them public or keep them private and share them only with your collaborators. Once a map is synced with the cloud, use the 'Sync & Save Online' to see offline all recent changes that were made online.
During the syncing process, your local files will be uploaded to the Mindomo server, while the files attached online will be downloaded and saved locally. Of course, you can choose to sync maps without uploading the files to the server or downloading them locally.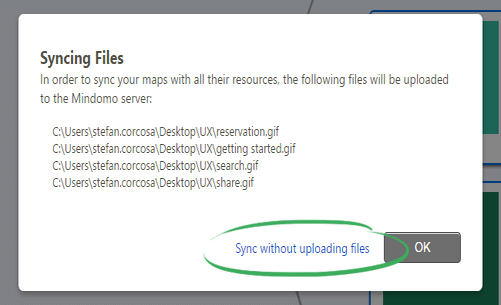 'Pack Map' to share maps with other Mindomo Desktop users
The brand new 'Pack Map' functionality (1) will compress your mind map and all its attached files into a single .pmom file (2) saved locally (3).
Share the *.pmom file with your collaborators so that they can open your map along with all its attached files from their own computers (4).
When they will open the 'Pack Map' (.pmom) file, they will decompress the contained mind map and all its attached files, saving them to a new empty folder of their choice (6).
If you are using the Desktop app, do give these new features a try, we're looking forward to your feedback and questions in the comments below.
Keep it smart, simple, and creative!
The Mindomo Team