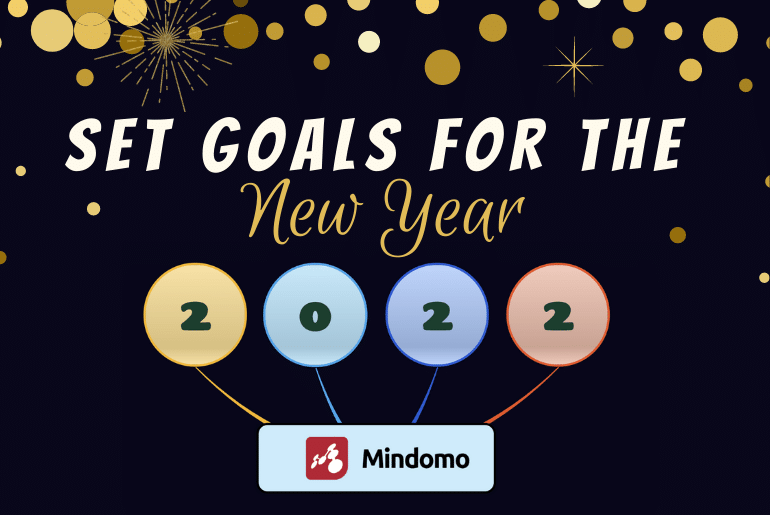 2022 is coming in less than a week. These days between Christmas and New Years' eve are the perfect time for setting some goals and resolutions for the following year. To have a spectacular year, full of achievements, you should plan it.
Every plan is born after you have the final result in your mind. You can create a route only when you know the destination. Otherwise, you'll end up going nowhere.
From idea to the final result
The Mindomo Team prepared some awesome mind map templates you can use. There's no better time to use them than now.
These templates will guide you in setting some amazing goals for 2022 and they will help you create a specific and realistic plan to achieve all of them. Moreover, you can also track your progress to make sure you're going in the right direction.
Let's see all the templates!
Year overview
Before setting new goals, an essential step of this process is to have an overview of this year.
Start by typing "2021" in the central topic and then think about your accomplishments and add them to this mind map.
You don't have to think about huge accomplishments, even the small ones are counting.
Anything can be an accomplishment, starting from improving your health, finishing a school year with good grades, a vacation, a new device, to winning a competition, moving into a new home, etc.
As you type them, make sure you take your time to feel proud of yourself for achieving each accomplishment. Moreover, be grateful. It will help you have the right mindset to start planning new goals.
On your Mindomo dashboard, you can find a use case called "Goal Setting" where you can find great mind map templates.
Now that you have an overview of your progress for 2021, you can estimate how many things you want to improve in 2022.
Setting goals is great for your growth. Setting SMART goals is even better. Before you set your goals for 2022, use this template to understand what are the SMART criteria and learn how to set your goals according to these.
There are 5 criteria you have to consider when you set a goal. Your goal must be: specific, measurable, achievable, timely, and relevant. 
Use this template for each goal you have for the next year and turn it into a SMART goal.
New Year's Resolutions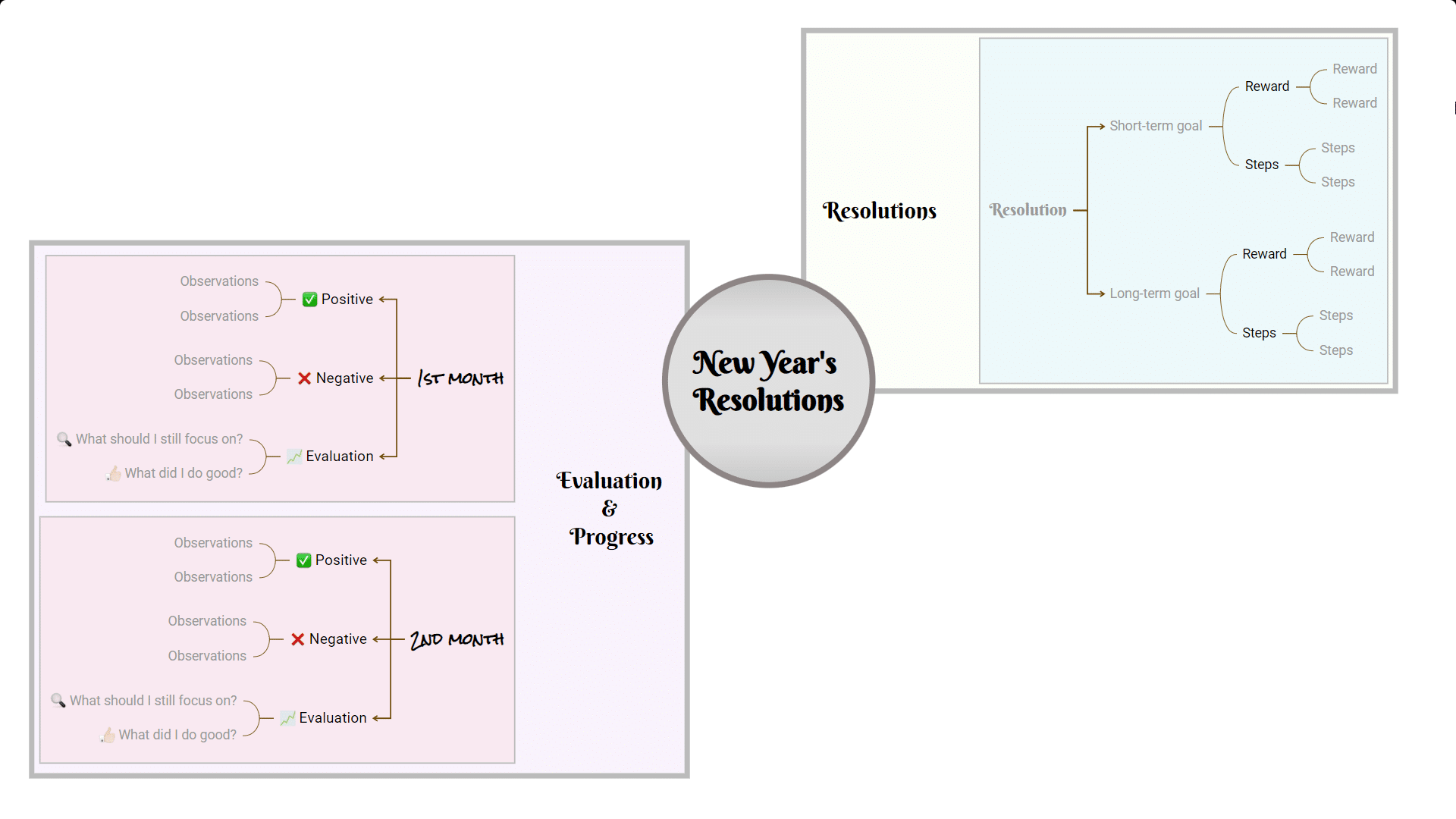 Now that you learned how to set a SMART goal, it's time to set New Year's Resolutions.
This template contains two parts:
On the right side, there is the "Resolutions" section.
Think about your greatest desires, what you really want to obtain the next year. However, keep in mind that "Less is more". Try to add only the most important wishes. The fewer you add, the better you can focus on them.
For each resolution, add a short-term goal and a long-term goal. For example, if your resolution is to be more active, the short-term goal can be to go on walks 3 times/ week until March, and the long-term goal can be to start going to the gym 4-5 times/ week by the end of the year.
In both cases, add a reward to motivate you and think about some steps that will help you achieve the goal. For example, if the goal is to go to the gym 4-5 times/ week, the reward can be a session of shopping (you will need new clothes that fit and emphasize your toned body).
The steps may be:
1. Buy a gym membership
2. Set a gym schedule for the whole week.
3. Wake up earlier to have extra time
4. Prepare the gym bag one night before
5. Go to classes at the beginning
6. Find a gym partner to keep you motivated and go together.
On the left side, there is the "Evaluation & Progress" section
Here you can track the progress throughout the whole year. Write your observations monthly. Add both positive and negative aspects to have a realistic overview. This helps you evaluate the progress and figure out what to focus on next month.
Set SMART Goals for Next Year
Each of the three previous templates was dedicated to one of the three steps that help you set your goals. This template is more complex and it covers all of them:
On the left side, you can review your past year. Write all your achievements and improvements. Additionally, add the mistakes and lessons learned during 2021 to have a complete overview.
On the right side add the life areas you want to improve in 2022, such as family, career, communication, self-growth, etc. Afterward, set a priority level for each area.
The bottom side gives you more information about setting SMART goals, and then you have a monthly plan you can fill out. Write your SMART goals for each month and set a priority level (you can add more than 1). Add the necessary steps and you can easily track your progress throughout the year.
Goal Setting
This free mind map template helps you evaluate all your life areas. Filling it takes you through each life area and it makes you conscious of your current situation. It gives you the opportunity to realize if you are happy with the current situation or if you want to improve it.
Let yourself be guided by this template and set new goals for 2022.
This Year's reading plan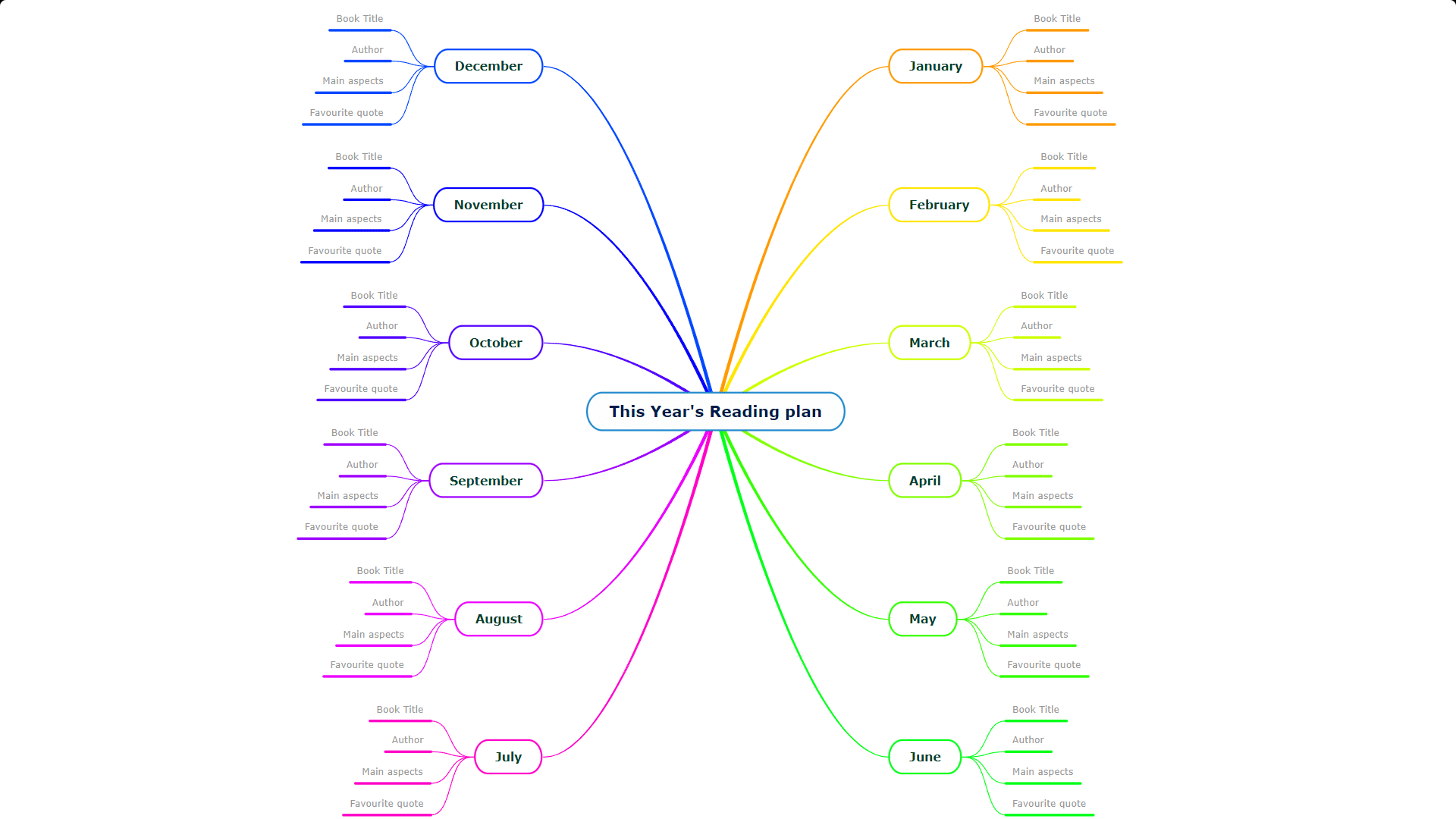 If one of your new year's resolutions is to read more, this template will definitely help you achieve that goal.
As it was mentioned before in this article, it is very important to set goals that are specific, measurable, achievable, timely, and relevant. 
Therefore, you have to decide how many books you want to read and set a deadline.
The simplest way is to set a monthly reading plan. Our suggestion is to set one book for each month. However, you can add more than one if you feel confident enough you will be able to do it.
Write a book title and its author for each month and after you read it add the main aspect and favorite quote or idea you found in it. Use this template to track your progress throughout the year.
Have an amazing 2022
We hope you'll enjoy filling out these templates and we hope you'll be inspired in setting amazing resolutions for 2022. Do let us know which template you chose by adding your feedback in the comments section.
We wish you a lot of inspiration, happiness, and joy. Happy Holidays and a Happy New Year!
Keep it smart, simple, and creative!
The Mindomo Team