The best mind map app for businesses
Even if you are a good entrepreneur, you may have to improve your strategy at some point. The best mind map app can help you to generate and share creative ideas with your employees.
What is a mind map? A mind map is a diagram used to visually structure information. You start from a central idea. It represents the topic you are going to explore. Then you add branches to your map with keywords. Mapping apps allow you to add images, videos, and attachments. There are mind mapping tools that have some additional features besides mind map creation, like outlines and presentations.
Mind mapping tools are designed for a single user or real-time collaboration in teams.
Problems that business owners encounter
When you want to organize your business, you encounter the following problems:
It's difficult to communicate with your employees and explain to them what you expect them to do.
You have to keep up with a lot of paper documents.
Microsoft office does not satisfy all your needs in terms of business organization and you are looking for software with more features.
You have many notes, to-do items, ideas, and contact information on scraps of paper.
You have too many meetings and video chats to talk about business improvement.
It is difficult to have documents organized and at the same time to share them with your team.
Meetings are passing fast and not every employee understands what he/she has to do and does not have time to take notes.
How to solve these problems
One way to solve all these problems and grow your business is to organize your activity with mind mapping software.
How can you do that?
Great minds think alike, but sometimes your employee may have different opinions, and listening to them can help your business. Organize brainstormings or collaborate on mind maps. In this way, you have more ideas to choose from. At the same time, you have them organized and ready to be implemented.
Store your information in mind maps, and shred the extra papers cluttering your workspace.
As a business owner, your time is precious, so make sure it's organized with time tracking and scheduling.
Assign tasks to your employees using mind mapping software.
Reduce your tasks by keeping your notes organized.
Best mind map app for starting a business
Starting your own business is an amazing journey. Try to do it from the beginning in an organized way. Plan everything and visualize your result. In this way, you will never lose your determination. With a clear objective in mind, you will finish your tasks faster, and you will achieve your goals.
It can be overwhelming if you do not know:
Where to start;
If you can do that on your own;
How to organize your taxes;
When you will get to make a profit;
How to choose the right target market;
Who are your competitors;
What type of business structure to choose;
What kind of employees to hire for helping you;
How to assign tasks effectively;
What type of documents you need;
How to brand yourself and advertise;
What marketing channels you should use;
What are the lowest fees;
How to establish prices;
How to grow your business.
Starting a business template
Use this template to create a strategy for starting a business. Complete the plan and you will have responses to all your questions. Then implement everything you wrote there.
This is the time when you brainstorm the type of activity that your company will perform.
Take into consideration the budget you will need and a place to carry out your activity, unless it's an online business.
In case you need to sell some products, contact suppliers in advance. For example, if you are opening an online shop, do not start selling until you have the products in stock.
Furthermore, think about ways to promote your business. Marketing plays an important role in business development.
Also, think about SEO and paid ads strategy. Brand awareness ensures a bright future when launching a business.
Learn here how to use mind mapping for marketing and design your Marketing action plan.
You will need a website. Create a website plan using a mind map.
Starting any business has a price. Be prepared to cover those costs. Use this break-even analysis to find out how much money you need to start your business. Also, it will help you determine when your business will become profitable.
Top 10 mind map templates for organizing your business
If you're looking to grow your business, planning everything with mind mapping tools is the key to success. 
Make sure you're organized so you can handle that growth. Plan ahead. Expect growing only after all your activity is planned in detail.
Use a basic mind map or a template to figure out your business strategy and put it into practice. Mind map templates offer you step-by-step guidance and information on different topics you are interested in.
Create mind maps for every aspect of your business. Write a business proposal, organize business meetings, manage projects, create a business plan, and analyze your business.
Business plan
Use this business plan template if you want to attract people to invest in your business. Organize your research and data and think about the questions that investors would ask to be prepared for a discussion with them.
First of all, add an executive summary. Provide your investors with a clear picture of your business. Describe the vision and the opportunity that the plan is based on.
Secondly, present your marketing strategy. Define your target market. Add a description of your market research and present the marketing campaigns you are planning to organize.
Also, provide a credible forecast of profitability and strategic benefits if you are proposing investment in your business.
Most importantly, attach a confidentiality statement to your business plan because it is a commercially sensitive document.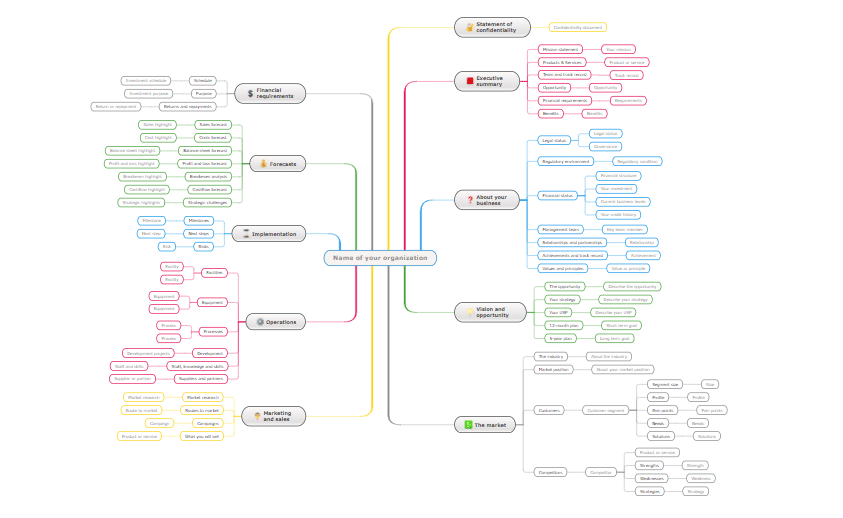 Business proposal
Use this business proposal template to structure the content of your offer. You will have to define your objectives and think about a response to the client's inquiries.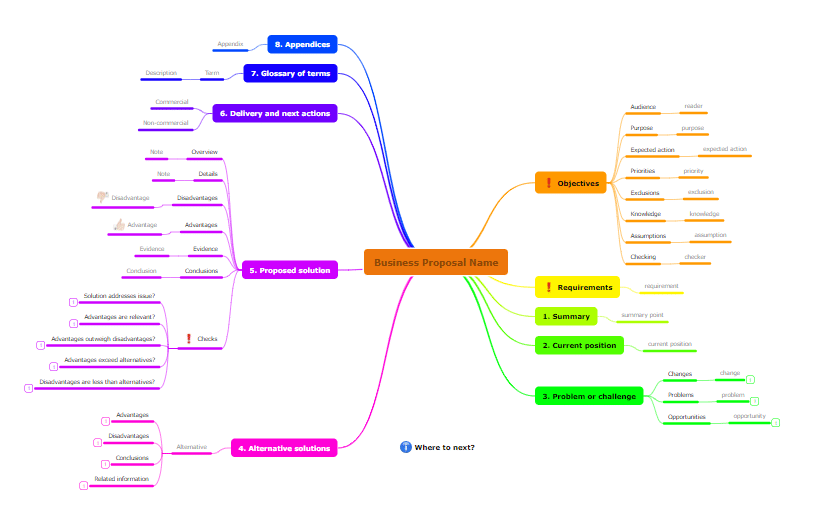 Business meetings
Use the mind map below to organize your business meetings. Establish clear objectives, organize your meeting agenda, and set a date, time, and location for the meeting. Also, announce the attendees, and think about the follow-up actions that will be needed after the meeting.
Also, you can use the "Meeting minutes" template to create a summary of a business reunion or meeting. Use it to inform people that cannot attend or to keep track of what was discussed during that meeting.
Project management
Mindomo is not only good for brainstorming. It is also a perfect project management tool for any business and it makes your professional life easier. For example, the project management templates offer you a clear vision of what you have to do next. Define your project using this template.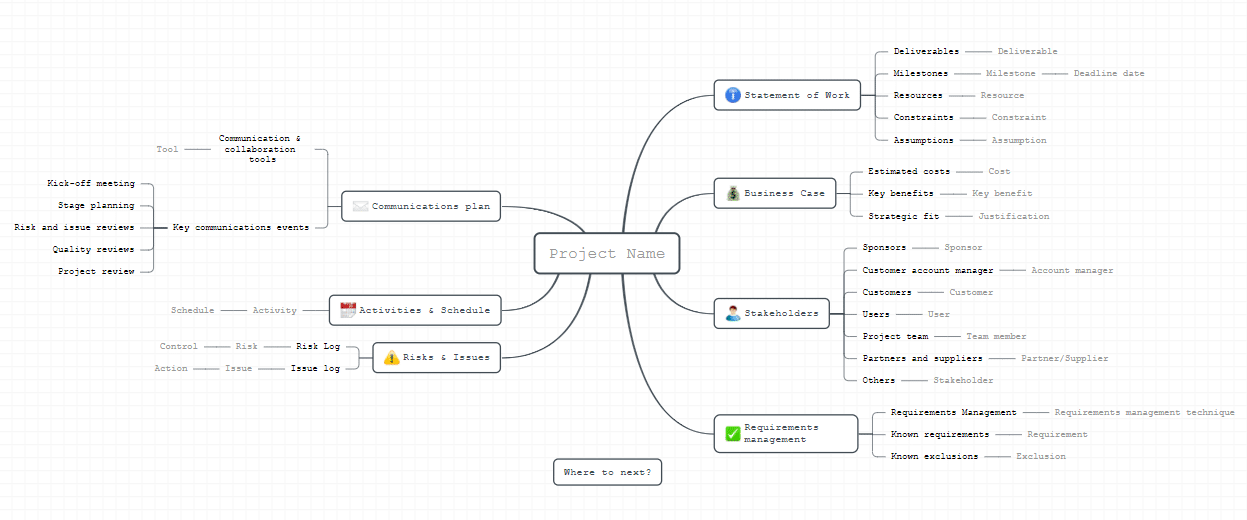 Then, learn how to conduct a project review using this mind map template.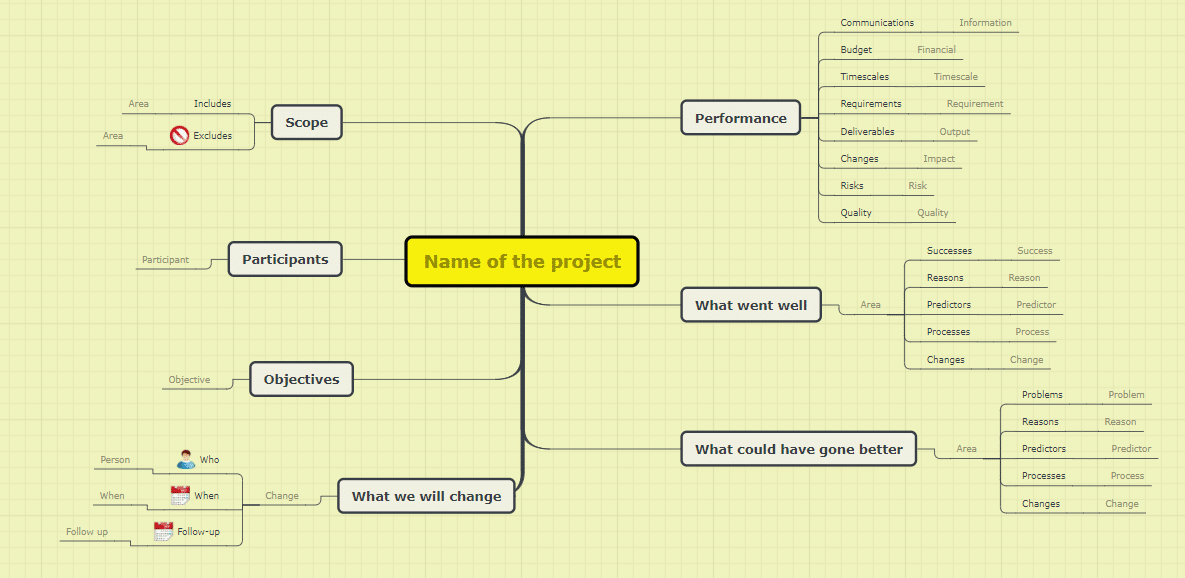 Furthermore, you can plan a balanced scorecard project using the template below.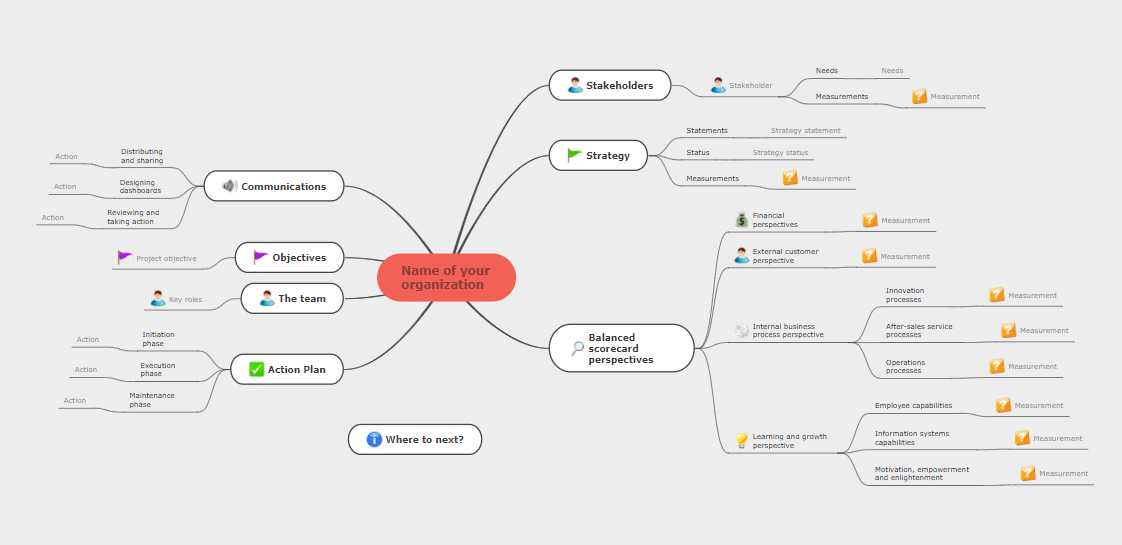 Business analysis
Do some business analysis from time to time to understand what is working well and what you should improve.
Use the VMOST(Vision, Mision, Objective, Strategy, and Tactics) analysis to check the structure of your vision and how well coordinated you are around it.
You will have to describe the vision of your organization and think about improving it. The same for your mission: you should summarize it and see how to improve it.
To deliver your mission, you will need to establish some SMART(Specific, Measurable, Achievable, Relevant, and Time-bound) objectives.
Make sure that all your staff is aware of your vision, mission, objectives, strategy, and tactics.
To execute your strategy, you will have to think about some tactical activities. Tactics are practical projects that bring your strategy to life.
Review each of your strategies and consider replacing strategies that do not solve problems.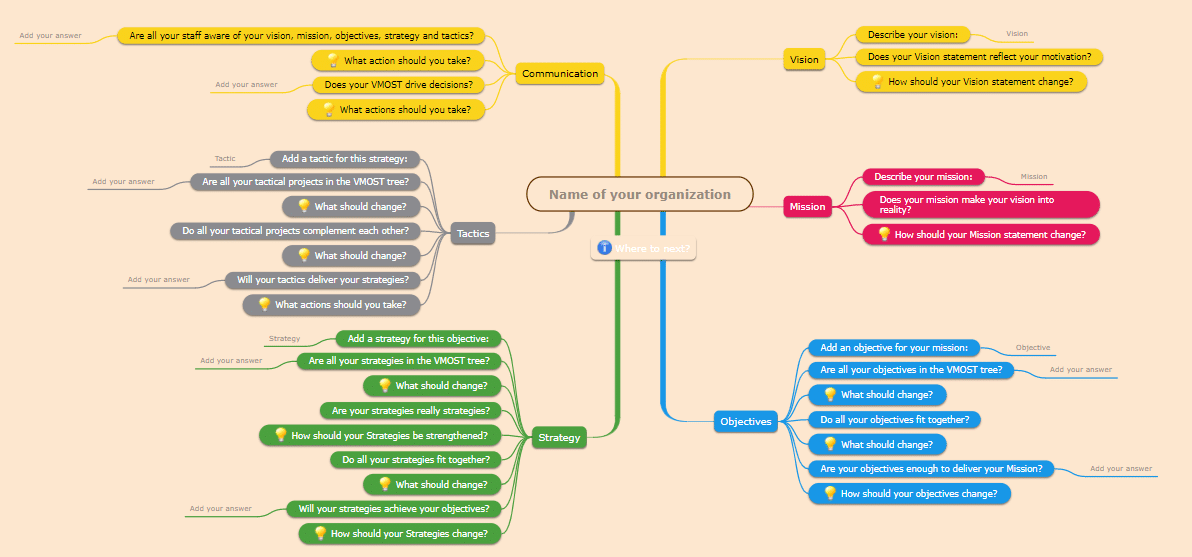 Similarly, try the Means-end analysis to find out what actions you should take to solve simple problems.

Furthermore, Porter's five forces analysis helps you analyze the forces in your organization. Examine how external forces control prices and profit levels.
Also, you can ask your employees to complete the Personal SWOT analysis to find out insights based on their personality strengths and weaknesses, challenges, and opportunities.
Other mind map templates to organize your business
Mind mapping your way to success
Mindomo is a mind mapping software that satisfies all the needs for organizing a business:
Firstly, it offers a variety of professional mind map templates.
Secondly, it can be integrated into Google Apps, Office 365, and Microsoft Teams.
Thirdly, as a cloud-based application, it offers Dropbox, Google Drive, OneDrive, and FTP backup.
Furthermore, it is a web-based platform but also has mobile and desktop versions.
You can add notes and file attachments.
Mindomo has a Free iOS and Android mobile app.
It can be used for online and offline work.
Mindomo offers real-time collaboration.
You can share maps with your team members or publish them.
It has a free version that can be used by anybody.
Other features of the tool
Gantt Charts
Mindomo has some additional features besides mind maps. Among them are the Gantt Charts. Use them for project planning and task management.
With these charts, you assign tasks to your employees. Therefore, they will always know deadlines. Employees that depend on colleagues' tasks will see their progress. As a result, everyone will know exactly what they have to do and when to get it done.
A Gantt chart is divided into two parts: the left side list with the tabs that help you set up all the details of a project and the right side where you add connections to the tasks and monitor the progress.
Whenever a task is completed, you will be notified via email. Assignees will receive email notifications when new comments, files, or other changes appear on their tasks.
Outlines
Furthermore, you can view your mind maps as outlines. Create an outline before starting a project. Use it in the prewriting process of your papers, or if you want to illustrate the connections between concepts, like cause and effect. Support your research by creating an outline with the information you found. Watch this video to learn how to create an outline.
Concept maps
The concept maps, with a layout more flexible than mind maps, allow you to move your topics anywhere on the map canvas by dragging them. Watch this video to learn how to create a concept map.
Presentation mode
In addition to these features, you can create presentations. Here you can read how to use the presentation mode, or you can watch this video that explains how to make a presentation using this mind mapping software.
Mindomo cuts your project planning time down to at least 1/5 of what it used to be. It is simple to use and offers many features for business owners. Try the free version to convince yourself about its functionalities.
Besides the free version which allows you to create 3 free mind maps, you can use mobile apps for iPad and Android that are completely free.
In conclusion, mind mapping software like Mindomo can be used by business owners to organize their company and better coordinate their employees. As a result, it will improve their business considerably.
Keep it smart, simple, and creative!
The Mindomo Team