Free mind map software with online collaboration
Start your mapping journey using a free mind map software.
Create, plan, organize and visualize all your ideas.

Create great looking mind maps with ease
Break out of linear thinking using mind mapping software. What can you use a mind map for? Being graphical representations, mind maps help you organize and structure any kind of knowledge. For instance, it can be related to work, education, or even personal life.
Add more efficiency, originality, and creativity into your life.
When to use a mind map? Check out the top mind mapping reasons:
What can you do with a mind map app?
Mindomo has a user-friendly interface which is very accessible. You will find it very easy to use it, even if it's the first time you try online mind mapping. Add new topics by pressing one button. You can customize and edit your maps by simply using the drag and drop function. Moreover, you have guidelines inside every template.
The real time collaboration is very important for mind mapping tools when you work in teams. It can be for work or for school. Your at-a-distance meetings are not a problem anymore. Neither are your project management assignments for your team. Hence, share your mind maps with your team members and bring together your projects to life effortlessly.
Make better plans to get better results! Project planning and project management were never easier. Come up with the best possible ideas and monitor your progress. Keep an eye on the evolution of your plans easily when they are organized properly. You can see the steps clearly and you can get closer to your goals day by day. Be productive!
You have the advantage to choose your favorite platform to use your mind mapping software. Either you prefer to access Mindomo from a web browser, from Desktop (Windows, iOS, Linux) or a mobile device (Android or iPad) you are able to do it! You have all the flexibility you need.
Offline-online synchronization
Working on the go puts you through difficult situations? Be free now with Mindomo! Work remotely and synchronize your offline and online content. Work offline using the Desktop version and sync all your work with one click when you have internet access. Your maps will become web based instantly.
Pick one of the many templates available on Mindomo or start a basic mind map from scratch. Check the big gallery of templates: business plan, problem-solving, wedding plan, CV, SWOT analysis, brainstorming toolbox, etc. Thus find inspiration and generate new ideas easily following the given structure. Feel free to customize it as you wish!
Mindomo offers integrations with many learning system management tools, for example, Canvas, Moodle, Blackboard, and more. Similarly, you can integrate it with your favorite apps, for instance, Microsoft Office, Dropbox, G Suite, Google Classroom, and many more. Mindomo ensures a smooth and creative workflow keeping you connected with the most popular tools.
Turn your mind maps directly into a presentation without using another tool. Save precious time and become more efficient using the presentation mode. Thereby you can show your mind maps in style. Give your audience a context of all your ideas and present them with the same flow as you generated them.
Task management is easier when you can create checkable tasks inside your mind maps. With one click you can turn your topics into tasks which can be checked. Use them anytime you need to keep track of things that must be done, for instance when you create to-do lists. Monitor your progress and keep pace with your plans.
Since mind mapping tools are used for visual graphical representations, adding images to your mind maps is essential. Therefore, feel free to use all your creativity to create the most explicit and precise mind maps. Consequently, it will be much easier to understand everything. Take your diagrams to the next level!
Fill your mind maps with even more personality and information. Don't limit yourself only to images when you add multimedia files. Make the most out of the "visual" aspect and include video files using Mindomo. With this mind map app, you are able to import videos from many sources. For instance: your computer, cloud services, or straight from YouTube and Vimeo!
Not many mind mapping tools allow you to import audio files. However, because Mindomo wants to deliver the best services this feature is accessible. You can insert audio files that are web based, adding the URL. Also, you are able to import an audio file. Besides that, you can even record audio and add it to the map.
The icons improve the aspect and make your maps look more friendly and personalized. More than that, they can help you more than by just improving the aspect. You can use them to mark certain topics. For instance, you can add some ideas and your team members can approve or disapprove using an icon to mark it accordingly. Be creative!
A mind map is all about being easy to understand. The simpler the better. When you have too much information that you need to add but you want to keep a simple design, just add a note! This way you have them both: a nice and clean structure but with all the valuable knowledge that you need. Best of both worlds!
Mindomo is a mind mapping software that keeps your mind maps into a Cloud Maps folder. All your maps are safe and they are saved automatically when you work online. To manage all your maps better and to find them easily you can organize them into folders. Therefore it will be simple for you to access any map.
Turn mind maps into concept maps, Gantt charts, outlines
Many tools allow mind mapping and concept mapping into the same app. However, Mindomo offers you more than that. You can create Gantt charts and outlines with the same tool. The best part is that you can convert any mind map into a concept map, Gantt chart, or outline. You are able to switch it the other way around. You can do it with only one click!
Be up to date with the latest changes in your maps! See exactly who and when did a modification. As a result, you will always be informed about how much your team members worked and what ideas they had. For instance, if you are a teacher you can use the playback history for the team assignments that you gave to your students.
Mindomo supports teamwork. In order to make the collaboration straightforward and as accessible as possible for you, there is a chatbox. You don't need to use a different tool to write messages to your collaborators. Chat with them there. Thereby, you will receive a notification when someone writes a message.
You can search for a specific content found in your map in seconds using this feature. Re-reading the whole map could be time-consuming and very ineffective. Because mind mappers are efficient people, so is Mindomo! Save time and find fast and easy what are you looking for! Use the full text search.
Mind mapping tools are great for creating the maps you have in your head. However, you may need to add some files from an external source. Import files from your PC or favorite cloud service like Google Drive, Dropbox, OneDrive, etc. Also, you can import plain text, other mind maps formats, OPML and Excel files.
Creating a free mind map in Mindomo can be exported in three formats: MOM, PMOM, and TXT. On the other hand, with the upgraded version of the software, a larger variety of formats will be available. Have the freedom to export your work in many formats to ease your effort.
Why use mind maps? Mind map software benefits
Mind mapping tools are a great way to improve memory and learning. Compared to the conventional note-taking and studying, mind mapping can improve it by 10 to 15%. This technique makes remembering information easier.
Besides that, when someone adds images, multiple colors, and keywords it helps even more. Moreover, creating diagrams using a mind map maker makes learning more fun and engaging.
90% of the information transmitted to the brain is visual. Being visual representations, mind maps help you understand complicated information. Seeing it in this structure you can easily comprehend the meaning. Mind maps are designed to structure the information as simply as possible.
Moreover, with Mindomo you can transform them into concept maps, or create them from the beginning. Concept maps, having relationships between topics, give more context to the knowledge helping the understanding process even more.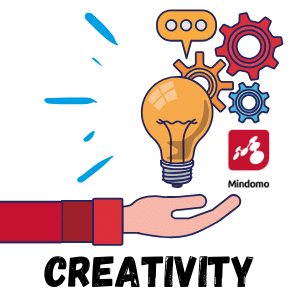 Generate new ideas, unleash your creativity and let your imagination bloom. Either you make a brainstorming session, you plan something or you work on your project plans, use mind mapping. It links a group of concepts together through natural associations. This is why your brain will be able to be more creative and it will generate new ideas, solutions or deeper meaning.
More ideas mean more possibilities. For example, being more creative, you will be more efficient in problem-solving. 
With a mind mapping software, it's easier to organize your thoughts, being very intuitive. Moreover, mind maps mimic the way our brain thinks: not linear, but bouncing ideas. Mind maps help you become more organized, and everyone knows that an organized person has more chances to become successful.
Besides the technique itself that helps, you are able to create to-do lists, weekly or monthly plans for your work. Moreover, being collaborative, Mindomo also helps the team management. You can easily share your maps and work along with your team members, seeing each other's work instantly.
Mindomo is a freemium software. It offers a free version that you can access easily by creating a free account. You can create free mind maps, concept maps, Gantt charts, and outlines. You are able to use all the templates available, collaborate in real-time, create presentations, and many more features you have just read about above.
Moreover, Mindomo is an intuitive tool. It will be very easy to start creating diagrams. You have a dashboard where you can see all your diagram. There is the option to organize them into folders. When you click on the "Create" button, you can choose to start with a blank diagram by picking the layout: mind map, concept map, organigram, tree organigram, timeline, outline, or Gantt chart. There is also a template library that contains an immense diversity. There are use cases categories on the left side of the screen, where all the templates are categorized to be easier or you to browse. Feel free to get inspired by the multitude of templates for your next diagrams.
All you have to do is sign up and enjoy your mind mapping journey!
Follow us on social media for more information, updates, and great ideas about how to get the most of our software: Twitter, LinkedIn, Facebook, Pinterest, and Instagram.
Watch our video tutorials for more information about how to use our tool: